Discussion Starter
•
#1
•
I typed up the spiel below to send it to eBay. Thought I'd avoid the fees and try here first. It was probably a $600/400+ euro jacket. I paid close to $200 shipped from Germany. I'd like to get $150 in pocket if I can. I have 100% positive feedback there since the 1990's and we can still do PayPal if you want the buyer protection. I just hate ebay lately. Been ripped off 3 times in a row selling new helmets. Thanks for looking.
Jason
- - - - -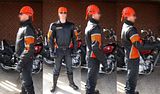 Album:
http://s297.photobucket.com/user/Hexadecimus/library/For Sale/Spidi jacket
Slideshow:
http://s297.photobucket.com/user/Hexadecimus/slideshow/For Sale/Spidi jacket
- - - - -
I am selling a very nice used Spidi brand motorcycle jacket. I purchased it used and have not worn it. The orange in the photos is somewhat brighter than it appears in person. It's a close match to HD orange on some of my personal gear. (Gloves and other gear not included). I believe it was made in Italy; the garment label is in Italian, it's CE rated (European), and it has the usual high level of quality and attention to detail in the materials and the workmanship. The leather is very soft and supple, yet strong for protection. The stitching is very strong, tight and even.
Fit:
It's marked "S" for small which from the sizing charts on Revzilla and Spidi translates to about 36-38 inch chest and fits true to size. It feels like an athletic cut with gentle pre-curve to the arms, somewhere between a laid back cut and an "attack" cut". Good for upright stance on a cruiser as in the photos without bunching up inside your elbows. Would also work for a little forward lean for a bobber, cafe racer or "street fighter" with drag bars, maybe even a sports bike.
Condition:
It's in excellent used condition. The fibers on the liner in the photos, if you look closely, are just individual fibers of the insulation poking through the mesh - THEY ARE NOT pet hair or lint. I purchased it from a gentleman in Germany who purchased it in Europe. I wore it only There are only a few tiny marks on the left elbow, cuffs and along some seams (see photos). The straps are sturdy and closures are strong. The zippers are rugged and tight. Nothing seems damaged or worn out.
The leather outside smells like black leather and Meguiar's conditioner. The inside smells like Febreze and would probably air out well with one warm day in the sun. Cuffs and collar are clean. There's a little pilling of the insulation (see photos). I'm not aware of any other wear, odors or any damage.
Features:
The armor is CE rated, removable and intact. It's Spidi branded with sliders over padding. The jacket has a zippered front with a wide boottom strap to secure the zipper and cinch the waist. The sleeves have zippers about 5 1/2" long with leather straps that snap to secure the cuffs over or under your gloves. There's also a zipper for attaching to Spidi riding pants.