Discussion Starter
·
#1
·
I'm always down to tinker unnecessarily on a bike. The single carb conversion threads caught my eye.
Found this on ebay. Price is steep ($300!), but it looks like bolt-on parts for a simple conversion. Includes nice metal 2-to-1 manifold, carb, jets, etc.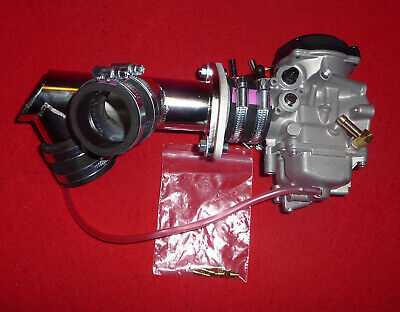 Stainless Steel Manifold for Kawasaki Vulcan VN700 and VN750 with CV40 carburetor, rubber boot/holder 45 mm ID. Carburetor is a REPLICA of CV40. Designed to fit Kawasaki Vulcan VN700 and VN750 models.
CV40 carb clone, still has room for twin throttle cables (would need cables with elbow right angles I think).
Seller says too you can point out the left or right side (not sure if that'd make a difference). Curious what kind of clearance you'd have with tank in stock position. I guess the only other thing you'd need would be an appropriate filter.
Should I keep dreaming or get back to work on parts that really need fixing?