Discussion Starter
•
#1
•
So a little background first. I had been searching for a VN900 seat to mod to fit my bike for a while. I missed two really good deals on ebay...turns out that is probably for the best. The more I looked at pictures of bikes with the 900 seat, the more I got to feeling I didn't like the way there was extra fender space showing. You can't see it with saddlebags of course, but I don't have any (yet...they will be here Thursday... but that is beside the point!). So I decided I would mod my stock seat and save some money.
The real drivers behind this are 1) I really didn't like the banana seat look of the stock seat and 2) when riding 2 up there just wasn't enough room for my wife and I to ride comfortably. So, I had already bought a backrest from a Honda 1100 and I figured I would just mod the stock seat to lay flat and give her the extra room.
I didn't take any pictures of the steps because you can find those in other threads here. Basically I took my dremel and a cutoff wheel and cut the seat pan where it curves up at the back. Then cut both pieces square and used a piece of scrap metal and some short bolts to hold them back together. Anyway, here are some pics of what it looks like.
Here is the bike from the side for the overall effect: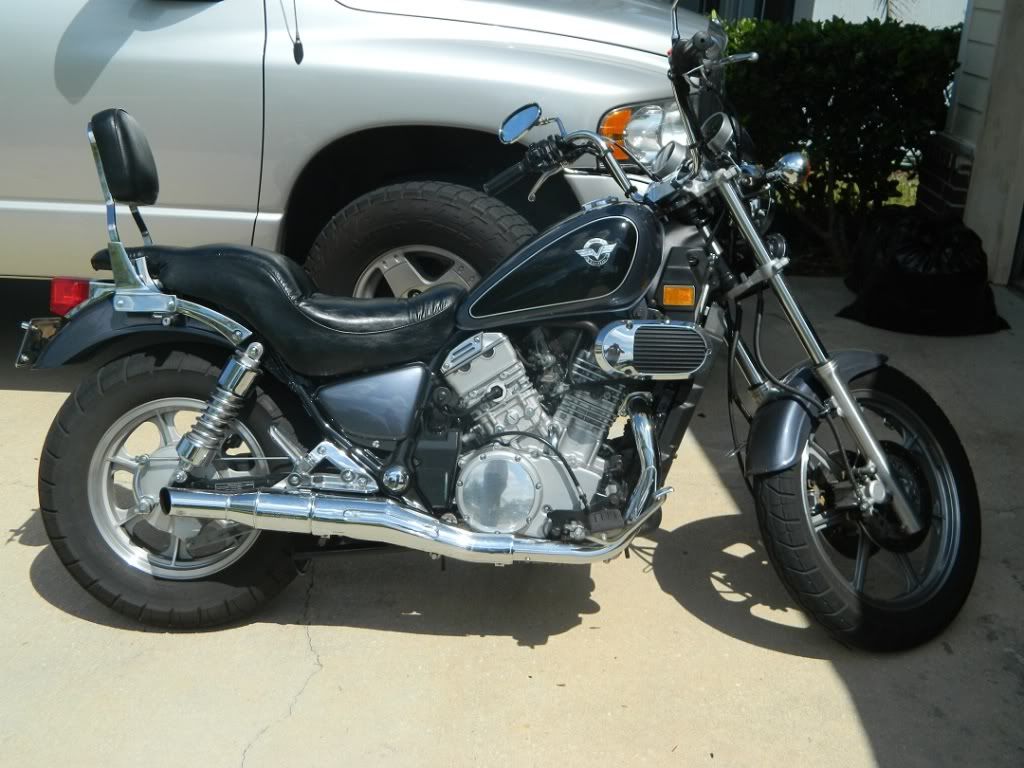 Here is a closer look of the backrest and all. You can see that I used cap nuts for a cleaner look. I fashioned a bracket for the back side. I'm going to redo it because as you might have noticed I have no rear turn signals (not required in FL anyway) and I want to extend the brackets a little so I can mount the new turn signals I bought on ebay on them.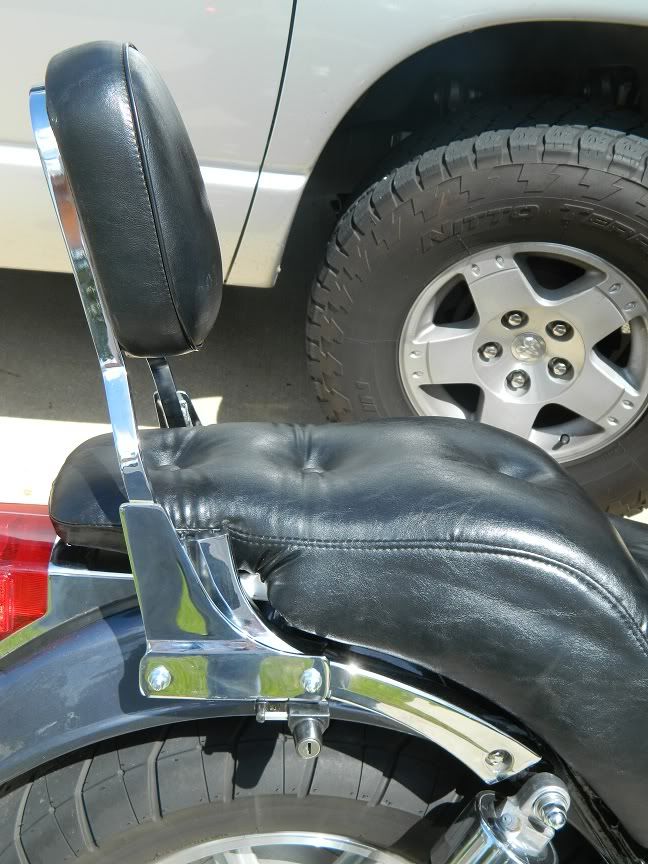 Now, to support the seat I used a couple of pieces of closet maid hanger rod stuck into the frame with a set screw holding it in place. It's white. I need to paint it. But here is a shot of how I supported the back. I used the brackets that held the seat in place in the stock configuration.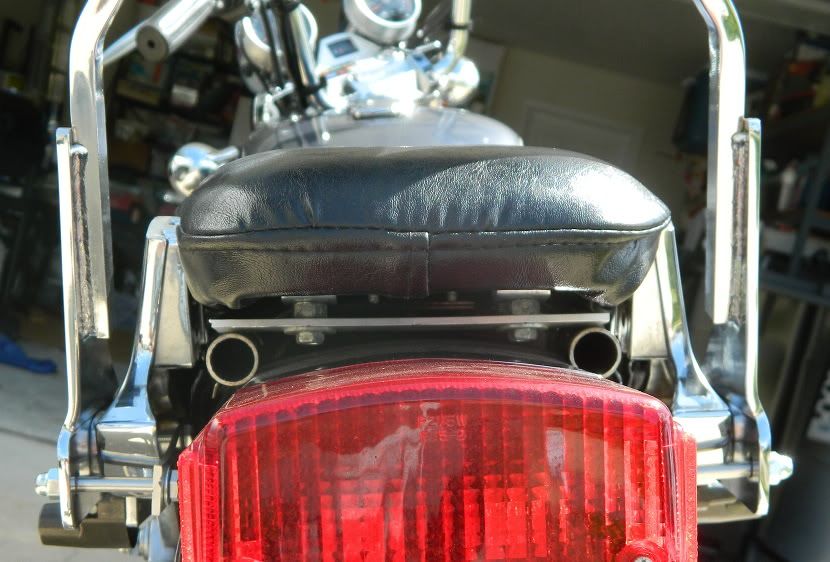 There is a longer bolt a little further up that goes all the way through the fender and is held down via another cap nut underneath to hold it all down. It's all very sturdy.
So, some things I still want to do:
Cut off the grab rails so they don't stick out so bad.
Modify the seat padding to move my butt back a little and make it more comfortable all the way around. I may see about talking to Spencer at greatdaytoride about that.
Recover it to get rid of the buttons. Sorry couch look...this is 2012.
Some how fill in the space on the back part. Any suggestions for how to do that? I was thinking about maybe making a frame out of wood that would cover it all and allow me to still staple the cover back down. Not sure yet.