Hey there all, Just wanted to share how i went about altering my seat to fit my needs and style.
Materials/Tools Used:
*Hacksaw
*Needle-nosed Pliers
*10mm (should be a given)
*Staple gun
*Scissors
*Silver Sharpie
*Beer
*2 "L" Brackets I had lying around
*2 Screws I had lying around
1. I first removed the plastic storage compartment and the seatback frame.
2. Then I put my brackets into the holes left from where the seatback frame attached using the original bolts. (See pics below).
3. Next marked the holes where i was going to attatch the brackets to the seat with screws.
4. Use your needlenose to pull out the staples under the seat, peel back foam and cut (hacksaw) so the seat pan is flush with the metal bracket that holds the turn signals (i marked it off with a silver sharpie).
5. Use scissors to cut the foam to match the seatpan.
6. Trim excess leather but leave enough to tuck under and re-staple (make sure to pull tight. a second set of hands would help.
7. I then cut the plastic piece out of the former rear end and slotted it between the small grooves in the metal (see messed up pic below) to give it a finished look.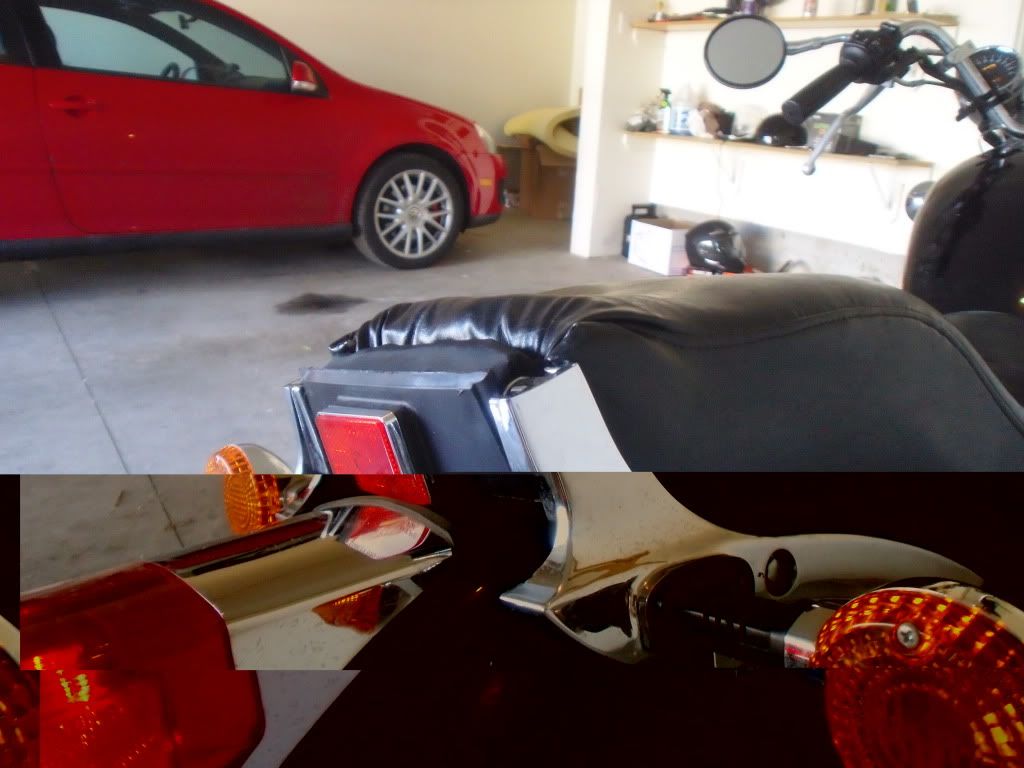 8. Then to hide the fact that I'm not an expert in upholstery I strapped on a rollbag that i originally had on the front to cover that and serve as my new place to store my documents.
Final shot (before moving the rollbag).
Hope this is helpful to at least someone. and please spare me, its my first writeup.
Cheers,
PaleRider