Discussion Starter
•
#1
•
Well, I picked up an 1986 vn750 as a project. I just took the carbs off and started going through the Clymer's procedure on disassembly and cleaning. First thing I noticed is that I have a hole in the diaphragm on the front carb (haven't checked the rear one yet).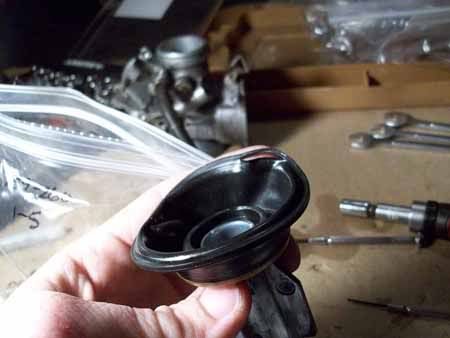 I don't think there's really any other options than replacing it? The question is, is there any point in continuing cleaning this carb? I checked the price of a new vacuum diaphragm, it is about as much as a used set of carbs on eBay.
Also, this is a pic of the carb body as it sits.

I was planning on using a bucket of Chemdip carb cleaner and soaking the whole thing. Is this everything I need to take off? Is there any parts I shouldn't soak (jets)?
--This is my first shot at cleaning/rebuilding ANY carbs, feel free to point out any glaring mistakes