Discussion Starter
•
#1
•
OK so I don't see this invention putting me on the beach sippin' drinks with little umbrellas, but hopefully it can help a fellow rider over come the dreaded air bubble in the brake system. I put stainless steel brake hoses on my brothers V star and when I went to bleed the front brakes I could not get a firm lever to save my life. After a couple of hours with this I started researching the internet for pressure brake bleeders, vacuum brake bleeders and reverse flow brake bleeding. So I came up with this.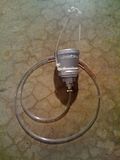 It's made up with a 2" to 1 1/2" reducer, a 1 1/2" to 1/2" bushing, a 1/2" to 1/8" bushing, and a 1/8" mip to 1/8" hose barb adapter. One small hose clamp, 6' of 1/4"OD vinyl tubing, and a few zip ties. I washed & dryed all the pieces and put them togther with teflon tape. I put a little tef tape on the bleeder screws so thet wouldn't leak when they were loose. Hang the unit so it will be higher then the master cyclinder and fill while holding the hose end above the height of the unit.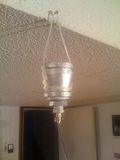 Pinch the hose and put it on the caliper bleeder screw.
loosen the bleeder screw to allow the brake fluid in. If it's a dual brake system do the furthest from the master cylinder first. Suck some fluid out of the master cylinder(so it doen't over flow) and repeat with the other caliper.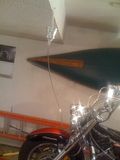 I know every job doesn't need this but it works good on those stuborn hard to bleed systems, and here's the proof(look at that air come out).