(SOLD) My 1986 VN750, SE Iowa
SOLD
, thanks for looking
Injured, unable to work and no income. My back may be screwed up for life and I might have to start selling things. Here's my 86 VN750 that I bought last summer (2013). I rode it for about 5000 miles. I have over $1500 in it plus a ton of time. Asking $1400 on CL.
Starts and runs every time. Handles great, rides straight and smooth up to ~90 where I let off. Plenty of power, more than my 94, and it has been very reliable for me. I don't need two bikes though.
Update: 900 Classic seat is on and I got some photos.
Update: Got some videos for someone who didn't know what a VN750 sounds like. A pair of Fatboy slip-ons made my other bike sound 10x better than our stock mufflers.
Warmed up, no echo from bulidings -
http://youtu.be/GKpSSZlCqfU
Warmed up -
https://www.youtube.com/watch?v=0kex-xTdPmc
Cold start -
https://www.youtube.com/watch?v=rqOwbYE8wkA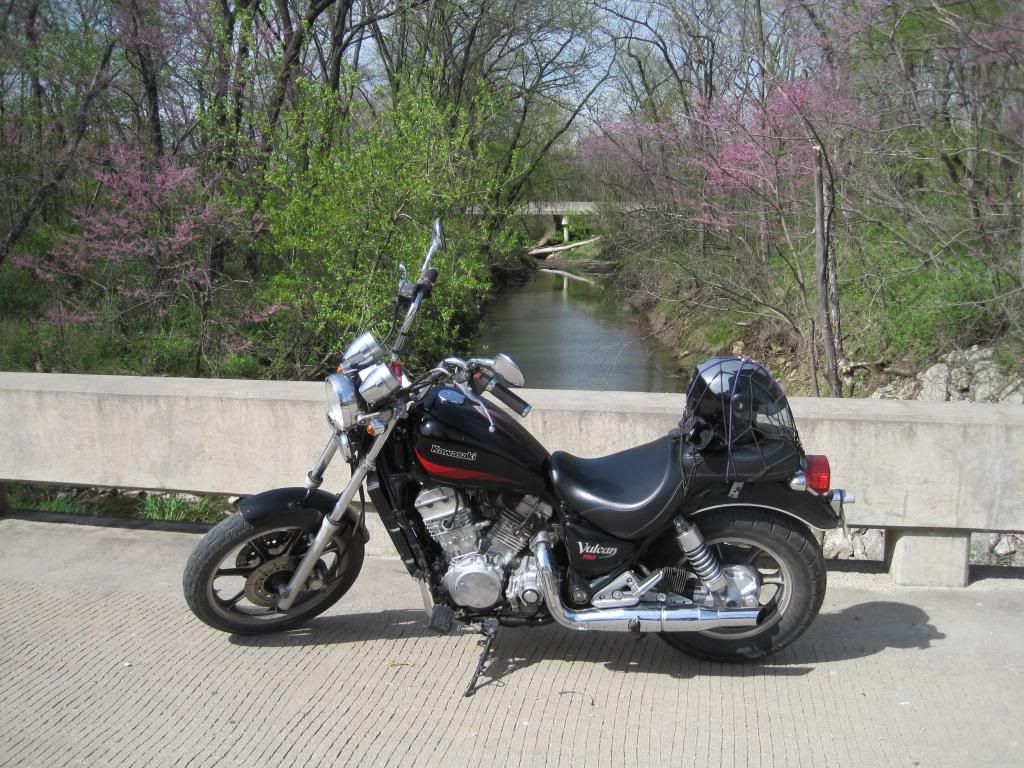 More photos here:
http://s297.photobucket.com/user/Hexadecimus/slideshow/Vulcan for sale
Good:
Clean title. Everything works and runs great. I went over everything I can think of and fixed all the typical stuff the PO's never mention. For example, I pulled almost every wire, cleaned the terminals and applied dielectric grease.
Brand new rear tire, maybe 40 miles on it just for testing.
Flushed & fluids, ran cool all summer, stayed at minimum in 40F temps on the highway.
Rebuilt carbs with brand new diaphragms. Prev owner had them apart and lied about them being good. Those are NOT cheap. Plus 1 float, couple of new seals, new main jet needles and new jets all around.
Ears shaved (parts retained, box is not cut), coastered and jetted, up 2 sizes IIRC with 2 shims, UNI filters, could probably stand to be jetted back down to stock pilots and +1 mains. If you feel like un-shaving the "ears" I"ll include original jets in a bag and all intake/emissions parts in a box.
New brake sight glass, no leaks. Watch face crystal so it won't yellow/crack
Replaced grips with stock off a 98.
Battery box removed, neutralized, blasted, painted with chassis epoxy.
Spots on frame touched up with chassis epoxy.
R/R relocated.
Chrome bullet turn signals front and rear (rear relocated to stop light housing). They're metal, not plastichrome. Has the auto-cancelling turn signal as well which I really like.
Bad:
Laid down once by previous owner, but I don't seen anything cracked, broken or bent. Little rash on the grip/lever a tiny dent in the right pipe.
Brackets that hold the brake lines were missing when I bought it.
No A/C or cruise control.