This is a mod that I'm doing temporarily (maybe) until I can figure out why my fan won't turn on normally. It does work, but it isn't turned on when it needs to.
This mod is for people that:
Have a functioning fan that doesn't turn on at operating temperature
Would like manual control of their fan
Can't leave things the way they are
Parts needed:
--Two-terminal toggle switch
--Wire
--Spade connectors: 1x male (a), 3x female (b1, c1, d)
OR
--Spade connectors: 2x male (a, d), 2x female (b1, c1)
I think the spade sizes are 1.18 for the male connector, and 1/4 inch for the female connectors. DO NOT rely on my information, because I'm not sure these sizes are correct.
(this can be done without spade connectors, if you wrap the wires around the terminals and electrical tape them, but be aware this is not the most efficient way to perform this mod)
Open the left side cover under the seat. It's held on with one bolt, and pulls straight out.
find the ten-pin connector. In the picture below, the ten-pin connector is circled in green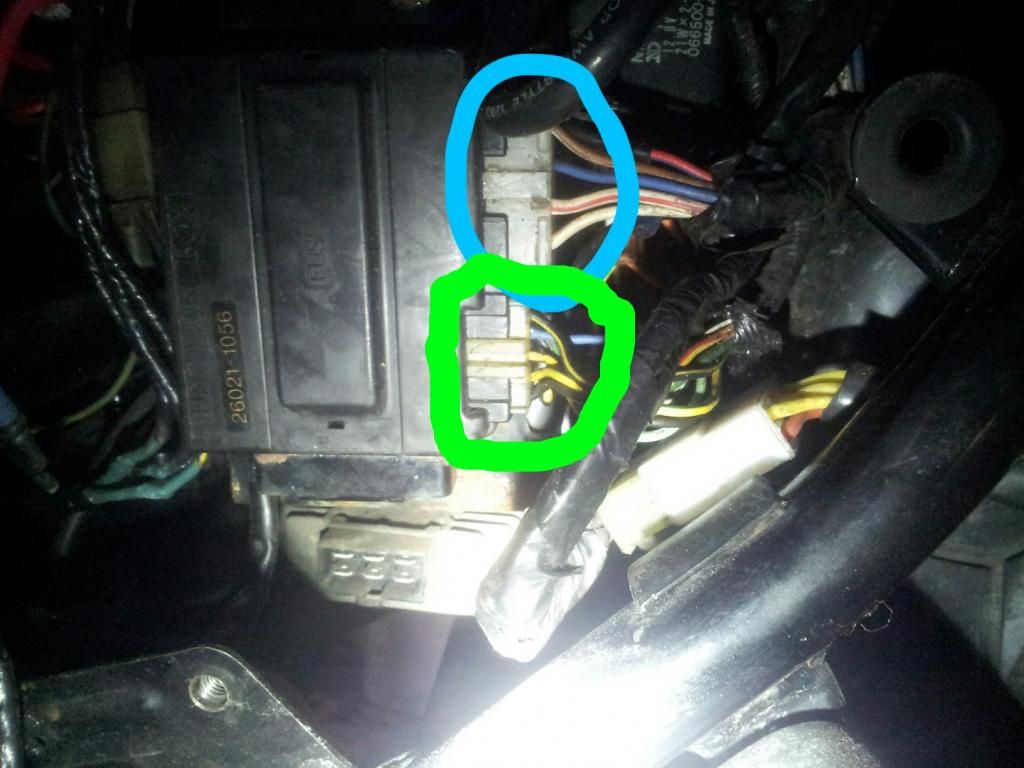 Remove the blue wire from the connector. This can be done by taking a small screwdriver, and pushing the connector out. You can
try
to pull the wire out, but I highly advise AGAINST this.
With the blue wire removed, follow the diagram below.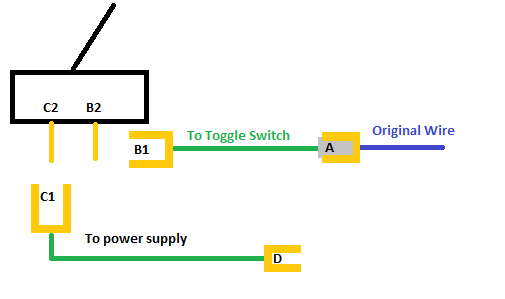 Depending on where you choose to connect the power supply, you will need different spade connectors. Male connectors are needed for connecting to auxiliary connectors (headlight bucket, or right side cover) and female connector is needed for junction box (if you have not performed the blue wire bypass, you might use the empty hole in the 8-pin connector at the junction box [middle picture, blue circle])