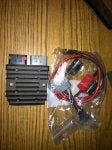 I have a New Mofset voltage regulator kit for a vn750. Never installed, sold bike.
I paid 128.00 for it new last year. Selling New in The Box for $85.00 shipped. Kit is from roadstercycle.com retails $139.95. comes with instruction sheet, Pics and install procedure can be viewed at roadstercycle.com also. This the "Super Kit" that jack fleming sells.
I can be reached at :
[email protected]
. or text 360-618-2192.
I will update post with some pics shortly. ****SOLD****