Motorcycle Safety & the Military
---
I read the article pasted in below in today's New York Times. I salute this new effort to promote motorcycle safety among military personnel. I know that my son, a newly-minted second lieutenant in the U.S. Army (momentarily stationed at Ft. Eustis, VA) has been talking about buying a sport bike! He's never owned a motorcycle or been licensed to ride one.

October 26, 2008
For Some in the Military, Danger Is Seen Off Duty
By SARAH M. RICHARDS

WASHINGTON — Whether Seaman Greg Harm knows it or not, the military is worried about him. And it is not because of what he does when he is working as an aviation technician stationed at Andrews Air Force Base.

It is what he is doing when he is not at work: riding a 2003 Kawasaki Ninja motorcycle that can reach speeds of 160 miles per hour.

So many members of the armed forces have been dying on sport bikes like the Ninja that the Navy and Marines have made special training mandatory for sport bike riders this year. In one weekend in September, the Navy lost four men in sport bike accidents.

Some military officials are concerned that industry pressure to sell motorcycles and lax state licensing are allowing riders with poor skills on the road.

Dale Wisnieski, a former motorcycle police officer in Virginia who manages the Navy program, began developing it last year with the Motorcycle Safety Foundation, an industry financed nonprofit group that oversees motorcycle training in most states.

"We've got machines right now that are governed at 187 miles per hour that you can buy on a showroom floor in our country and not even have a motorcycle license to buy it," Mr. Wisnieski said.

Seaman Harm, 23, who returned in March from four months in Afghanistan, paid $2,900 for his motorcycle.

"I always wanted one and my friend was selling it for cheap, so I bought it," Seaman Harm said. "I love the rush, having it."

He was participating in the new program, held at the Anacostia Naval Station here.

In the last 12 months, 50 of the 58 sailors and marines killed on motorcycles were on sport bikes, which are faster and easier to maneuver than their cruiser counterparts. The Army, which also has a training program, lost 36 soldiers in sport bike accidents in the same time period.

The accidents follow a pattern: excessive speed, poor cornering and insufficient braking.

Tracy Martin, who runs a private riding program aimed at high-performance motorcycles, said an Air Force safety official told him that he could predict who was going to die next.

"He said it would be a guy under 25, working in maintenance, he'd have a sport bike, and he'd own it for about a month," Mr. Martin said. "He said, 'The only thing I don't know is his name.' "

Concern in the military grew so great that Navy officials went to Irvine, Calif., last November to meet with members of the Motorcycle Safety Foundation. Collaboration among Navy, Army and Motorcycle Safety Foundation officials led to the creation of the Military Sportbike Rider Course a few months later.

Military personnel already have stricter motorcycle regulations than civilians. To take a motorcycle on base, riders must have at least passed the beginners' course offered by the Motorcycle Safety Foundation. They must also wear helmets, regardless of state law.

Nevertheless, officials say, many simply ride without a motorcycle license when they are off duty.

During the recent sport bike class at Anacostia, two trainers stood in the middle of a large concrete lot as military helicopters buzzed overhead. The 12 students were either military personnel or civilians working for the Navy.

The riders had spent the morning in a classroom discussing issues like risk assessment and were now practicing braking and cornering.

"We're really trying to find a way to touch these soldiers and sailors and get a handle on this because it's a shame," said Bridget Hunke, one of the instructors. "They go overseas, go into combat, come back, and they get killed on a motorcycle."

Some officials theorize that military personnel returning home from a war zone turn to sport bikes for an adrenaline rush. "How long does it take you after you leave that neighborhood to kind of loosen up?" said Wayne Miller, a retired marine who ran motorcycle safety at Camp Pendleton. "Can you imagine being in an environment for eight months, not knowing whether you're going to come home or not, and then having to flip a magic switch?"

Military officials say that they have not been able to link combat experience to sport bike fatalities, and that some of the deaths have involved people with no combat experience.

Mr. Wisnieski said that there had been a rise in sailors registering sport bikes and that it was difficult to pinpoint a specific cause behind the fatal accidents.

"Individuals have served overseas two and three times," Mr. Wisnieski said. "So at what point do they buy their motorcycle? Do they buy it after the first time? Second? Or third?"

Of the 17,000 estimated sport bike riders in the Navy and Marines, roughly 1,600 have taken the new course. One of the four sailors killed in September was a recent graduate.

"The military sport bike course is not the silver bullet to our problem," Mr. Wisnieski said.

Motorcycle licenses are relatively easy to obtain in the United States. In other countries, including Britain, beginning riders are generally restricted to smaller, less powerful motorcycles.

Ray Ochs, the director of training systems at the Motorcycle Safety Foundation, is doubtful that stricter licensing would reduce fatalities. "They don't have any better record — at least it's not documented — than we do in this country" Mr. Ochs said.

Mr. Miller said that he, too, was wary of government intervention but that he thought limiting beginners to smaller motorcycles might help reduce fatalities. "What that does is allow riders to stay alive long enough to buy a third, fourth and fifth bike," Mr. Miller said. "What a novel idea."
---
EZC
---
Last edited by EasyRector; 10-26-2008 at

07:11 PM

.
Nice, now if we could only get all the states here to implement a simular program for all those not in the military.


KM
Love My Baby
Join Date: Jun 2008
Location: Hollywood, Florida
Posts: 1,165
I applaud the services for caring enough about their personnel to get this course off and running. I hope it comes available for civilians, too.
---
Rubyrick

MY BABY...
'05 VN750
16,000 miles +
Kawi tank bib
Kawi rear rack
Small windshield
DEKA M/F battery
VN750.com Grill Cover
LED license plate frame
Clear Alternatives LED brake light
Cortech mini tank bag on rear rack
Pirelli MT66 Tires: 110 front / 150 rear
Splines lubed when tires installed at 10,650 miles
Splines lubed again at 14,400 with stubby valve stem install

Place your mouse on the X below and drag to the O

X Even though you can't see Him, GOD is there! O
Drive less, ride more...
Join Date: Nov 2005
Location: SW Ga
Posts: 1,114
First of all, let me say, "
Congratulations!!!
" to you, Charlie--for your son's new rank as 2nd Lieutenant.
I think the problem outlined above is (at least) two-fold:
1) Current and recently built sport bikes are (for the most part) ultra-high performance track bikes that are fitted to be street legal.
Indeed, sport bikes made recently easily eclipse the performance of those built just several years ago. The jump in their performance envelope (generally speaking) is alarming!
2) The other part of this problem: high levels of testosterone and sport bikes like these don't mix!!!!.....
In my case, my Vulcan is my 2nd bike. I deliberately avoided sport bikes as a new rider, because I had been educated on the above trend. Instead, I went with milder bikes, like mid-size cruisers.
Putting very young military personnel who are new(er) riders....on most any sport bike.....is like putting brand new, fresh-out-of-flight-school young pilots right into the front seat of something like an F-16 fighter jet. Very foolish, indeed.
Instead, military fixed wing pilots start out in much milder, slower propeller-driven craft. They have to put in
a lot
of hours before the military lets them fly the supersonic hot rods.
Young, inexperienced riders are nowhere near ready to handle a true sportbike kind of performance level--and quite frankly, most of them also lack the maturity to use it prudently.
Charlie, if you son is insistent on a sportbike, I would encourage him to begin his riding career by seriously looking at Kawasaki's Ninja 250, or the Kaw Ninja 500 as his first bike. And get a
used
one (when he drops it--and he WILL drop it--there will be less weeping and gnashing of teeth).
One of these bikes will let him groom his skills much better, without exposing him to excess power and performance. These are milder bikes--not like most of the others that are flat-out track machines.
Other good sport-type bikes that are acceptable for new riders can been seen on the following (click on the below link, then scroll down to those pictured as "standards"):
http://motorcycleinfo.calsci.com/Mot....html#Recomend
The above link also has info in it about what bikes a new(er) rider should avoid--and why.
Until this country passes similar legislation as that in Britain (limiting newer riders to slower, less powerful machines), I feel confident that the needless carnage here amongst newer riders will continue.....
......
......
---
'05 VN750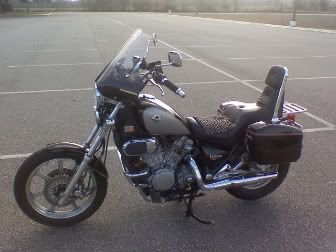 For other bike pix & mods, go to:
http://s1203.photobucket.com/albums/...k/VN750%20pix/
Linkmeister Supreme
Join Date: Aug 2008
Location: Lethbridge, Alberta, Canada
Posts: 7,960
Quote:
Nice, now if we could only get all the states here to implement a simular program for all those not in the military.


KM
I tried to start a poll yesterday asking how many here would support laws restricting newly licenced riders to smaller, lighter, less powerful bikes for a specified probation period of 12 months? or More? or Less? I couldn`t come up with wording that I liked until I read this article. Just restricting engine displacement is not really viable, because a 250cc sportbike may be 2 or 3 times as powerful as a cruiser of the same size.
We have had at least one thread here lately with a great diversity of opinion on wether or not the VN750 is a suitable first bike for a rider to learn on. I must admit a conflict of interest here, because the VN750 is the first bike I have owned. I do not feel that it was excessive speed or use of power that caused my accident. I am not sure if I had been riding a 250 that things would have happened any differently. There are never the less, a lot of baby boomers like me who are now in their 40s,50s and 60s who are taking up riding for the first time, or after a long time away from it. I believe that there are some statistics that indicate we face similiar risks to newly licenced 16 to 18 year old riders.
If there is a difference between the age groups, it is that more of us old guys are riding cruisers and the younger guys as a rule, are more attracted to sportbikes. This is at a time in their lives when testosterone has them feeling ten feet tall and bullet proof. I, personally feel that it borders on criminal for a m/c dealer to sell a bike to a brand new rider, that is capable of reaching 100mph in FIRST GEAR AND A TOP SPEED OF 187mph. My next door neighbor, who is a very experienced 40+ year old rider, rides such a bike. It is a 954cc Honda (Ninja, I think). Fortunately he is a very responsible guy, and usually rides just a little over the limit, the same as most of us presumably do.
So the question is, how do we influence new riders to use more common sense in their first purchase of a bike, and surviving long enough to buy a second and a third scoot? Ideally they would take their bike to a track for a practice day to test their limits. But in reality many will continue to use public roads for their race track. My rant has gone on long enough. Enjoy your ride but watch out for the cages and the squids.
---
Gordon
1991 VN 750 -"
Cosmic Lady
" or "
Bad Girl
"?
Purchased May 16, 2008
Approx.19,300km (12,000 miles)
H-D windshield
Relocated R/R
MF-AGM battery
Fiamm Freeway Blaster horns
F&S luggage rack and engine guard
Kury Offset Hiway pegs
July 13, 2016, Riding on the DARKSIDE now, Classic Radial 165/80-15
TOP TEN THINGS A NEW RIDER/OWNER SHOULD DO.
Click on link.
https://www.vn750.com/forum/11-vn750-general-discussion/9127-top-ten-items-you-would-suggest-new-owner-do-his-new-ride.html
Members who have donated towards server costs
Join Date: Jan 2006
Location: Cheyenne Wyoming
Posts: 508
I work for the AF as a civilian and retired after 21yrs active duty. I have seen the military go from no training to the present day policies. We have more military deaths on bikes today than ever before. WHY? Probably because you can buy a faster bike than ever before and the new GI's are paid immensly more than my $61 a month start pay.
Training is great but common sense can not be trained or mandated. The MSFopenseyes to what can happen and gives new riders at least some hands on. On my base you must complete the MSF prior to registering or riding on base. Sadly the kids buy a new rocket and park it just off base and ride anyway.In addition to the MSF the base requires sturdy footwear, full fingered gloves, brightly colored outerwear, and helmetwith face shield to enter the base.
I took my MSF ALTMOST in 1981 and could use an update. Training may make you think but road rash will normally convince!!
---
Rckmtn
Dennis Huff
Cheyenne, Wy.
05 VN 750
KURYAKYN grips, helmet locks, and highway pegs
Spitfire windshield
Saddleman saddlebags/sissybar bag
Highwayman gelseat with Protac backrest
self canx turnsignals
Diamondstar headlight modulator
Jardine 2 into 2
MCC turn signal relocator and floorboards
Luggage rack
Extended passenger backrest
KURYAKYN LED voltmeter
Custom tank bra with analog clock
Snider paint protector on tank side
130 DB horns
here is another thought into y there are so many military deaths on bikes in general...PVT Blow, Joe gets deployed for 12 months, gets payed extra money for being deployed, earns it all tax free because he is not on us soil. When he comes back he finds the biggest fastest bike he can afford. He goes to all the Safety classes, gets his M License, then goes riding. He has only been back from deployment for a few weeks by this time so he has the "Super Man Syndrome" and thinks since he survived bullets, bombs, and grenades that he can survive our streets at mach II.

What the military needs to implement instead of more training...is a riding program like we had at Frt Hood. We had battalion ride days. Once a month (mandatory by post general) each battalion was required to host a ride day. Every one who owned a bike was required to ride to work then we would spend the rest of the day riding. We would have classes on popper evasive techniques, bike care, and stuff like that. We would stop in at stealer ships and clothing stores and get demos of new safety products, bikes, and gear. Over all the rides were very fun, safety focused, and gave a chance for theh advanced riders help the young novice riders learn proper safety
Senior Member
Join Date: Mar 2008
Location: Gillette, WY
Posts: 721
good idea.. My mom's cousin- a marine, was killed this summer on a sport bike during his 10 day leave... He lived in the fast lane doing night raids in Iraq, and comes back and dies on a bike.. sad, yet Ironic...
---
'99 VN750 with 8900 miles and growing (3,111 when I bought it 03-22-08)
Ear shave with Unipods
Drilled mufflers and degoat
TOC springs
N/C Street shield EX windshield
Jumbo Saddleman Highway Studded saddlebags
Willie and Max Saddlebag mounting kit
License plate turn signals
Home made sissy bar
Luggage Rack from Scoop
http://youtube.com/user/99vulcan750
Join Date: Sep 2008
Posts: 135
I just completed the MSF course yesterday. I also saw this article,and the ones below in or local paper last week. One observation of a small sampling of folks (those at my MSF class this weekend). As we finished our class and were getting our(in my class only myself and a guy who owned and rode a 1600cc Victory had previous riding experience). about 16-18 folks pulled up to go after us to take there "ReTest" Which of course means they failed the basic skills driving test. Unbelievable, considering one guy in my class had just passed with a perfect in the driving skills on a 1600 CC victory (nice bike by BTW). Of the 16 or so re taking there FAILED skills test did not see a cruiser under 1200CC, or a sport bike under 900CC. I might also point out that all the retake crowd were Super big cruisers or sport bikes, not a midsized cruiser, or bobber or anything in the bunch. roughly 11 of them were super Massive cruiser(for the size of their riders) and 5 or so Sport bikes(All young riders). I might point out that anyone who could not pass the basic skill driving test on a performance bike SHOULD NOT BE ALLOWED on a performance bike. Also if you can't control a 1400cc roadmaster or the like in the BASIC skills course. Maybe you should buy a bike you can drive. I would not buy my grandmother a formula 1 car to go to the grocery store with, so why a 1300cc (she showed up wearing Crocs/rubber slippers by the way) is ok is beyond me. The statistics were on display for me this weekend. So I had to vent. Its obvious why the 40+ are dying at an unprecedented rate. More money and ego than skills or physical condition can handle. And the sport crowd, more guts than sense, and 4k with buy a rocket that looks like a bike.
http://www.sltrib.com/ci_10815211?IA...www.sltrib.com
http://www.sltrib.com/ci_10781327?IA...www.sltrib.com
http://www.sltrib.com/ci_10767014?IA...www.sltrib.com
I think there is just a point where one can not regulate the stupid.

We have ALOT of new laws in place that basicly are there to help protect the stupid, a pheltora of warning labels on just about every item you buy now telling us stuff like 'not to immerse this electical appliance in water" to "caution, coffee is hot"

It has never been a secret as far as I know that motorcycles are more dangerous than trucks or cars. Most of the stuff I read about the inherint dangers of bikes keeps pointing to these "sport bikes" like they are something new. As it happens, there are very few bikes that can in fact go 187mph, and even our non-sport Vulcan can reach 125 or so, fast enough to make things bad for an inexperianced rider.
I am sure if these kids in the Military were buying sport cars, they would still be getting themselves killed, so the idea of using training and instruction, along with some graphc videos of bike crashes ...might help them think alittle of what they are doing , and get the point accross that motorcycles can be dangerous.
I do not know of any 250cc sport bike that is 2-3 times more powerfull than a cruiser, but what it does come down to is riding style. Those with "sport"bikes are more likely to push the limits of the bike as opposed to those buying "cruisers" . If you constantly ride on the edge you are apt to fall.

I do agree that new riders should be restricted to some kind of horsepower limit...but it does get a bit complicated figuring where to draw the line. Perhaps it should be based on 0-80mph times...as there are 500cc sport bikes that really are not "rockets on two wheels" and there are some 500cc bikes that for sure are.
But it still sticks in my craw when someone wants to start passing laws restricting anyone from anything..
I read a news story a few weeks ago where a 14 year old kid was struck by a car and killed, because he was too busy text-ting on his cell phone to look up to see the car coming down the street.Walked right in front of it.

I really think if you limit 18 year olds to slower bikes and they have to wait till they have 2 years experiance before they can get a faster bike, you will just end up with 20 year olds getting killed instead of 18yr olds. As Ron White said:
"You can't fix stupid"


KM