A Long Time Coming.
---
Well you probably all assumed by now I had my endorsment. Local to me, they book up quick, as far as getting in. Only 5 at a time and on thursdays. I found this to be odd. But hey, what do I know?! I really wasn't to worried about getting in at the end of the season last year. Just more time to get use to my scoot! So I show up today and the butterflies start. Nervous? I've accumulated just over 11,000 miles since I bought her last year. Surely I wasn't nervous. The butterflies disagreed. Once we, the group of 5 & 2 unexpected that happened to show up. Now making it 7 arived on the tarmack, I'm looking at the course & thinking to myself... "this doesn't look so bad" The 2 that showed up went first. Non of us objected & we wanted to see them do it on this little honda Rucus? What a joke. Well it turned out that everyone there except a total newbie (on a 750 shadow) ended up using this "rucus" to test. But I was determined to do it on the Vulcan. I went last to let everyone leave hoping this would fool the butterflies to leave as well. After all, nobodies testing you on the road. So, Only the newbie failed. I really thought he might make it till he hit the cones. I must say, after watching everyone take there turn on the course, I felt ready. Those damb butterflis didn't agree though. They tickled and tourtured the whole time. In fact, they kept it up even after I went in to get my endorsment. I guess they where made they had not succeded. I Aced the course on my VN750!
---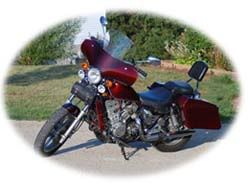 Orig. 8600 Miles 5/12/7 Currently 50,500Miles

Owners Manual
Repair Manual Download
Mosfet RR Test
Goof Proof Stator Test
VoIP Doc's Ear Shave & Re-jet Procedure
Hyperbuzzin's "How To Post Photo's.
Mosfet R&R Headlight Fix.
---
Last edited by kanuck69; 04-17-2008 at

02:52 PM

.
Senior Member
Join Date: Mar 2007
Location: Near Cooperstown, New York
Posts: 722
Congrats!!!!!Sometimes those butterflies keep you on point.......
---
Brian Manchester
'89 "GRIMM"
CUSTOM
-Seat,quick detach backrest,2.5"slam brackets,Pipes,Fender struts,head light mount,9"rise dragbars,Grips,Mirrors, turnsignals,LED brake light/Lic.plate frame,Chopper headlight. Shaved,Jetted,coastered,polished forks,saddle&Tool bags,horns moved,180/70/15 rear tire!!! Yes a 180!!!!And other stuff.....
Springfield 1911-A1 Compact .45acp
03 F250 superduty 4x4 V-10 crew cab long box 33's,CAI,SS duals with magnaflow
04 durango AWD
and the Adventure Cycle
Join Date: Jun 2004
Location: Western PA
Posts: 6,138
Way to go Kanuck!!
I rode for several years on just a permit. Then they were about to change the law in PA so you have to take the knowlege test before getting a permit (the permits were good for 1 year)
I figured why not do it all. The Vulcan & I made it all through the course with no troubles.
I think one thing that helped me a good bit was a riding buddy & I would commonly see who could last the longest, when coming to a red light or stop sign, before putting our feet down. That really helped with the figure 8, IMO.
Again, nice to hear you're all legal now, Kanuck
Now it's time for me to ride.... nearly 80º and my bike is calling me.... see ya's...
---
AKA: Tim & 'The Adventure Cycle' VROC #24567, NEVROC, SteelCity VROC
"When life throws you curves,
Aim for the apex."


Author Unknown
Senior Member
Join Date: Jun 2006
Location: Springfield MO
Posts: 659
Now you can get out there and do some real ridng!
---
"Shutting up rarely leads to anything bad"
Joe McAdoo
Springfield, MO
[email protected]
VROC # 28175
-2004 Vulcan 1500 Classic 22000 miles
-1995 VN750 (Back home again!) 25000 miles
-1995 Suzuki DR350 Dualsport 1720 miles
Senior Member
Join Date: Mar 2008
Location: Gillette, WY
Posts: 721
I gotta get my endorsement.. In michigan, the permit only allows you to drive with an endorsed rider on another bike,no passengers and no night driving... I'm not obeying all the rules yet, lol.. I have put 150 miles on since I get her under a month ago.. that's not bad I guess for the weather here in the UP... they won't start the endorsement test until 1st of may...
---
'99 VN750 with 8900 miles and growing (3,111 when I bought it 03-22-08)
Ear shave with Unipods
Drilled mufflers and degoat
TOC springs
N/C Street shield EX windshield
Jumbo Saddleman Highway Studded saddlebags
Willie and Max Saddlebag mounting kit
License plate turn signals
Home made sissy bar
Luggage Rack from Scoop
http://youtube.com/user/99vulcan750
Join Date: Nov 2007
Posts: 142
I just completed the four day course in California (2 in class, 2 on the range) and know the butterflies experience all to well. One more accomplishment in life. Congrats.
I did the Safety course here in PA (2 class and 2 riding), they supplied everyone with 125cc bikes, no turn signals! After the final riding class they had us all line up and we did each drill 1 at a time. Everyone passed, we also had to pass the book test 1st. I only had a month left on my permit and when I went to make an appointment for my license I found out they were scheduled 6 weeks out! I got in the class as an alternate (luckily someone didn't show) I'm glad I did.
---
"Show me a man who makes no mistakes, and I'll show you a man who doesn't do things." Theodore Roosevelt."
2007 Victory Kingpin
Current projects - 1986 VN750 & 1988 EL250
Join Date: Feb 2008
Posts: 120
Took my saftey course earlier this month, 1 classroom day, two riding, spent 12 hrs in the rain at about forty degrees. but I passed so guess it was worth it!!!!