Drive less, ride more...
Join Date: Nov 2005
Location: SW Ga
Posts: 1,114
Lessons learned....?
---
As this Christmas approaches, I used some "alone" time to do a bit of soul searching.
While "searching", I realized that I have been riding street motorcycles for right at 5 years, as of this month.
During that time, I have done some things aboard a motorcycle that I am not proud of...
. Nonetheless, I have otherwise tried to generally be a good rep for the rest of the motorcycling "family".
I have also been in 3 bike crashes....and (thank God!) was able to walk away from all of them. Obviously, it's been a very educational experience for me.
My biggest disappointment with the sport is of course the incredible amount of disrespect we still get from the non-riding public. Some of this disrespect certainly has been brought upon us by a "select few" (e.g., YouTube is full of examples of riders doing stupid things on motorcycles...
). But I think the lion's share of this problem is that rookie (or other) cagers simply are not taught on any level how to look out for us or to be sure to give us the right of way when it is ours. Also: the legal penalties for wrongfully injuring or killing a motorcyclist certainly have no real teeth and thus there is no real deterrent for this offense. There are other factors at work here--but they are for another time and another thread (or even another forum).
Anyway....rather than sound like a know-it-all, or like I'm preaching a sermon (hey, too late, right?...
...), I thought others here might be willing to share with the rest of the forum what he/she thinks is the most important lesson (of late) to pass on to others from his/her own riding experiences.
Anyone? Anyone?.....
---
'05 VN750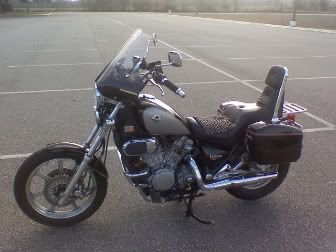 For other bike pix & mods, go to:
http://s1203.photobucket.com/albums/...k/VN750%20pix/
---
Last edited by theauhawk; 12-15-2010 at

10:48 PM

.
My own is to simply recognize my own limitations, and mortality. I also discovered myself doing much more risk assessing than when I was a cager only.
Members who have donated towards server costs
I learned that I am as dumb as I ever was and gravity gets stronger as I grow older.




---
If you see it on my bike I did it
VROC#30324
92 vn750(sold)
Current ride 05 1500 Classic FI
lovin' the new scoot
Quote:
"When all is said and done,usually more is said than done" UNK
Click on one x and drag to the other to read between them.
Psalm 40:1...
XI waited patiently for the Lord; and he turned unto me, and heard my cry. X
I've learned to never get complacent
---
2017 Indian Roadmaster (current ride)
2003 VN1600A (
Traded August 2017 to #1 son for a Bushmaster AR
)
2001 VN750 bought 4/19/08 w/2309 miles(
Sold April 2010 with just over 12,000 miles
)
VROC #33035
__________________________________________________ ________________
Just when I thought I was winning the rat race, somebody moved the finish line!
It's been said here before, you are invisible. Drive like everyone is out to get you...
---
"Show me a man who makes no mistakes, and I'll show you a man who doesn't do things." Theodore Roosevelt."
2007 Victory Kingpin
Current projects - 1986 VN750 & 1988 EL250
Senior Member
Join Date: Nov 2008
Posts: 411
You have to be a legitimate Miss Cleo and be able to predict what everyone around you in traffic is going to do while at the same time forming a plan for what you're going to do if and when they do the unpredictable.

As far as riding goes, I still think that the best piece of wisdom that I ever got was from my MSF instructor. He said that when (not if) you find yourself going into a curve too fast, just lean the bike over harder rather than lock up the brakes and risk a slide either into oncoming traffic or off into the ditch. He said that he's continually amazed at how far motorcycles will lean over. While I'm a tad more experienced now and don't find myself misjudging curves much anymore, that piece of wisdom saved my bacon several times during the first year that I was riding regularly.

--FA
---
K.J. "Fire Ant" Lord
VROC #28807
Decatur, TX
'03 VN750 "Serenity"

Rear Turn Signal Relocation
Front Brake Replacement
Spline lube, per Fergy's excellent instructions (that he has posted around here somewhere)
Kevlar Clutch Plates
Metzeler ME880 Tires
Stebel Nautilus Air Horn
ACCTs Rebuilt
Saddlemen Explorer Seat
MCCTs Installed
Kuryakyn Wide Levers Installed
Members who have donated towards server costs
Join Date: Dec 2008
Location: Monroe, LA
Posts: 4,698
Take the MSF course.
---
I'm keepin' all the left over parts. I'm gonna use 'em to build another bike!
_____________________________________________
"Black Beauty"
1989 VN750 acquired December, 2008, 6,711 miles
Currently 23,298 miles
Old Blue
2001 Honda CMX250 Rebel acquired July, 2008
1987 VN750 project bike, acquired August, 2009, 33,000 miles and balancer sticking out of the case, currently awaiting attention and parts
Senior Member
Join Date: Jul 2008
Location: Titusville, New Jersey
Posts: 6,388
Trust your instincts. If your gut is telling you something, don't dismiss it. Even if your bike is warming in the drive and you're all geared up about to throw a leg over. You get a bad feeling, put it back in the garage.

Same for on the road. If you sense something, see something, or feel something's about to happen - slow down, look around, and check your mirrors. Get your alertness up even more and be both clutch and break ready.
Senior Member
Join Date: Jun 2010
Location: Close to Peoria Illinois
Posts: 509
When You Think You What You Are Doing
---
All good advice, I think the biggest is to not become complacent. When you get comfortable and let your guard down. We all have those days when we think know what we are doing, it is not always what we are doing or not doing that can hurt you. You are at risk. What anyone around you does can hurt you. I say "hurt" to be kind.
Members who have donated towards server costs
Join Date: Jun 2010
Posts: 386
deleted
---
Last edited by FlacoLove; 03-26-2013 at

12:23 PM

.