Junior Member
Join Date: Oct 2010
Location: Warner Robins, GA
Posts: 11
They are all out to kill you...
---
I make it a constant habit when riding to keep my situational awareness at 110% - when I approach an intersection, I do so with a plan on how to escape with my life should idiots occur...and they WILL occur.
This poor lady learned the hard way; I'm seriously thinking about adding a headlight modulator in addition to my "weave" routine.
http://www.13wmaz.com/news/local/sto...8467&catid=153
Quote:
A motorcyclist has died after an accident on Watson Boulevard in Warner Robins.

Officers of the Warner Robins Police Department responded to an automobile accident Monday at 5:41 p.m. at the intersection of Watson Boulevard and Austin Avenue.

Police say 39 year-old Sheri Lee St. Louis of Perry was driving a 2004 Gold Chevrolet Silverado Truck eastbound on Watson Blvd. and had just entered the turning lane to turn into the Budget Inn located at 2076 Watson Blvd.

Valerie Gay Whitaker, age 41, of Warner Robins was driving a 2006 Black Harley Davidson Motorcycle and also traveling westbound on Watson Blvd.

Police say in the same lane of travel as Whitaker's motorcycle was Mitchell Ryan Fowler age 18 of Warner Robins driving a 1996 Red Chevrolet C1500 Truck.

St. Louis attempted to make a left turn and pulled into the path of Mrs. Whitaker's motorcycle causing an accident, police said.

After the impact, police say Whitaker was ejected from the motorcycle.

Authorities said Fowler tried to steer left after the first crash but was unable to avoid colliding with Mrs. Whitaker and her motorcycle which caused another car accident.

Whitaker received severe impact trauma and was transported to the Houston Medical Center for treatment, according to police.

At about 6:41 a.m. police say Whitaker died. Ms. StLouis and Mr. Fowler were not injured, according to police.

This car accident is being investigated by the Warner Robins Police Department.

MANIC MECHANIC
Join Date: Feb 2006
Location: Dale City, VA
Posts: 942
People are only interested in what they are doing you should try riding up here in D.C. metro traffic I tapped on the window of a cager the other driver to ask him to please put down the book he was reading on the steering wheel and pay attention (his 2 left tires were in my lane). To which he replied "
[email protected]
off, you have plenty of room." A morning radio dj in Baltimore I was listening to came right out and said he did not and would not pay extra attention to look for motorcycles. and went on to say if you were on a motorcycle in traffic that was your risk not his problem. My friends, they are out there to kill us.
---
34k so far
VN750.com member #613
Keep the shiny side up
coastered
de-goat and baffles removed
jetted 42-150 2 shims
Earshaved with unifilters
inside of tank coated
spline lube
long Beach Blue Pearl Paint 4/07
Shindengen FH012AA r/r
TPE stator
Exide sc30lfa Battery 28ah 445cca
Saddlemen saddlebags
2001 HD fatboy solo seat
Custom taillight & rear turn signals
Fergy's coil relay mod
Fiamm El-Grande high/low tone horns
Linkmeister Supreme
Join Date: Aug 2008
Location: Lethbridge, Alberta, Canada
Posts: 7,960
That`s the classic left turn killer move that should not be a surprise to any of us while riding. Expect them to turn in front of you! Watch for the tires to turn left before the car/truck moves, and for the hood to rise as they accelerate and start to move. That gives you another fraction of a second warning over just seeing the car body moving into your lane.
You should be scanning 12 seconds ahead for road traps, large vehicles and left turners etc. to stay away from. When approaching any situation that you have identified as possible danger, scrub off 10 mph NOW and keep the brake(s) covered. By doing so you can cut your stopping distance almost in half at typical urban speeds. Also change lanes or lane position to maximize your space cushion.
There is no information about what evasive action Mrs. Whitaker did or did not take. In the worst case scenario she did not recognize any impending danger and took no defensive measures, and drove into the truck without braking at all.
IF she had scrubbed off 10 mph as soon as she saw the truck in the left turning lane, she likely would have avoided the collision altogether. The truck behind her would have had earlier brake light warning to slow as well.
This accident is a terrible tragedy.
Avoid it happening to you by reading David Hough`s book, "Proficient Motorcycling", and safety tips here:
http://www.msgroup.org/
---
Gordon
1991 VN 750 -"
Cosmic Lady
" or "
Bad Girl
"?
Purchased May 16, 2008
Approx.19,300km (12,000 miles)
H-D windshield
Relocated R/R
MF-AGM battery
Fiamm Freeway Blaster horns
F&S luggage rack and engine guard
Kury Offset Hiway pegs
July 13, 2016, Riding on the DARKSIDE now, Classic Radial 165/80-15
TOP TEN THINGS A NEW RIDER/OWNER SHOULD DO.
Click on link.
https://www.vn750.com/forum/11-vn750-general-discussion/9127-top-ten-items-you-would-suggest-new-owner-do-his-new-ride.html
---
Last edited by OlHossCanada; 11-10-2010 at

05:25 PM

.
I read one in our paper tonight that the guy got killed. It said he struck the bumper of the car that pulled out in front of him instead of saying the guy hit him. I know it's just a play on words, but I really notice how they write these articles now that I'm riding again.
---
"Show me a man who makes no mistakes, and I'll show you a man who doesn't do things." Theodore Roosevelt."
2007 Victory Kingpin
Current projects - 1986 VN750 & 1988 EL250
Member
Join Date: Sep 2010
Location: western australia , australia
Posts: 32
no diffrent over here maybe one or two deaths a week in australia
---
bike
1986 vn 750
Senior Member
Join Date: Aug 2010
Posts: 2,687
No difference in Mexico either. Stupid cagers keep driving in my lane, as soon as they see me on the bike they pull into my lane or try to go around me at stops... as if they could go faster than me haha. I especially hate cab drivers cause they pull up wayyyy to close to me... even an imperfection of the road (and there are way too many) could make my bike go a few inches to the side and I'll hit the cab.

Still, the best thing to do is assume they WANT to hit you and just evade them. Or like a friend told me before I started riding... "when you're on a bike you have to assume that you are completely invisible!".
Drive less, ride more...
Join Date: Nov 2005
Location: SW Ga
Posts: 1,114
For what it's worth: your "visual footprint" goes up significantly when you ride using a headlamp modulator.

I think that many people instinctively associate a "flashing" light somehow with law enforcement, and their behavior is then more respectful--until they realize the bike in question is not a cop bike.

Although a modulator doesn't guarantee that others will always see and respect you, I find that it's very cheap life insurance. And most of the time, they do in fact work as advertised.

There are certain "rules" of etiquette that need to be employed when a modulator is used, however (e.g., turn it off when behind someone else while stopped at a traffic light).

The bottom line: modulators are basically a "no brainer". I would encourage everyone in the US to get one for their bike, and use it whenever traffic conditions can justify it.
---
'05 VN750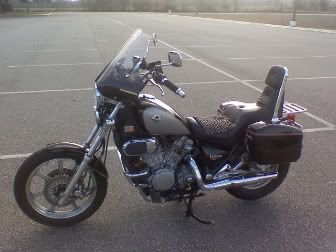 For other bike pix & mods, go to:
http://s1203.photobucket.com/albums/...k/VN750%20pix/
Undercover Sportbiker
Join Date: Oct 2007
Location: SoCal (SF Valley) 91343
Posts: 1,097
You know, last week it struck me that I was having more close calls than I've had in a loooong time. So I got to htinking about what I was doing different, other than riding at a more "sedate" pace than usual. Then, Wednesday night, I needed to take my bike up the street for a quick test ride and it had gotten dark. As I turned around in my driveway, I realized I had no headlight. The high beam indicator was on, but no light. Swap to low beam and there was light. I always ride with the high beam on during the day, and haven't done any night riding in a long time, so who knows how long it had been burned out. In doing my check of all lights I found out my tail light (run, not brake) was also toast. It was a good reminder that there's more to maintaining the bike than bolts and fluid changes. I cannot recall the last time I checked every single light prior to that. I'm glad I didn't have to pay for the mistake with my health or my life.
---
Members who have donated towards server costs
Join Date: Sep 2009
Location: SAN ANTONIO, Texas
Posts: 1,126
I dig the modulator. I still think we should be allowed to choke the cagers a little and maybe smack them around if they endanger our lives. Maybe have a quick kangaroo court on scene with a couple witnesses and commence to choking. I think it would help them remember how to drive like they are supposed to. Until that happens, i assume that they are complete idiots and that i am invisible. Also, X2 on Hough's book...it rocks.
---
2011 Suzuki VSTROM DL650 with ABS Purchased Jan 28 now with 39,000miles WRECKED JAN 12 ,2013
"To strive, to seek, to find, not to yield."
05 Vulcan 750 26,050miles *Traded in*
Ventura guards
MadStadt mount
Givi windshield/Heated grips
Backoff
Riderbeads
Givi 52 topcase
Pat Walsh Crash bars skid plate
OEM centerstand
Headlight modulator
Battery tender
Aquarium thermometer with forward probe mount
Admore LED Lighting/Givi E36N panniers
Drive less, ride more...
Join Date: Nov 2005
Location: SW Ga
Posts: 1,114
BTW: for those who simply can't bring themselves to install a headlamp modulator on their bike, now might be a great time to repost the following video.
This YouTube video does a really great job explaining another technique for bikers to defend against last-second right of way violations:
http://www.youtube.com/watch?v=eqQBubilSXU
But I think that the modulator is really much easier to use than that illustrated above. Also: modulators are in fact legal in all US 50 states. The video was created because apparently modulators are not legal in Europe.
Either way....choose your weapon.
---
'05 VN750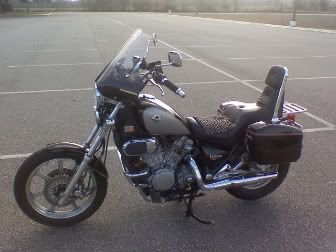 For other bike pix & mods, go to:
http://s1203.photobucket.com/albums/...k/VN750%20pix/