Boots
---
After some hard experience, I've decided that I need to find a good pair of over-the-ankle boots to wear while riding. But I don't like the style of most motorcycle-specific boots.

Can anyone recommend a boot that provides a fair amount of protection that is also comfortable for everyday wear?
---
EZC
Senior Member
Join Date: May 2010
Location: St. Albans, Maine
Posts: 796
I've always worn insulated steel toed work boots on the bike. Find a good comfortable pair and they will work just as good as motorcycle boots. You can use them to work in and they are cheaper in some cases.
---
01' VN750
Jardine cross over exaust
Kyriakin grips and foot pegs
Modified seat and backrest
Windshield
Luggage rack
Crash bar with Kyriakin pegs and extensions
Kumho 758 165/80-15 CT rear Dunlop 404 110/90-19 front
Coastered and air/fuel screws at 2.5 turns
Spline lube

93' VN750 getting TLC
Decals and mirrors
Coastered and air/fuel screws at 2.5 turns
ACCTs to MCCTs
Degoated with Harley mufflers
Duro 110-90-19 front 150-90-15 rear
Pick-up coils at .020
Spline lube
Senior Lurker
Join Date: Nov 2006
Location: Westchester, New York
Posts: 509
Late to the party
Join Date: Apr 2008
Location: Rochester, MN
Posts: 321
I bought blackhawk ZW-7s and they are the best boots I have ever owned. You have to get over the fact that the zipper is not for getting them on and off without the laces. The zipper is part of the system to get a nice snug fit. I had virtually no break in and the souls are very grippy on slippery surfaces.
---
'05 VN750 - "Cookie"
My Gallery
Senior Member
Join Date: Apr 2010
Location: Strawplains, TN
Posts: 192
I wear Herman Survivors in the Commander style. As comfortable as tennis shoes with an oil resistant sole and composite toe (some folks like steel toe but others claim they can be a risk on a motorcycle). I actually found them on clearance at Wally World for $25.
---
2004 VN750 "Rosanna"
Acquired March 6, 2010

Done:
NGK Iridium Plugs
NGK Caps
Big Crank ETX15L AGM Battery
Battery Tender Jr. w/Pigtail
Marbled
Rear Spline Lubed
Front Spine/U-Joint Lubed
Metzeler ME 880's
Brake Fluid Flushed, Filled, and Bled
Saddlemen Studded Saddlebags and Tank Bib
Installed 12 Volt Power Outlet
Debaffled
R/R Relocated flightcontrol Style

Pending
N/A... I'm Going Ridin'
Members who have donated towards server costs
Shift racing makes an ankle high motorcycle shoe,comfortable enough to wear all day for 99 bucks that looks like a high top sneaker ut have motorcycle specific safety features,The Icon Tarmac is supposed to be comfy also.




---
If you see it on my bike I did it
VROC#30324
92 vn750(sold)
Current ride 05 1500 Classic FI
lovin' the new scoot
Quote:
"When all is said and done,usually more is said than done" UNK
Click on one x and drag to the other to read between them.
Psalm 40:1...
XI waited patiently for the Lord; and he turned unto me, and heard my cry. X
Members who have donated towards server costs
Join Date: Dec 2008
Location: Monroe, LA
Posts: 4,698
If you are like me and have a wide foot, Bates makes up to 4E widths. About the only manufacturer in my size and price range.
---
I'm keepin' all the left over parts. I'm gonna use 'em to build another bike!
_____________________________________________
"Black Beauty"
1989 VN750 acquired December, 2008, 6,711 miles
Currently 23,298 miles
Old Blue
2001 Honda CMX250 Rebel acquired July, 2008
1987 VN750 project bike, acquired August, 2009, 33,000 miles and balancer sticking out of the case, currently awaiting attention and parts
Senior Member
Join Date: Jul 2007
Location: Castle Rock, Wa
Posts: 1,750
My son gave me Desert Storm combat boots last Christmas and I wear them everywhere - walking, to work, on the bike. Very comfortable, lace up,
American made by Danner
- I expect them to be the last pair of boots I'll ever need.
DT
---
95 VN750 (eBay)31k+
GL1100 front fender
OEM engine guard
OEM high back rest
'V-Twin' HWY pegs
Black 750 Spectre handlebars
SunPro Volt Meter (Amazon)
Maier bug shield (JCW)
Bar Ends anti-vibe (JCW)
Emgo air filters
Tank bag-Eclipse
Tail bag-FroZone Cooler
Back Rest-Igloo 6 pak cooler
WalMart Saddle Bags
R/R Relocate
Dry Splines Lubed
AGM DieHard-Sears
Gutted Goat
Sporster XL Mufflers
LED's-stop,tail,turn,marker
Pickup coil mod to .45mm
Silverstar headlight
Rotella T6
Drive less, ride more...
Join Date: Nov 2005
Location: SW Ga
Posts: 1,114
If you would like a set of boots that are specifically designed for motorcycle duty (wet, or dry), and don't like the style of most motorcycle boots (too much of a "Star Wars" look)--then welcome to my world, Fellow Rider...
I have used
Cruiserworks
brand boots for quite a while, and you can wear them in the office or out and about, and blend right in with the rest of the world. But they will keep your feet warm & dry on a ride in an all-day driving rain. They also offer good protection for your feet/ankles in a crash. Their grip is excellent when you put your feet down off the bike in slippery conditions.
But they don't come cheap, either.
I wear their sidezip version:
http://www.cruiserworks.com/sidezip.php
Usually, they have a schedule for rallies and other events. Pay attention to this schedule on their website, and then you can try a pair on when they come to near your part of the world...
Let us know what your finally decide on, ok....
....?
---
'05 VN750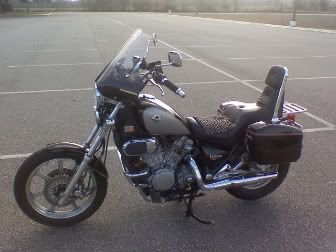 For other bike pix & mods, go to:
http://s1203.photobucket.com/albums/...k/VN750%20pix/