I Was Run Off The Road Today.
---
Hey all. I just thought I'd share my events today. My 13 year old daughter & myself were ran off the road today. We were headed northbound on st rt 60 just south of warsaw (ohio) Traveling around 60mph. Beautiful day. Nice & cool but sunny & warm. Perfect weather to me. I can wear gear & be comfortable. So as luck would have it, we were approaching a road entering from the left that had plenty of visibility in our direction. A car came to a stop at that stop sign & apparently didn't see us. He proceeded to pull out in front of us. I didn't have time to stop little oun slowdown. The quick discission was to veer right or hit him. I chose veer right. Unfortunatly the fairly steep bank didn't like my bike riding on it & decided to throw us. As the bike was loosing it I look to my left, I'm right beside the F'n guy. We proceed to slide on the left side of the bike for prpbrbly a good 30 ft. Thank god for the hard bags I JUST installed. They looked really nice with thr fresh paint job. lol Alittle scratchy now. But, they saved us from being really hurt. My daughters one foot hurts a bit & I have some scratch marks on a leg & maybe some bruising tommorrow. But we walked away. That was a blessing. The bike can be fixed. Maybe. Depends on what the insurance company ends up doing. The bike doesn't look to bad, but the mount for the tank on the left side cracked & started pouring gas. No fire, very good thing. I think she'll need a new tank. The bags are paintable but the fairing had a chunk busted out. I don't think any mechanical damage has been done. But honestly. I really don't want to look at it right now. I'm just glad to be ok. In no way am I going to stop riding, but I'm pretty sure I'm going to miss the poker run cuming up. lol Any way all. I'm glad to be here to talk about it & very luck to not be seriously hurt.
---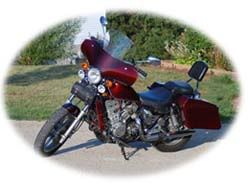 Orig. 8600 Miles 5/12/7 Currently 50,500Miles

Owners Manual
Repair Manual Download
Mosfet RR Test
Goof Proof Stator Test
VoIP Doc's Ear Shave & Re-jet Procedure
Hyperbuzzin's "How To Post Photo's.
Mosfet R&R Headlight Fix.
---
Last edited by kanuck69; 05-12-2010 at

03:25 PM

.
Senior Member
Join Date: Jul 2009
Location: coshocton,oh
Posts: 166
wow man glad you are ok. did the car stop to help or just drive away?
---
2002 vn750,7800 mile,homemade drag pipes,harley heratige seat,honda sissybar,led rear turn signals,
iridium plugs,marbled,110/90/19 kenda kruz front,
170/80/15 kenda kruz rear,saddlebags.
whats to come****handlebars,highway pegs
Linkmeister Supreme
Join Date: Aug 2008
Location: Lethbridge, Alberta, Canada
Posts: 7,960
Wow, that was close. Glad no one was hurt any worse than you were.
If I understand you correctly, you had the right of way at a four way intersection (no stop sign facing you), and the other guy stopped, then pulled out in front of you. A classic ***SMIDSY*** move.
SMIDSY - "Sorry Mate I Didn`t See You"
Kanuck, Here is a way to prevent a future repeat of this crash. Note what he says about motorcycle "
camouflage
" and "
looming.
"
SIAM - "SMIDSY Idendification and Avoidance Manoever", ie. weaving from side to side in your lane, to create lateral movement to avoid the camouflage and looming effects, which are explained in the video.
Link to older thread on this topic:
https://www.vn750.com/forum/showthrea...ghlight=smidsy
---
Gordon
1991 VN 750 -"
Cosmic Lady
" or "
Bad Girl
"?
Purchased May 16, 2008
Approx.19,300km (12,000 miles)
H-D windshield
Relocated R/R
MF-AGM battery
Fiamm Freeway Blaster horns
F&S luggage rack and engine guard
Kury Offset Hiway pegs
July 13, 2016, Riding on the DARKSIDE now, Classic Radial 165/80-15
TOP TEN THINGS A NEW RIDER/OWNER SHOULD DO.
Click on link.
https://www.vn750.com/forum/11-vn750-general-discussion/9127-top-ten-items-you-would-suggest-new-owner-do-his-new-ride.html
carbon unit
Glad that you and your daughter are not seriously hurt. Apparently, you made the right
spear of the moment choice.
---
2010 Triumph Speedmaster
1995 Vulcan750
1989 XT350
M880
1959 M38A1
Senior Member
Join Date: Jun 2007
Location: Ashtabula, Ohio
Posts: 321
Happy to hear you guys came out it it fairly well. Hurry up and get it fixed
---
'09 Nomad
e sold
'85 VN700 A1 (needs work)
'11 Voyager
Members who have donated towards server costs
Join Date: Jun 2006
Location: Long Island, NY
Posts: 812
hey Jason glad that you and your daughter are all right. I put the air horn on my bike to get attention at times like that but as I found out, they either have the radio too loud or they're on the phone or they're texting cause they don't hear it anyway. I had one come across 3 lanes to casually pull in front of me with my horn blaring. My wheels locked up and I was doing the twist with the bike thought for sure after I hit the car I would meet the idiot. Fortunately I managed to steer right and missed by inches also fortunately no one was in the lane next to me to run me over.

Glad you're safe man. Stay well. Much easier to fix the bike than to fix your bod.

Fred
---
2003 Wine/Gray VN750 bought in 2005 w/2000 Miles
LED Tail/Brakelight & License Plate Light;Chrome Inspection Sticker Plate ;Battery Charging Quick Plug;Kuryakyn LED Battery Voltmeter;Throttle Rocker Palm Rest;Optronics Driving Lamps;KnifeMaker Floor Boards;Halogen Headlamp Bulb;OEM Engine Guard;Iridium Spark Plugs;OEM Luggage rack;Stebel Air Horn;Handlebar Clock; Handlebar Thermometer; Sealed Battery; Marbled; Leather Grip Covers; Rectangular Mirrors

~VROC~ # 389
HAWK
Join Date: Feb 2006
Location: Chicago land
Posts: 2,576
Good to hear you are doing good and no one got hurt.
Bikes can be fixed, that is the easy part, good driving.
---
Chad Falstad "Hawk"
Vroc #17649
2011 HD Ultra Classic "angel"
2001 Nomad 1500 Sold March 2012
2001 VN 750 "Sold June with 2008 with 21,000""Serinity"
Headbanger/Popes of Hell
Join Date: Aug 2006
Location: ohio
Posts: 6,488
wow! I am so glad that both of you are (for the most part) alright. good thing you had your gear on!
don't worry about the poker run, there is always next year.
Ba dum dum, ching...
Join Date: Jun 2008
Location: Central Joisey (you got a problem wit dat?)
Posts: 542
Another good advertisement for ATGATT.

Now go find the Jerk and give him what fer!

R
---
Yes, it's my mid-life crisis.
Sweet Jane...