Another rear-ender
---
Well it started out as a nice day. A beautiful spring day here in NJ. A day off of work. Why not take the Vulcan out for a ride.
...my nice ride lasted about 15 miles. Riding down a country type two lane road. Two cars in front of me both signaled and slowed down to make a left turn. I tapped my brakes a few times and then came to a stop behind them. Apparently the woman in the Jeep behind me didn't feel it was necessary to stop and proceeded to plow right into me!
Somehow I stayed upright after the impact and just jumped off the bike. Never went down and didn't move forward into the car in front of me. I feel extremely lucky today. The only injury is a bruise on my right knee. I think I jammed it into the gas tank.
I freaked out bad on this woman. Screaming at her so much that onlookers came over to calm me down. Drove her to tears. I feel a little bit bad (just a little) about how I reacted, but the adrenaline was pumping and she was arguing that it wasn't her fault. I was actually lectured by one of the cops later about how I shouldn't have been so hard on her because I upset her so much. Amazing! She's a little upset...I wonder if I would have upset her more if I left there in an ambulance.
Soooo...that was my day!
PLEASE be careful out there everyone!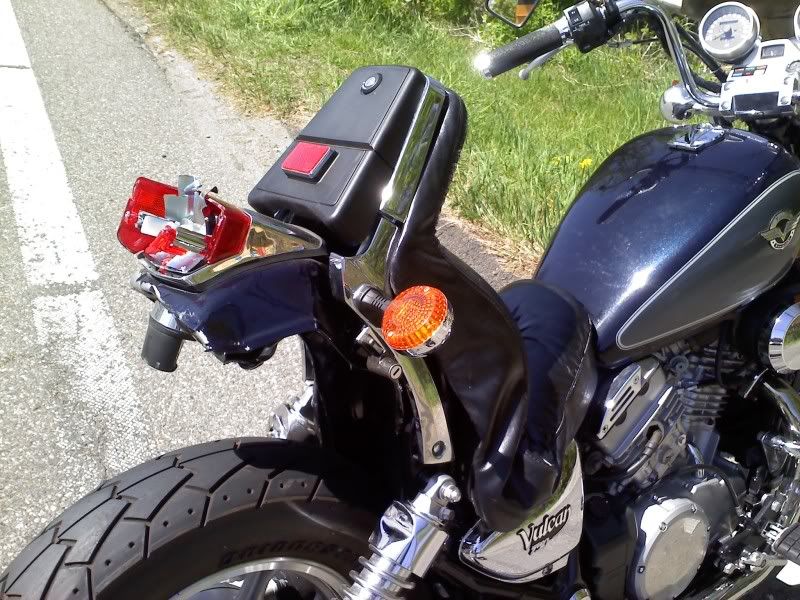 Cruisin' through my 50's
Join Date: Feb 2010
Location: SW Ohio
Posts: 115
Holy Crap from the looks of that picture, you're one lucky man. You might want to put a couple extra bucks in the collection plate this Sunday.

I'm glad you're doing well. Hope you can ride again soon.
Senior Member
Join Date: Nov 2009
Location: Springfield, OH
Posts: 319
I think you reacted just fine. Glad you were able ok enough to give her a piece of your mind. That's what counts and hopefully she'll pay a bit more attention to what's ahead of her. On a final thought = the damage to your bike just sucks. I'd like to know how the insurance works out on fixing/replacing your bike.
Old Truck Junkie
Join Date: Jul 2007
Location: Roby Texas
Posts: 4,130
Glad to know that you are okay health wise.
---
02 honda sabre 1100
Thanks guys. I keep looking at that thinking of other ways it might have turned out. I do feel lucky. Weird thing is though...the odometer stopped at 12,666.

I guess it's gonna be a while before I get an idea what insurance is going to do. This had to happen on a Friday. Plus I didn't have collision coverage on the bike so I have to wait on her insurance company now.

This is the second time I have had a Vulcan destroyed because of someone else's carelessness. Back in '99 I also had a '93 750 just like this one. A guy pulled out in front of me and stopped. We met briefly as I flew by (and off of) his windshield. For what that crash was, I was also extremely lucky. I did take a trip to the ER, but left the same night with just a few broken bones and some stitches where his windshield was removed from me.
After that it took me ten years to get back on a bike. Now after only having been back riding since last summer, this happens.
I am just wondering now of course....how much more do I push my luck?
I want to get right back on...but...
Members who have donated towards server costs
Join Date: Apr 2008
Location: S.E. Michigan
Posts: 2,850
Wow, glad you're ok. That could've went a whole lot worse for you.

I don't know what to say about that lady...I'd have gone off on her the same, and here in MI, if a person rear-ends anybody for any reason it's always the fault of the person who does the hitting. Some silly stuff about always having to be in control of your vehicle, and paying attention, and blah-blah-blah. I wonder what super-duper outside force prevented her from maintaining control of her own vehicle, and forced her to hit you...

Anyway, I'm glad you're ok, and will be able to ride again, if you choose to.
Senior Member
Join Date: Oct 2009
Location: Ruskin, Florida
Posts: 175
holy ****balls that sucks

sorry i would have let her have it too

glad you are ok
Senior Member
Join Date: Apr 2008
Location: Pittsburg, TX
Posts: 401
Glad to see you made it out alive after seeing the bike. Yes, you did the right thing by correcting her unsafe driving. Did the LEO say anything to her or just you for saying something to her?
---
2005 Vulcan 750
Black and Silver
Windshield
Saddlebags
OEM Hghwy Bars
O-ring Footpegs
OEM Luggage Rack
V&H Exhaust System
TOC ACCT Rebuild
Die Hard Gold AGM MFB
Spline Lube every tire change
VN750 #4393
VROC #31065
TexasVROC
Yeah, he did talk to her too. I didn't hear the conversation, but according to him he told her that she was completely at fault. He says he tried to explain to her why I reacted the way I did. I don't know exactly what he told her, but he did recommend that I didn't talk to her anymore. Whatever...I just hope she learned something today...
..or just quits driving.
Senior Member
Join Date: May 2009
Location: Denver CO
Posts: 273
Looks like she wanted to ride 2up!!!
Seriosly, glad to here you're OK and X222222 on hoping she learned something, just wish is wasn't at your...I mean her insurance company's expense..
Hold on to your beloved bike, and MAKE THE INS. PAY UP AND FIX IT!!!!!!!!!!!!!!! (doesn't look totaled from the pic, but I could be wrong)..
Here's to hoping that you and your bike are back in the wind soon!!
---
"The Mistress".
1985 VN700A1
MODS:
New stator
My version of the Marbleing
New paint and trim
New oversized front tire
Degoated
Iridium Plugs
New grip and lever covers
New(er) Ignition switch
Waiting on:
A good ride
As always:
Wanting attention at all times.
Why should I act my age, I am an ADULT!!!!!!