Drive less, ride more...
Join Date: Nov 2005
Location: SW Ga
Posts: 1,114
The "Deadly" Dozen....
---
actually I think
The "Dirty" Dozen
would be a more apt label....but anyway...
what follows is a list from the
Motorcycle Cruiser
magazine staff of some common "old wives' tales" that simply don't hold up under scrutiny with numbers or established facts.....
http://www.motorcyclecruiser.com/str...ths/index.html
The above is submitted mainly as food for thought and/or discussion.
---
'05 VN750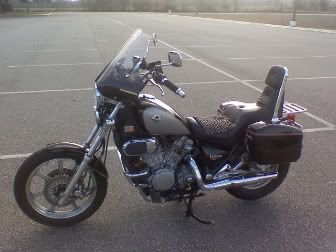 For other bike pix & mods, go to:
http://s1203.photobucket.com/albums/...k/VN750%20pix/
Linkmeister Supreme
Join Date: Aug 2008
Location: Lethbridge, Alberta, Canada
Posts: 7,960
I agree with all the explanations given in the article. The first point about not being seen by other drivers, especially as the population ages and their vision grows poorer, makes sense to me. Loud or bright colors may make us more noticeable to the majority of drivers, but you still have to stay aware to watch for the ones who are simply not paying attention to the road.

Whether they are distracted by the phone, GPS, stereo, screaming kids, drugs, alcohol, lack of sleep or a fight with someone just before getting behind the wheel, you have to watch for anyone who may become a danger to you.

Regarding helmets and low speed impacts to the head, I have a story to share. A friend of mine was cross country skiing with his brother and a couple of friends about 20+ years ago. He was in his mid 20`s, physically fit and involved in playing many sports, etc. He fell down somehow and slid headfirst, slowly into a big rock. The very low speed impact broke his neck and he died about 4 hours later. I don`t know if a helmet would have saved him, but I suspect it would. Probably even a bicycle or hockey helmet would have made a difference to him in this case.

I know there are some who will choose to ride, at least some of the time, without a helmet, for a variety of reasons. The experienced rider will have an enjoyable ride and return home unhurt 99.99% of the time. That 0.01% of the time when they don`t, may deprive them of body function or even life. It will deprive their family of a son, husband, or father. When you contemplate riding without your helmet, consider who elses life you are influencing. JM2 cents worth.

Good article. Thanks for sharing.
---
Gordon
1991 VN 750 -"
Cosmic Lady
" or "
Bad Girl
"?
Purchased May 16, 2008
Approx.19,300km (12,000 miles)
H-D windshield
Relocated R/R
MF-AGM battery
Fiamm Freeway Blaster horns
F&S luggage rack and engine guard
Kury Offset Hiway pegs
July 13, 2016, Riding on the DARKSIDE now, Classic Radial 165/80-15
TOP TEN THINGS A NEW RIDER/OWNER SHOULD DO.
Click on link.
https://www.vn750.com/forum/11-vn750-general-discussion/9127-top-ten-items-you-would-suggest-new-owner-do-his-new-ride.html
Columbus, Ohio
Join Date: Oct 2009
Location: Columbus, Ohio
Posts: 523
x2.
And an aside about half helmets.
I was wearing a skid lid helmet while hang gliding, and fell from about 40 feet, landing first on my feet, collapsing, and smacking my head, face first, on the ground. The helmet, DOT approved, actually cracked on impact. Every thing inside the helmet was protected, but my jaw, nose, neck, cheek bones, sinuses, occipital orbits (eye sockets)and lower lip were heavily damaged, as well as minor damage to one foot, knee, hip, and shoulder.
The impact was probably about 40 mph.
Had I been wearing a full face mast most of that damage would not have happened. I could have bought a house with the money my insurance paid to fix me up.
---
Jim
'95 Kawasaki Concours
Sold my Vulcan
I do
LOTS
of dumb stuff. Riding is only one of them.
Members who have donated towards server costs
Join Date: Nov 2007
Location: Chandler, Arizona
Posts: 2,850
I agree with the authors opinions on all but #1 and #7.

#1. I really don't think that most drivers are "out to get you" or don't really care if they run over you are not. But it doesn't really matter. The results are the same. Most car drivers WILL run over you if you give them a chance, even if they don't mean to. Maybe it is because they just don't see you, but again, the result is the same. Squashed motorcyclist. IMO, it is so much easier, and safer, to consider all car drivers to be your adversaries. In many situations, riders with loud pipes piss car drivers off, and cause them to be a lot less respectful of motorcyclists rights. Loud pipes suck. The same goes for aggressive riders on sportbikes, speeding and weaving in and out of traffic. Not good ways to give motorcyclists a positive image.


#7. The qualifying word there is ALMOST. No rider, no matter how skilled or experienced, can possibly be prepared to deal with everything they might encounter. It is not humanly possible. But they should be able to be prepared for MOST of it.


And of course they had to throw that anti-lock brake thing in there. The truth is, a highly skilled rider can come very close to matching anti-lock brakes, under controlled conditions. But in a panic stop, properly functioning anti-lock brakes are going to work better. I personally will not own a motorcycle with anti-lock brakes, or even linked brakes. I grew up riding motorcycles with separate front and rear brakes, without anti-lock, and that is what I will continue to ride. I consider motorcycling to be a highly skilled sport. It is obviously dangerous. But it doesn't have to get you killed. To me, a big part of that sport is being totally in control of the motorcycle. Harley has a new throttle system out, that does not use a throttle cable, but rather an electronic controller in the throttle, connected to stepper motors at the fuel injection unit by WIRES. No thanks. Same with anti-lock brakes. No way no how. Aside from taking control away from the rider, they use failure prone electronics and microprocessors. Now if somebody could come up with a purely mechanical version, I might be persuaded to change my mind.

I see motorcycles of the future, completely controlled by computers, where the rider does nothing but sit there. Fortunately, it won't happen during my life. Jerry.
---
I am a motorcyclist, NOT a biker.


1997 Vulcan 750, purchased about a week ago
2006 Sportster 1200 Low
2013 Royal Enfield Bullet 500, converted to carb
2001 Yamaha XT225, heavily modified
2004 Honda Rebel 250
1979 Vespa P200E
2002 Vulcan 750 parts bike
1994 Yamaha XT225 parts bike
Quote:
Originally Posted by
VN750Rider/Jerry
View Post

To me, a big part of that sport is being totally in control of the motorcycle. ..
I still find your technophobia amusing. Have you ever ridden a bike that had ABS?
My FJR has ABS and it also has linked brakes..(the front brakes remain independant, but at a certain threshold the rear brake will activate a set of the front pads)
The entire system is pretty seamless and the only way to even know the bike has either system is to hit the brakes with as hard as you can..meaning harder than you would under almost any condition.
The beauty of the system is it cuts in only when you really need it...99.99 percent of the time you won't even know it is there.
You concept of what "being in total controll" would work if you were the best rider in the universe, un-matched in skill. But I do not think anyone is, and in many situations where you imeadiately realize you might get killed...it is very iffy that you will perform to the best of whatever your ablility is....thus, linked brakes, and more specificly ABS provides a safety net that will cover your ass when your abilities are shaken.
I would never own a bike without ABS, now after living with one, and as far as "riding by wire" systems, I have had throttle cables break, stick and fail , so no mechinical system is foolproof either.
I doubt they will make a bike that is completely controlled by a computer.....they have not been able to yet...it still takes a rider to controll balance it seems...no system has been made to duplicate this.
KM
Vintage bike addict
Join Date: Oct 2008
Location: I live in eastern ohio
Posts: 859
Good info and a good discussion. I'm not the most skilled or even the most paranoid. I prefer mechanical controls on throttle and brakes because it's what I'm used to and I know the limits of their functions. To me a bike must instill just a bit of fear or riders become overconfident. Too much trust in technology or the people you share the road with will get you hurt or dead. Lighting front and rear is far more important in announcing your presence than any bright colors or noise you can make. Even a foghorn will not get a car out of your way.
---
No one can make you feel inferior without your consent.
Eleanor Roosevelt.
Drive less, ride more...
Join Date: Nov 2005
Location: SW Ga
Posts: 1,114
The only one in the list that I would have questions about is the one about lane-splitting. Especially if your bike is a bit on the wide side.....
Frankly, I'm surprised that someone has not already tried to convince the rest of us that loud pipes on a bike are basically indispensable, and should be everyone's first line of defense....
---
'05 VN750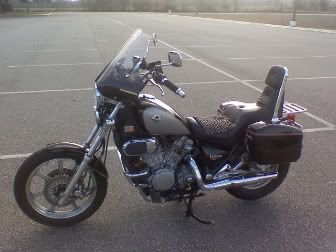 For other bike pix & mods, go to:
http://s1203.photobucket.com/albums/...k/VN750%20pix/
Where I live... I can't have loud pipes... in fact the managers here at my apartment complex are trying to ban motorcycles, ATV's, and snowmobiles from being ridden on the property due to noise constraints... I understand their reasoning behind this ban... we have too many selfish people in here that fire up their quads and sleds late at night to dial in their systems b4 the week end... and during the summer time their are those that think jumping their Dirt Bike off of the slide and over the merry-go-round at 2 am is a "Cool" sport... but those people make it so people like me who ride my bike for commuting and for recreation won't be able to start it up on the grounds. Thank goodness this ban isn't in effect yet... but until it does.. I am going to keep my stock pipes in tact.
Members who have donated towards server costs
Join Date: May 2009
Location: Duluth, GA
Posts: 641
lol, I feel you on the noise thing Slim. I also live in an apartment complex. There are several people here that have a bike, one of them is a county police officer. No one has complained yet, but like I have mentioned before, I don't want complaints to start because I bought the V&H's and start the bike up at 4:45 in the morning before heading off to work. So for the time being, I'll stay stock.
I'm not putting louder pipes on the bike for safety, that's not my reasoning for it. I just like the way the V&H Cruzers sound and they just happen to be louder than stock.
I agree with pretty much all of what the article has to say. Especially about the helmet thing.
I'm sure I will probably tick off some people here that don't/won't wear a helmet, but the way I feel about it is this, It should be common sense to want to protect your melon. If you really don't care about if you live or die and don't care about those that love and care about you and will miss you should something horrible happen, There are faster ways to tempt fate and faster ways to kill yourself......like putting a gun in your mouth and pulling the trigger.
---
My daily ride
Metzler ME880s
NGK caps, wires and Iridiums
Coasters (made by Lance328), earshave and rejet with screws turned out 3 turns
Volt gauge w/ custom mounting cup by Lance328 wired into headlight bucket 13.5v-14v
National Cycles Plexistar 2 windshield
DEKA battery
Mutazu GA Black hard bags w/ custom support brackets and relocation brackets made by Lance328
Custom lowers made by Lance328
Vance&Hines Cruzer exhaust pipes
TOC MCCTs
H.I.D. Conversion kit
Members who have donated towards server costs
Join Date: Nov 2007
Location: Chandler, Arizona
Posts: 2,850
Everybody is different, and has different reasons for being different. People who ride motorcycles are different from most of the population to begin with. I prefer what would be considered old fashioned bikes today, I like being in total control of the bike, I do wear a full face helmet, but just as much for protection from the wind and all the crap that's in it as for crash protection. I also often wear bright colors, and just added headlight and brake light modulators. I do not wear armor, my feeling on that is that it is way too cumbersome and awkward, plus all the trouble of putting it on and taking it off, and it will only help protect you from abrasion injuries and nothing else. Riding a motorcycle is at best a calculated risk.I'm not going to come down on somebody for what they ride, or how they dress. I may personally think it is dumb, but I won't say anything. After all, freedom is what it's all about. I just hope that anyone who rides has carefully thought things through, and understands the possible consequences of what they are doing or not doing. Jerry.
---
I am a motorcyclist, NOT a biker.


1997 Vulcan 750, purchased about a week ago
2006 Sportster 1200 Low
2013 Royal Enfield Bullet 500, converted to carb
2001 Yamaha XT225, heavily modified
2004 Honda Rebel 250
1979 Vespa P200E
2002 Vulcan 750 parts bike
1994 Yamaha XT225 parts bike