Members who have donated towards server costs
Join Date: Mar 2006
Location: Kyle, Texas
Posts: 4,054
Stay alert out there!
---
I'm sorry to say I lost a good friend this weekend in a motorcycle accident. I got a call last night from one of my best buddies, a mutual friend, as we all played ball and worked together for many years. Jon Seymour was 44 years old and was on his way in to work Saturday morning on his bike, coming up on an intersection where a farm road came to a "T" on US 290 (the highway Jon was on heading east) from Jon's right. Details are sketchy, but apparently a young girl in a Honda Civic was coming the other direction (west) on 290, when she decided to turn left onto the farm road and hit Jon head on as she cut in front of him. Obviously she didn't see him, and she was apparently on her cell phone! I haven't talked to his family, but from reading the reports, it looks like he died Monday. He was wearing a helmet but that's all I know.
After Carlos told me last night and I got over the shock, we talked for a long time about what Jon meant to us and the impact he had on our lives. He was a strong Christian guy and just a calm and cool dude with a great attitude "all" the time, always with a smile, and an amazing ball player. We probably played softball together for 15 years and he was one of those guys that you wondered why he didn't play in the pros. I can remember many times where a ball was hit in the left center gap and Jon would take off from left with a burst of speed, and those smooth, long strides and go totally horizontal 5 or 6 feet off the ground and snag the line drive, then the poor base runners would be scrambling to get back, and I would brace myself at third base for the cannon shot throw that was coming back in to me or Jon's brother Billy at 2nd base. Many a base runner got forced out trying to get back to their bag after one of Jon's acrobatic catches because of his incredible throwing arm, and his amazing speed and ability to cover ground. I've even seen him force someone out back at 1st base a time or two. The fun we had all those years and great friendships we formed playing ball are times I'll never forget.

I miss him now, and I'm sad for his family, but I know we'll see him again in Heaven!

I got a little off track. Sorry! But just remember when you approach any intersection, slow down and be prepared!
---
Fergy
Kyle, TX VN750.com member #707 VROC#19556
2002 VN1500 Classic
Spline Lube Procedure, with photos,
R/R Relocation
and
Coil Mod
Rusty Tank Cleaning!
Electrical Fault Finding Flowchart
SEAFOAM JUNKIE!
Senior Member
Join Date: Jul 2009
Location: Springfield, Mo
Posts: 136
Man that's painful to hear - sorry for the loss.
________
Latina Webcam
---
Last edited by MisterPister; 05-11-2011 at

06:46 PM

.
Senior Member
Join Date: Sep 2009
Location: South-Central, MO
Posts: 149
Sorry for the loss, I'll keep his family in my prayers.
Senior Member
Join Date: Apr 2008
Location: Pittsburg, TX
Posts: 401
Sorry to hear the loss of a friend Fergy. His family and you are in my prayers.
---
2005 Vulcan 750
Black and Silver
Windshield
Saddlebags
OEM Hghwy Bars
O-ring Footpegs
OEM Luggage Rack
V&H Exhaust System
TOC ACCT Rebuild
Die Hard Gold AGM MFB
Spline Lube every tire change
VN750 #4393
VROC #31065
TexasVROC
Dear Fergy,

I am so sorry to hear this exceedingly painful news. Jon, you, your families, and all involved are in my prayers.

Charlie
---
EZC
Search Goddess
Join Date: Jun 2004
Location: Conway, AR
Posts: 1,998
The laws concerning hands free cell phones while driving are coming way too late, and we are losing many a good person in the meantime.
I am so sorry for your loss and healing prayers go to Joe's family and friends left behind to deal with his passing.
---
Dianna
Conway, AR
Patriot Guard Rider
2000 VN750 Sere (Serendipity)
1990 GL1500 (Ole Blue)
1986 VN750 EVie (project bike, heavy custom)
VROC # 11628 / 25000-H
ARVROC # 12 Coordinator and Crowd Control
OKVROC # 18 (H)
TNVROC # 45 (H)
Simple Solutions
Join Date: Jun 2008
Location: SEQUIM, WA
Posts: 965
Sorry for the loss praying for all families involved....
---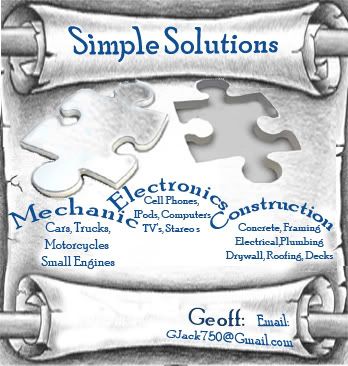 Stator #3
MF AGM
DeGoated
Ears Shaved
R/R relocated
Rebuilt
She's worth her weight in GOLD
If u dont have it already Here is the
Service Manual
How To
Test the Stator
Linkmeister Supreme
Join Date: Aug 2008
Location: Lethbridge, Alberta, Canada
Posts: 7,960
Sorry to hear of the loss fergy. His family and friends are in my prayers.

My family has long made a practice of offering a prayer for safety while travelling on a long trip. Perhaps I (we) should be taking a few moments to bow my head and ask for protection every time I get behind the wheel or on the bike.
---
Gordon
1991 VN 750 -"
Cosmic Lady
" or "
Bad Girl
"?
Purchased May 16, 2008
Approx.19,300km (12,000 miles)
H-D windshield
Relocated R/R
MF-AGM battery
Fiamm Freeway Blaster horns
F&S luggage rack and engine guard
Kury Offset Hiway pegs
July 13, 2016, Riding on the DARKSIDE now, Classic Radial 165/80-15
TOP TEN THINGS A NEW RIDER/OWNER SHOULD DO.
Click on link.
https://www.vn750.com/forum/11-vn750-general-discussion/9127-top-ten-items-you-would-suggest-new-owner-do-his-new-ride.html
and the Adventure Cycle
Join Date: Jun 2004
Location: Western PA
Posts: 6,138
Sorry to hear of this Fergy.
Thoughts and prayers from me too.
---
AKA: Tim & 'The Adventure Cycle' VROC #24567, NEVROC, SteelCity VROC
"When life throws you curves,
Aim for the apex."


Author Unknown
Members who have donated towards server costs
Join Date: Mar 2006
Location: Kyle, Texas
Posts: 4,054
Thanks everyone! I appreciate all the prayers and I know his family does too.
Jon is one of those people that you know you are a better person for having known him. When I was around him, he inspired me to want to be a better person. It's hard to explain, but he had this impact on everyone who knew him...
I forgot to mention that he was a designated organ donor. You always wonder why this happens to good people, but I can't help but feel like there is someone out there who's life will be saved as a result of Jon's death. Who knows the circumstances behind that...
---
Fergy
Kyle, TX VN750.com member #707 VROC#19556
2002 VN1500 Classic
Spline Lube Procedure, with photos,
R/R Relocation
and
Coil Mod
Rusty Tank Cleaning!
Electrical Fault Finding Flowchart
SEAFOAM JUNKIE!