The Reanimater
Join Date: Apr 2009
Location: A Little Town Along I-5 in Northern California
Posts: 847
How many ride with Pets?
---
Even Your pets should wear a Helmet. What I like is the Horn. Should hear that over the Motor
---
JaY
"Veronica"
2002 VN750 Vulcan
Rebuilt Engine
ACCTs lubed w/TOC Springs
Pick-up Coils Gapped at .018"
Splines Lubed
Deka MF AGM EXT15L Battery
NGK Iridium IX Spark Plugs
R/R Relocation Fix
New Rear Rack
Stock Seat Repadded
Ext-BackRest
Simple Solutions
Join Date: Jun 2008
Location: SEQUIM, WA
Posts: 965
that is great!!!
---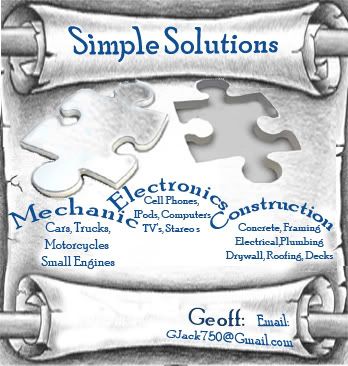 Stator #3
MF AGM
DeGoated
Ears Shaved
R/R relocated
Rebuilt
She's worth her weight in GOLD
If u dont have it already Here is the
Service Manual
How To
Test the Stator
Love My Baby
Join Date: Jun 2008
Location: Hollywood, Florida
Posts: 1,165
Cute! I was riding the other day with a lizard on the windshield! It didn't have a helmet or eyeshields.
---
Rubyrick

MY BABY...
'05 VN750
16,000 miles +
Kawi tank bib
Kawi rear rack
Small windshield
DEKA M/F battery
VN750.com Grill Cover
LED license plate frame
Clear Alternatives LED brake light
Cortech mini tank bag on rear rack
Pirelli MT66 Tires: 110 front / 150 rear
Splines lubed when tires installed at 10,650 miles
Splines lubed again at 14,400 with stubby valve stem install

Place your mouse on the X below and drag to the O

X Even though you can't see Him, GOD is there! O
Members who have donated towards server costs
Join Date: Dec 2008
Location: Monroe, LA
Posts: 4,698
My 74 lb. German wirehair rides on the custom rack on my Rebel, but just in the neighborhood. He loves it; have to drag him out when we stop and he tries to jump back in. He has Doggles.
---
I'm keepin' all the left over parts. I'm gonna use 'em to build another bike!
_____________________________________________
"Black Beauty"
1989 VN750 acquired December, 2008, 6,711 miles
Currently 23,298 miles
Old Blue
2001 Honda CMX250 Rebel acquired July, 2008
1987 VN750 project bike, acquired August, 2009, 33,000 miles and balancer sticking out of the case, currently awaiting attention and parts
Members who have donated towards server costs
Join Date: Apr 2008
Location: S.E. Michigan
Posts: 2,850
I like that bicycle thumb bell on the bars. I need one of those.
Members who have donated towards server costs
Join Date: Mar 2006
Location: Kyle, Texas
Posts: 4,054
I love it! That bell would be hard to ring in emergencies though.
Last year on Halloween day a guy came riding through our neighborhood on a sport bike that he had a small dog riding on the tank, wearing some kind of rig that kept him strapped on like a vest that was tied to the rider. The rider was wearing what resembled a spiderman outfit but had a red cape and the dog was wearing the same outfit with a little cape. It was funny as heck!
---
Fergy
Kyle, TX VN750.com member #707 VROC#19556
2002 VN1500 Classic
Spline Lube Procedure, with photos,
R/R Relocation
and
Coil Mod
Rusty Tank Cleaning!
Electrical Fault Finding Flowchart
SEAFOAM JUNKIE!
Senior Member
Join Date: Jul 2008
Location: Titusville, New Jersey
Posts: 6,388
I ride with "Bones" my king python. I throw him around my neck and cruise around town...
Senior Member
Join Date: Jul 2009
Location: Conway,AR
Posts: 292
hmm, 90 pound Lab+motorcycle? *shudders* messy, just messy
---
Rook
Conway, AR
VROC # 30581
WBRA #90237-1
2009 1700 Nomad (mine)
2003 VN750 "Prozac" (now hers)
25'000 miles at purchase
Coastered
Ears shaved
Cobra exhaust

So, why is a raven like a writing desk?
Linkmeister Supreme
Join Date: Aug 2008
Location: Lethbridge, Alberta, Canada
Posts: 7,960
I have seen a couple of pictures of guys riding with dogs on the bike.

One was a Harley with a thick pad on the tank for the dog, a collie I think, to ride on. They had a windshield, but no helmet for man or dog.

The second was a guy across the pond, in England IIRC, who had a little dog who rode in a tail box. It had a hole cut in the top, just big enough to stick his hemeted and goggled head out of.

None of the 4 dogs in my life are trained well enough to even consider taking for a ride. Well, maybe in a tailbox. lol
---
Gordon
1991 VN 750 -"
Cosmic Lady
" or "
Bad Girl
"?
Purchased May 16, 2008
Approx.19,300km (12,000 miles)
H-D windshield
Relocated R/R
MF-AGM battery
Fiamm Freeway Blaster horns
F&S luggage rack and engine guard
Kury Offset Hiway pegs
July 13, 2016, Riding on the DARKSIDE now, Classic Radial 165/80-15
TOP TEN THINGS A NEW RIDER/OWNER SHOULD DO.
Click on link.
https://www.vn750.com/forum/11-vn750-general-discussion/9127-top-ten-items-you-would-suggest-new-owner-do-his-new-ride.html
At Least I Can Spell!
Join Date: Jan 2009
Location: Monroe, NC
Posts: 615
I'd like to take my cat for a ride, but some scratches can't be removed.
---
Michael
2002 Nomad 1500
VROC #29972
----------------------