Linkmeister Supreme
Join Date: Aug 2008
Location: Lethbridge, Alberta, Canada
Posts: 7,960
Counter-steering IS only Half the Story
---
I am still amazed that I had never heard of counter-steering until I was almost 54 years old, even though I got my first taste of riding as a teenager on friends and cousins 100 cc bikes, riding out on the farms.
I was also surprised at the admission of a friend who has been riding most of his life. He told me when he first read about counter-steering in his wife`s training manual when she took the riding course about 12 years ago. He said, "BS, I don`t do that", then grabbed his helmet, fired up the Goldwing and went for a ride. He came home a half hour later muttering to himself, "Damn, I do, do that". The technique is so subtle that he had not even realized he was doing it.
My brother-in- law, who is just a year or so younger than I am, had a few motorcycles through the years, but sold his Magna fifteen or twenty years ago when his family was young, and was bikeless for some time. He bought another Magna a few years ago, but his 17 year old son is the usual rider now. I was talking to him and his son about my wreck and how lack of me counter-steering the bike had been a major contributor to the crash. Well he almost came unglued. He didn`t want me confusing my nephew with this talk about counter-steering. He didn`t think the riding course should even tell new riders anything about it.
Here is a link that anyone who is still trying to wrap their head around this concept of counter-steering, may find interesting and informative.
http://www.msgroup.org/Tip.aspx?Num=189
---
Gordon
1991 VN 750 -"
Cosmic Lady
" or "
Bad Girl
"?
Purchased May 16, 2008
Approx.19,300km (12,000 miles)
H-D windshield
Relocated R/R
MF-AGM battery
Fiamm Freeway Blaster horns
F&S luggage rack and engine guard
Kury Offset Hiway pegs
July 13, 2016, Riding on the DARKSIDE now, Classic Radial 165/80-15
TOP TEN THINGS A NEW RIDER/OWNER SHOULD DO.
Click on link.
https://www.vn750.com/forum/11-vn750-general-discussion/9127-top-ten-items-you-would-suggest-new-owner-do-his-new-ride.html
Simple Solutions
Join Date: Jun 2008
Location: SEQUIM, WA
Posts: 965
I read about countersteering a week after i got my first bike being a self taught rider of about 600miles i gave it a try OMG what a diffrence it allowed the bike to completly controll thr corners and all i had to do was hang on ... in addition with a assenger it took way more strain off the turning.... Ok i admidt i wasnt an honest safe rider when i first got a motorcycle in fact just got my endorsement after 100K miles.... I think countersteering is the key to operating a motorcycle... and its such a subtle opperation... infact if someone was riding for the first time they could while attempting to steer away from something and instinctively (from bycle riding) turn the bars and hit the very thing they were avoiding....

If my loved ones were to operate a motorcycle i would want them to know how to completely control the vehicle first and foremost...
---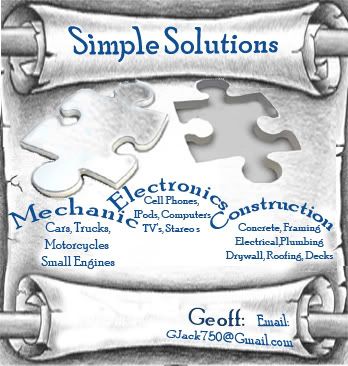 Stator #3
MF AGM
DeGoated
Ears Shaved
R/R relocated
Rebuilt
She's worth her weight in GOLD
If u dont have it already Here is the
Service Manual
How To
Test the Stator
Senior Member
Join Date: May 2008
Location: Portland, OR
Posts: 733
Lots of physics, engineering and mechanics are involved in motorcycling and many are counter intuitive, like counter-steering. Here are a few more relating to turning a motorcycle;
The front tire is responsible for leaning the bike, but the rear tire does most of the work during the actual turn (it "pushes" the bike through the turn).
The ideal front/rear suspension load during a turn is 40/60, achieve by proper throttle control (i.e., smooth acceleration to the apex of the turn).
Motorcycles are automatically set to counter a skid in a turn, thanks to counter-steering.
Best thing to due if the bike skids during a turn (i.e., hitting a patch of gravel) is to hold the throttle steady (no increase, no decrease). The previous bullets all come into play at that point.
Entering a turn causes engine RPMs to increase, due to lean and the smaller inside diameter of the tire, but overall speed decreases due to centrifugal force, wind and other turning forces.
Proper throttle control during a turn (i.e., continued increase from start to apex) will make the bike track a true line through the turn. Go off-throtlle before the apex and the bike will drift to the outside (forcing corrective action like more counter-steering).
---
Chris Glennon - Portland, OR
Quote:
....... I think countersteering is the key to operating a motorcycle...

... infact if someone was riding for the first time they could while attempting to steer away from something and instinctively (from bycle riding) turn the bars and hit the very thing they were avoiding........
And it is the only "key" that fits. The fact is anyone that rides a bike around turn has , even if they are not aware they did it, used countersteering to initiate the turn. Some insist it is "body movement" that they they moved their weight to left to get the bike to "fall over" for the left turn...but high speed cameras would show them leaning to the left and pushing on the handlebar.
So realisticly anyone that rides a bike is countersteering. And I should point out that this is true for any two wheeler. Countersteering works the same on a bicycle as it does a motorcycle.
To prove folks are doing it even if they say they ain't , and to show that countersteering is the only way to one can turn a bike, Keith Code made the No BS bike...simply a normal bike with an extra set of handlebars that were solidly fixed to the frame. He challanged anyone to take the bike down the track and get it to go around a turn holding the extra non movable bars.
Some got a good wobble , or even a very shallow veer, but no one could do it.
There is a video here of the bike:
http://www.youtube.com/watch?v=3nRUeEkS644
and a longer video showing countersteering at work:
http://www.youtube.com/watch?v=C848R9xWrjc
KM
Senior Member
Join Date: Jul 2008
Location: Titusville, New Jersey
Posts: 6,388
By riding different kind of bikes, I've actually learned to feel it. It happens quick that's for sure but the mean streak is longer, lower, and heavier so its more noticable when starting a turn. Riders of all ages on any 2 wheeled machine always countersteer, its just so sublte that if you're relaxed, you don't realize you're doing it. I've never ridden a chopper but I imagine the rake on them would make getting anywhere almost impossible without some serious countersteering.

Great thread by the way Hoss, thanks for posting this. You don't get much talk about counter steering probably because its so subtle...
Members who have donated towards server costs
Join Date: Mar 2006
Location: Kyle, Texas
Posts: 4,054
It's funny how some riders talk about counter-steering as if it was something they one day decided to try.
Maybe you can one day decide to be conscious of it, but you don't
try
it. It's how you ride a motorcycle. Period. You can definitely perfect the skill, and you obviously need to know the repercussions of braking and such during counter-steering, which is why I like the tip Old Hoss posted a link to. This is why they work with beginning riders in the course with stopping in a curve, by straightening, going upright, then emergency braking... Important stuff! I love the term he used "falling UP"! Good stuff!
Sorry but some of the comments struck me funny!
---
Fergy
Kyle, TX VN750.com member #707 VROC#19556
2002 VN1500 Classic
Spline Lube Procedure, with photos,
R/R Relocation
and
Coil Mod
Rusty Tank Cleaning!
Electrical Fault Finding Flowchart
SEAFOAM JUNKIE!
Senior Member
Join Date: Jul 2007
Location: Castle Rock, Wa
Posts: 1,750
Be one with the bike, let it flow through you, and don't steer into the corner, come to mind when I ride my top heavy GL500. If you steer that bike into a corner, bad things will happen. When I ride my VN for a few trips then jump on my GL, I tell myself before the corner "let the bike take you, don't steer it" and that tall beast glides round the s curves.

I sat on a Concours 14 last week, can't imagine what that's like...

DT
---
95 VN750 (eBay)31k+
GL1100 front fender
OEM engine guard
OEM high back rest
'V-Twin' HWY pegs
Black 750 Spectre handlebars
SunPro Volt Meter (Amazon)
Maier bug shield (JCW)
Bar Ends anti-vibe (JCW)
Emgo air filters
Tank bag-Eclipse
Tail bag-FroZone Cooler
Back Rest-Igloo 6 pak cooler
WalMart Saddle Bags
R/R Relocate
Dry Splines Lubed
AGM DieHard-Sears
Gutted Goat
Sporster XL Mufflers
LED's-stop,tail,turn,marker
Pickup coil mod to .45mm
Silverstar headlight
Rotella T6
Senior Member
Join Date: Mar 2009
Location: Northern Ill.
Posts: 115
I took the safety course and they keep telling us about push on the right to turn right. Just couldn't get it though my head with the bikes we were using. But when I got the vn750 a short time after the class and took it home, I almost took it back because it shimmied so badly. Then I realized just what they were talking about. All of a sudden the shimmy just went away.
---
2000 VN750
gray and black
13,265 when I picked it up
Relocated R/R
Marbled
Relayed coils
Volt meter (Relayed)
Blue accent lighting
Iridium plugs
Turn signal buzzer
Highway pegs
Heated grips
Fork bag
Auburn leather saddle bags
Clock
Replaced front side reflectors with LED reflectors
Added LED lights to bottom of front tubes
Polished front tubes
Sylvania H4ST
DEKA MF AGM ETX15L
Regapped pickups to snug .020
TOC ACCT springs
Quote:
......... When I ride my VN for a few trips then jump on my GL, I tell myself before the corner "let the bike take you, don't steer it" and that tall beast glides round the s curves.

I sat on a Concours 14 last week, can't imagine what that's like.....
When I got my FJR I really expected it to take some effort to turn compared to the Vulcan. Well weight has little to do with it, nor does height...it all seems to be steering geometry. The FJR almost seems to go into turns on it's own, as very little effort is used by the rider.
This is because there are differences in bikes with "sportbike" geometry as opposed to "crusier" geometry. Sport bikes have "quicker" steering as they say, and some bikes like many crusiers have "slow steering" ...speed iteself not really being the issue, but rider "imput" is.
For all its exta mass, the Concours feels like a big sport bike and goes through turns with very little thought or effort from the rider....compared to say a crusier of equal weight. Once moving you never notice the heft of the bike and it feels like it actualy just reads your mind ...taking turns as you "think" them.
Granted, there are other factors like tires, and suspension that effect how a bike handles, or feels, but in general , bikes with quicker "sport bike" like steering feel completely different than most crusiers.
KM
Old Truck Junkie
Join Date: Jul 2007
Location: Roby Texas
Posts: 4,130
KM makes a very good piont. There is a very big difference in handling between my vn and the maxim.
The vn has been lowered from the rear and a little from the front. It is a cruiser. The maxim is more of a sports bike and totally stock.
The maxim handles a whole lot better than the vn. imo.
---
02 honda sabre 1100