How do you get past the fear
---
Well today i was out for a ride. everything was great the sun was shinein my guy was beside me well in front of me most of the time (LOL) I satrted to get a bit nerved up not sure why but i slowed way down got my mind back into what i was doing, or so i thought we came to stop sign was going left he went and as i started to go it was like my mind just went blank i forgot to turn let out the clucth gave it a ton of gas saw a stone wall in front of me then slamed on the front brake needless to say i went over!!!! thank god i didn't get to hurt just a bit of road rash on my hand and lower arm and a big black and blue on my hip. no big damage to the bike. all i could do was lay there and call for wayne. i couldn't move once i got up and walked it off (HAD A SMOKE) i was ok and going to get right back on and ride but when i sat on it i couldn't do it. i rode with wayne home and we went back in the car so he could ride it home.I now think i should have just done it becasue i don't want the fear to eat me up does this sound stupid?
and the Adventure Cycle
Join Date: Jun 2004
Location: Western PA
Posts: 6,138
Sounds kinda like you got a little too comfortable while riding, which let your mind wonder to things other than the ride. Ya gotta always stay focused!!
Sure, take in the sights, smells and wonders of the ride, but ALWAYS remember you're on two wheels and it's just you which determins your fate on the ride.

Glad to hear you or the bike weren't too banged up.
Stay safe out there!!
---
AKA: Tim & 'The Adventure Cycle' VROC #24567, NEVROC, SteelCity VROC
"When life throws you curves,
Aim for the apex."


Author Unknown
HAWK
Join Date: Feb 2006
Location: Chicago land
Posts: 2,576
Good Idea is to go in to a parking lot and practice where there are no other distractions.
Once you build up your confidence then do more on the road.
When I first got on a bike I rode around the block for a couple of months first.
---
Chad Falstad "Hawk"
Vroc #17649
2011 HD Ultra Classic "angel"
2001 Nomad 1500 Sold March 2012
2001 VN 750 "Sold June with 2008 with 21,000""Serinity"
Drive less, ride more...
Join Date: Nov 2005
Location: SW Ga
Posts: 1,114
Judging from your description of the situation, and what went on in your mind at that time.....if you have yet to take an MSF class, I would strongly encourage you to do so--ASAP.
If you have not taken the "Intro" MSF class, start with that one first.
If you have had the "intro" class, you might consider taking it again.
I've never talked to or heard anyone else say that they've regretted taking that class. It's the best investment you can make in safe, fun motorcycling.
After you take this mentioned class...practice your MSF skills some more, in a vacant lot--
b4
going back into traffic.
Another suggestion: take the Harley Davidson (yes, I know that is forbidden language on this forum.....=)...) "Rider's Edge" version of this MSF class. It is oriented towards riders that are beyond college age, and is a bit more laid back than its competitors. Besides, their instructors have more training and prep to teach others.
After the class--do not buy a Harley! As long as you are learning, make your rookie mistakes on a much less expensive (and less expensive to fix, if you drop it) used, Japanese-made bike.
Hope this helps.....
---
'05 VN750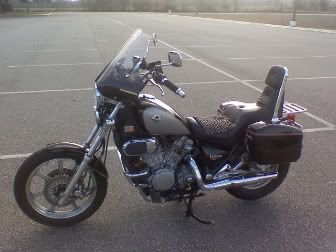 For other bike pix & mods, go to:
http://s1203.photobucket.com/albums/...k/VN750%20pix/
---
Last edited by theauhawk; 07-12-2009 at

10:42 PM

.
Lebanon, NJ
Join Date: Mar 2007
Location: Lebanon, NJ
Posts: 437
Time and miles. I stayed local and worked/rode further and further out as I felt comfortable. I'd say it took a good 600 miles before I felt ok on the bike.
---
Linkmeister Supreme
Join Date: Aug 2008
Location: Lethbridge, Alberta, Canada
Posts: 7,960
X2 to all the above recommendations. They say if you get bucked off a horse, the best thing to do is get right back on. I think the same idea holds true with riding a bike. Don`t wait until next weekend to get back on your bike. It`s too late in MA to go back out today, but I suggest getting back on tomorrow and take a slow ride around your neighborhood, or an empty parking lot. The sooner you do it, the less time you have to think about falling down, and letting the fear build up.

When you read this try some "chair riding". Sit in a chair and hold your hands and feet in position, just as if you were actually on your bike. Close your eyes, visuallize and move your hands and feet, while going through all the motions of starting the engine, shoulder checking for traffic and moving off. Even make vrooom, vrooom motor noises if it helps make it more realistic for you. Do all the things that you do while riding; ie. shift gears, lean around corners and sweepers going both directions, slowing to a stop and moving off again.

Visualize the stop where you fell, and practice moving off and turning left again, doing everything right this time. Do it over again as many times as it takes for you to feel confident that you can do it for real the next time.

Make a few 3"X5" "positive affirmation cards", with things like:
"I am a confident, careful and proficient rider", or
"I can safely turn left, confidently easing the clutch out and gently rolling on the throttle", or
"I will feel confident of my riding ability as I approach, mount, start the engine and move off on my motorcycle."

Make up some more of your own, but remember they HAVE TO BE POSITIVE. Start with "I WILL", or "I CAN" or "I AM", never "I will not" or "I cannot", or "I am not".
Put these cards up where you will see them several times every day, and repeat the words out loud, with feeling and belief, every time you see it. Repeat them a few times just before going to sleep at night. You can literally reprogram your brain to believe these affirmations, and then act upon them when you ride. I know it sounds kind of crazy if you have never tried it, but it works. Even if you are skeptical of these methods, try them for 3 or 4 days or a week, before giving up. What have you got to lose, except for a little paper, ink and a few minutes of your time. Do the chair riding in private if you are afraid someone may laugh at you. Or do it where ever you want, and just tell them some crazy Kanuck from Alberta told you to do it!

Good luck Pam. Get back on that steel pony soon and ride. Life is too short to live in fear. You can ride a motorcycle, and keep it under control. You know it, and I know it. Now you just have get control of your subconcious mind by using these positive affirmations, and you will enjoy riding again, even more than you have in the past!!!

Let us know how things go tomorrow, after the ride around the neighborhood.
---
Gordon
1991 VN 750 -"
Cosmic Lady
" or "
Bad Girl
"?
Purchased May 16, 2008
Approx.19,300km (12,000 miles)
H-D windshield
Relocated R/R
MF-AGM battery
Fiamm Freeway Blaster horns
F&S luggage rack and engine guard
Kury Offset Hiway pegs
July 13, 2016, Riding on the DARKSIDE now, Classic Radial 165/80-15
TOP TEN THINGS A NEW RIDER/OWNER SHOULD DO.
Click on link.
https://www.vn750.com/forum/11-vn750-general-discussion/9127-top-ten-items-you-would-suggest-new-owner-do-his-new-ride.html
---
Last edited by OlHossCanada; 07-12-2009 at

10:00 PM

.
Thanks to you. all I know one thing for sure i will ride again!!!!!! And i will not drop it again. road rash hurts!!!!!!!!
Members who have donated towards server costs
Join Date: Mar 2006
Location: Kyle, Texas
Posts: 4,054
Pam, I'm not making light of your experience by saying this, but you see this happen over and over again on America's Funniest Videos, where someone just gooses the throttle and lose control of the bike. It happens all the time! I know it was mentioned about taking the MSF course, but I didn't see your answer to that. I highly recommend taking the course if you haven't yet. Sounds like you might have suffered from target fixation along with what ever else happened to start the problem. I believe the basic stuff that should be reflex, or a habit, like feathering the clutch when you are doing a slow take off, things like that are what you need to work on in a parking lot so you can get more used to and make a habit out of it. You just need some more saddle time on the bike building up that knowledge and reflexes and experience that will help you with your confidence. You'll be OK, and I'm really thankful you didn't get hurt too bad! Hang in there and we'll all be pulling for ya!
---
Fergy
Kyle, TX VN750.com member #707 VROC#19556
2002 VN1500 Classic
Spline Lube Procedure, with photos,
R/R Relocation
and
Coil Mod
Rusty Tank Cleaning!
Electrical Fault Finding Flowchart
SEAFOAM JUNKIE!
Linkmeister Supreme
Join Date: Aug 2008
Location: Lethbridge, Alberta, Canada
Posts: 7,960
Pam, I just want to make one more point about the road rash on your hands and arm. I hope you aren`t riding without gloves. You really need to wear some gloves that are designed for motorcycle riding, with straps across the wrist to keep them tight and in place if you go down. Look for some with armored fngers too. Your hands are usually the first thing to hit the ground in a crash. You don`t have to slide on them very far before you are wearing out bones that could leave your hands permenantly crippled. Sure, good gloves are pricey, but aren`t your hands worth protecting?
---
Gordon
1991 VN 750 -"
Cosmic Lady
" or "
Bad Girl
"?
Purchased May 16, 2008
Approx.19,300km (12,000 miles)
H-D windshield
Relocated R/R
MF-AGM battery
Fiamm Freeway Blaster horns
F&S luggage rack and engine guard
Kury Offset Hiway pegs
July 13, 2016, Riding on the DARKSIDE now, Classic Radial 165/80-15
TOP TEN THINGS A NEW RIDER/OWNER SHOULD DO.
Click on link.
https://www.vn750.com/forum/showthread.php?t=9127
Senior Member
Join Date: Aug 2007
Location: Central Missouri
Posts: 139
I have dropped my bike frequently at first. I got so I could pick it up without help (thats alot of dropping). Just when I thought I was over it my DH forgot to use the agreed upon hand signals to tell me he was turning earlier than the agreed upon destination and before i knew it my vulcan was climbing up his A#$ and i hit the brakes so hard that I fell over after comming back off of his exhaust (Rhinehart Racing). Well I yanked my vulcan up off the ground and then lit into him. needless to say I was ticked off. but my point is things can happen so fast and we have to stay alert. The best thing you can do if you want to ride is get back on that bike and practice. Hang in there!
---
85 VN 700 'V'
Stator rebuilt, 6/2007
Carbs rebuilt
ACCTs rebuilt
New fork seals
Metzlers 880's
New tank (to me)
Harley heritage seat
Flyscreen
Darksider: Vredestien 165H R15 DS#144
In the works: ear shave, and new exhaust (haven't decided what kind yet), paint job, & lowering her.

Well Behaved Women Seldom Make History!