Straight roads are evil
Join Date: Jun 2006
Location: California
Posts: 580
How to add photo links
---
How to add photo links.
The best way to add photos to a post is external linking with the IMG tag. Here's how it works.
First, prepare your photos for web display. Using photo editing software, lower the picture resolution to 48 dpi and resize to 800x600. Do that on a copy of the photo, don't want to damage the original, full-resolution one.
Once the photos are resized, upload them to an image hosting website that allows direct IMG linking.
www.photobucket.com
is a good site, there are others. After uploading, copy the IMG code and insert it into your forum post, wherever you want a picture.
Here's an example.
PHP Code:
[
IMG
]
http
:
//i30.photobucket.com/albums/c313/Galanity/P1070076.jpg[/IMG]

The result?
Beautiful pictures, zero board photo space. Let's see your ride photos too!
---
The journey is the destination.

2006 VN750 (SOLD)
63160 miles
Mustang seat
R/R Relocate
MCCT
MF Battery
Red spark plug wires
Stainless Steel brake lines
Stiffer fork springs
Windshield
Givi bags, Wingrack mount
Voltmeter
GPS Mount
Pashnit sticker!
---
Last edited by DMAG; 06-16-2009 at

02:54 PM

.
Join Date: May 2008
Posts: 881
thanks man, i allways have to attach to a quote
Members who have donated towards server costs
Join Date: Jun 2005
Location: Scarsdale, NY
Posts: 650
Great post, I edited your post slightly and enclosed the code in tags so you did have to show it with the spaces in the tags (makes a little more sense for those reading).

Thanks again!
---
Anthony
1985 VN700
(Priscilla)
Sold
-------------------------------------------------------
Helpful Links -->>

Search
|
Vulcan Verses
|
VN750 Gallery
|
VN750 Items on Ebay
|
Link to VN750.com
Members who have donated towards server costs
Join Date: Jun 2006
Location: Long Island, NY
Posts: 812
Thank you very much for that useful piece of information. Very helpful tool.
---
2003 Wine/Gray VN750 bought in 2005 w/2000 Miles
LED Tail/Brakelight & License Plate Light;Chrome Inspection Sticker Plate ;Battery Charging Quick Plug;Kuryakyn LED Battery Voltmeter;Throttle Rocker Palm Rest;Optronics Driving Lamps;KnifeMaker Floor Boards;Halogen Headlamp Bulb;OEM Engine Guard;Iridium Spark Plugs;OEM Luggage rack;Stebel Air Horn;Handlebar Clock; Handlebar Thermometer; Sealed Battery; Marbled; Leather Grip Covers; Rectangular Mirrors

~VROC~ # 389
Members who have donated towards server costs
Join Date: Mar 2006
Location: Kyle, Texas
Posts: 4,054
One way to find out if the photo hosting site has direct image linking capability, is to navigate to the photo you want to link to and "right click" on the image. If you get a drop down menu that includes "view image" and you click on that, it should go to a blank page that only has the image on it. You can then copy that address in the address bar and use it to past the code in your post here. If you click on the little yellow square
with mountains in the lower half and what looks like a postage stamp in the upper right, it will open a little popup window
with part of an address in it. Delete the address and paste the address you copied previously in there and click on OK.
It will load the code into your post to display the image. Its what I did to paste all three images in this post!
---
Fergy
Kyle, TX VN750.com member #707 VROC#19556
2002 VN1500 Classic
Spline Lube Procedure, with photos,
R/R Relocation
and
Coil Mod
Rusty Tank Cleaning!
Electrical Fault Finding Flowchart
SEAFOAM JUNKIE!
Drive less, ride more...
Join Date: Nov 2005
Location: SW Ga
Posts: 1,114
Thanks very much, for posting all this information, Guys!
Very timely tech info for some of us.......
---
'05 VN750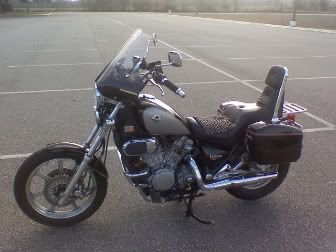 For other bike pix & mods, go to:
http://s1203.photobucket.com/albums/...k/VN750%20pix/
Members who have donated towards server costs
So .if I use photo bucket already which I do I can post the image location just as I have been with the photos on my board albums,am I getting the gist of it? Bear with me I am kinda slow on the computer.




---
If you see it on my bike I did it
VROC#30324
92 vn750(sold)
Current ride 05 1500 Classic FI
lovin' the new scoot
Quote:
"When all is said and done,usually more is said than done" UNK
Click on one x and drag to the other to read between them.
Psalm 40:1...
XI waited patiently for the Lord; and he turned unto me, and heard my cry. X
Yahoo VN750 Group Owner
Join Date: Jun 2004
Location: Dixon, IL
Posts: 261
Test
---
Photo Test -- It was hot in Carthage, MO.
Cool, it works!
Senior Member
Join Date: Sep 2009
Location: South-Central, MO
Posts: 149
Posting Rules

You may not post new threads

You may post replies

You may not post attachments

You may not edit your posts

---

HTML code is Off

---