Am I the only Scot here?
---
Hi all,

The VN750 is a rare bike in the UK but I'm sure some other Scottish bikers own one.

I see VN800's all the time!

Cheers, Trace.
Senior Member
Join Date: Nov 2008
Posts: 411
I believe that it was my great grandparents that came to the States from Scotland, but that's as close as I get...

Clan Guthrie.

--FA
---
K.J. "Fire Ant" Lord
VROC #28807
Decatur, TX
'03 VN750 "Serenity"

Rear Turn Signal Relocation
Front Brake Replacement
Spline lube, per Fergy's excellent instructions (that he has posted around here somewhere)
Kevlar Clutch Plates
Metzeler ME880 Tires
Stebel Nautilus Air Horn
ACCTs Rebuilt
Saddlemen Explorer Seat
MCCTs Installed
Kuryakyn Wide Levers Installed
Hello to you both.

I might be going near dumfries tomorrow. That is the correct spelling (pronounced dum-freece, not dum-fries).

I live about 30 miles south of Glasgow.

Cheers, Trace.
Simple Solutions
Join Date: Jun 2008
Location: SEQUIM, WA
Posts: 965
i have a red beard....
---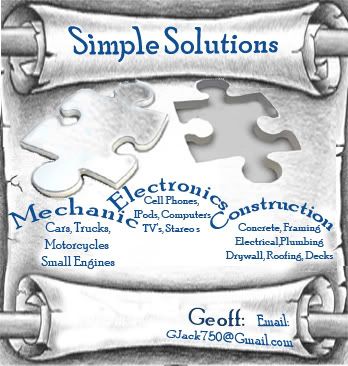 Stator #3
MF AGM
DeGoated
Ears Shaved
R/R relocated
Rebuilt
She's worth her weight in GOLD
If u dont have it already Here is the
Service Manual
How To
Test the Stator
working class hero
Join Date: Apr 2008
Location: Nicholasville,KY
Posts: 32
Proud of my Scottish heritage!
---
Hi Trace,
My ancestors came from the highlands and Edinburgh. We are from the clan of Donnachaidh. I would like to travel back to Scotland someday before i die.
---
Faster, faster, faster, until the thrill of speed overcomes the fear of death. ~Hunter Thompson
Join Date: Mar 2009
Posts: 44
Close. Borders Northumberland. Go to Scotland every year on the bike. Ive walked, pushbiked, hitchhiked VW van, train + steam train at Fort will, Brilliant cant get enough of the highlands ( When the sun shines
)
Headin that way at end of may, touch wood...
Hi Scotia,

I had to travel down to near Newcastle to get the bike a couple of years ago, I'm sure there must be more of them north of the border.

Aye the highlands are where it's at!

I'll definitely be taking my VN to Fort William at some point this summer.

Have fun at the end of May, if your going anywhere near Prestwick airport on the way up feel free to pop in.

Cheers, Trace.
Join Date: Apr 2009
Posts: 4
Hi Trace,

I am from County Durham, about 30 minutes from Newcastle. Funnily enought bought my bike from Newcastle way (Morpeth). Just joined vn750.com, although had my bike for 9 years. Your right about been a rare bike.

Love Scotland. Used to go there every year. Love the Highlands and Recently discovered southwest coast and Portpatrick etc. really looking forward to getting up there on my bike one year.

Brothers wife from East Kilbride and also had family at Gretna.
Hi lh,

Good to meet you man! I know Portpatrick and East Kilbride quite well. Do you know Retrogaz he's from down your end. If you want to keep in touch drop me a pm with your e-mail address as I don't get time to check the vn750 forums very often at the moment.

Cheers, Trace.