Join Date: Mar 2007
Posts: 16
In the deep South
---
Being as this is the least posted area of the states, I thought about saying something. Of course, there is no winding mountain roads or high mesa views, but there is some nice back country/county roads to cruise
on with the broken sunlight streaming thru the pines that line the roads. Just a shout
out to any that partake of the coastal area.
Member
Join Date: Mar 2007
Location: Lompoc, CA
Posts: 42
Shout back at you. I'm over here in Florida (just north of Pensacola) and have enjoyed the back roads and tall pines for several years. Plus the fact that the weather here on the coast allows us to ride almost 24/7/365.
---
Bob
Lompoc, CA
96 VN750 Red/Black
Dyna Mufflers
Cheap Windshield
33+K miles
I live on the border of Mississippi and Louisiana and there are indeed plenty of beautiful country roads.
Stranger Than Fiction
Join Date: Mar 2006
Location: Alabama
Posts: 151
I'm in Alabama, plenty of country backroads here for your riding pleasure.
---
'92 Vn750
Hey y'all. I'm in Vancleave. Just joined your forum. I've been searching for a bike for some time, thought I wanted a V-Star until I rode one. I have my sights set on a Vulcan now. Too bad Kawasaki quit making them. From everything I've read, it's the best thing going these days. My last bike was a Yamaha Venture. Loved it. Rode it all over Utah, through New Mexico, Texas, Colorado. Brought it down here to Mississippi and explored the gulf coast with it. Shipped it to Germany and rode quite a bit over there. Then to central Florida, the panhandle, and finally put it to rest here in Vancleave. A mid-weight cruiser is all the bike I need now, and the VN750 seems to be about the only bike that hasn't swooned over the Harley mystique. I joined your forum to learn everything I can about the Vulcan. I'm sold on it. Now if only I could find one for sale! Looking for an '05 or '06 model. Craigslist, Cycletrader, all the classifieds within 100 miles, internet ads.... nothing. Lots of nice bikes for sale in NY, PA, Ohio, or whatever. Can't even get a test ride. It's become quite a quest.

You're right about year 'round riding down here. During the summer though, chances are good you're going to get wet in the afternoons. Those sun dappled two lanes through the pines are fabulous, and when you get a few miles north of the coast, you even get a few bumps in the landscape and the air cools a bit. Even better! And you can get some nice overlook views from the escarpment above the Pascagoula River basin.
Join Date: May 2007
Posts: 43
There have been a few for sale recently here in Atlanta. Keep an eye on craigslist and if you need someone to take a look at one, hit me up.
Thanks for the offer. I have my eye on several - a 2006 near Tampa, another up in Ohio, an 05 in Coral Springs FL, and one in Richmond VA. All very nice looking bikes, low mileage, etc. But I'm not dragging my trailer that far before having ridden one. Did that once with the V-Star and was disappointed. 14 hours on the road and a motel stay, and came back empty handed. If I knew someone who owns one I could ride and get a feel for, I'd have no problem traveling some distance to buy one. But I don't, so I keep hoping a good one for sale will pop up nearby.
Natchez, Mississippi- how much reassurance can you give me that you'll make me "whole" if I let you test ride my bike IF something were to go wrong?

My bike is legal, do you have M endorsement? 5-0 is pretty tough aroudn here.
Drive less, ride more...
Join Date: Nov 2005
Location: SW Ga
Posts: 1,114
Hey Okie, I'd be curious to hear your report on what it's like to ride a VN750 on the Natchez-Trace Pkwy, there in Mississippi.

Here in south GA, the rides are well.....in a word, boring.

If I want any real beauty or decent sweepers, it's above Macon.

Msswmprt, be patient! I guess you already know someone will put a 750 for sale in your area, when they get ready to trade "up" for a "better" bike.

Going from a Yamaha Venture to a Vulcan 750 is a radical change. On the 750, you will feel like you are riding a scooter!!!
---
'05 VN750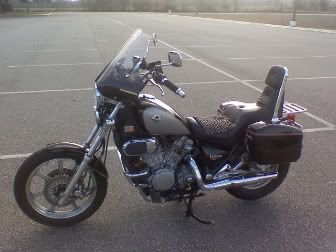 For other bike pix & mods, go to:
http://s1203.photobucket.com/albums/...k/VN750%20pix/
Yes, Okie, definitely! Love to hear about the Parkway. It's on my list... someday.

Theauhawk - Yes, it's quite a change. That Venture was my 5th bike, and the only superslab cruiser I owned. I took several motorcycle classes on that bike. Parking lot tricks on an 800 lb bike wasn't easy! Failed the first course. Passed later on, and then took the Experienced Rider Course. That bike and I were good friends for many years. I put 10,000 miles on it the first year I owned it. But now, I'm ready to downsize to something more nimble for daily driving, weekend cruising, and the occasional road trip.

Yep, someday, someone will have one for sale nearby. They may want to trade up to a BIGGER bike, but BETTER? Not in my mind. All those Harley wannabes leave me cold. Nice lookers, but I don't like the feel. Having been born, suckled, weaned and aged on 70s and 80s style bikes, I'm fairly confident the Vulcan is where I'm going to be most comfortable. But the proof is in the pudding, as they say.

Hey, I'm really glad to be here. This is a great forum! Many thanks to the folks who developed this site! Now, I'll shut up. My mouth runneth over.
---
Mississippi Swamp Rat
2006 VN750, "
Little Big Bike
", adopted Aug 07
POW ride bell F&S backrest Westco AGM PF3 bobbed 2" F&S engine guard Kuryakyn ISO-Pegs Mustang seat Vista Cruise Highway Hawk bag support W&M braided slant bags & tool pouch Biker's Friend F&S rear rack Rider Light Diamond Star headlight modulator BackOFF brake light flasher