Senior Member
Join Date: May 2011
Location: Birmingham, Alabama
Posts: 316
Birmingham area - the old 29 Dreams
---
Went on a killer ride today and found myself by the old 29 Dreams and stopped to reminisce - the new owners of the land were there and we ended up chatting for about half an hour. THEY ARE RE-OPENING! He said they are going to run it right, stay open late, make great food and have plenty of music. And if you drink too much, they will point you to one of their cabins to sleep it off.
So any of you out there who are familiar with this place I am letting you know it should be opening in 6 weeks or so - under a different name.
---
Dave
----------------
2005 Vulcan 750
Odometer @ October, 2019: 14,200
Purchased May, 2011 @ 2,172
Splines lubed @ 2,962 (were in good shape)
Küryakyn Daily Tour Bag
SS-28 Slipstreamer Smoke
Members who have donated towards server costs
Join Date: Aug 2010
Location: Birmingham Alabama
Posts: 107
good stuff. that was a great place. thnx for the heads up.
---
2006 w/ 3124mi.
new to me Aug. 2010
X2-15L Battery
Iridiums
Mustang One Piece Studded
Fluids replaced
H4 Bright White Headlight

ALAS sold to a great guy in Birmingham
Drive less, ride more...
Join Date: Nov 2005
Location: SW Ga
Posts: 1,114
Thanks much
for posting this info.....
...!
If you would, keep us posted on future developments--the opening date (and if this changes), any ribbon-cutting parties, etc.......
---
'05 VN750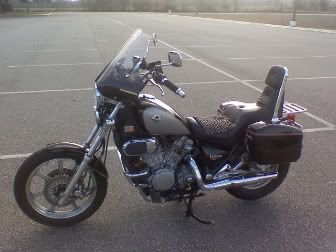 For other bike pix & mods, go to:
http://s1203.photobucket.com/albums/...k/VN750%20pix/
Senior Member
Join Date: May 2011
Location: Birmingham, Alabama
Posts: 316
I'll be sure to get more info as I stop by the new place for updates. There will also be somewhere on HDFORUMS.COM updating us as well. Further info I got is that they will have the do-it-yourself shop with air and tools available to use, as well as advice from others hanging around watching you work on your bike. I also was told that day that they will be allowing cars (don't know how everyone feels about that), will have the store open and mainly it should be better than it was before. L8r
---
Dave
----------------
2005 Vulcan 750
Odometer @ October, 2019: 14,200
Purchased May, 2011 @ 2,172
Splines lubed @ 2,962 (were in good shape)
Küryakyn Daily Tour Bag
SS-28 Slipstreamer Smoke