Member
Join Date: Jan 2008
Location: Whitmore Lake MI
Posts: 43
Best my bike has ever looked
---
Took this pic on a trip around Lake Superior. This is in Montreal River Ontario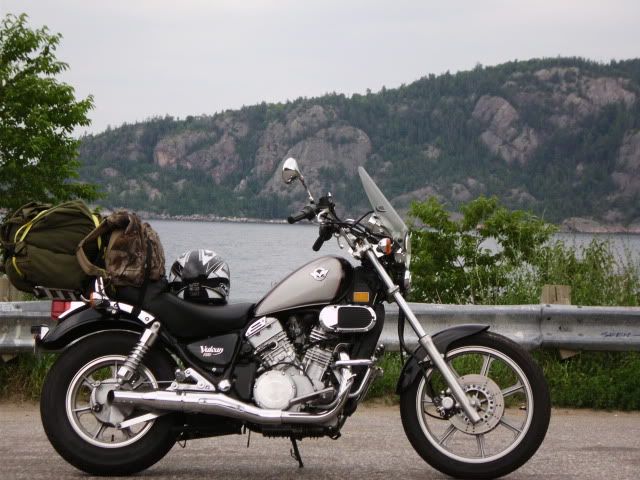 ---
Last edited by WILLDOGJONES; 08-05-2010 at

04:23 AM

.
Columbus, Ohio
Join Date: Oct 2009
Location: Columbus, Ohio
Posts: 523
Nice. Looks like you're traveling LIGHT!
---
Jim
'95 Kawasaki Concours
Sold my Vulcan
I do
LOTS
of dumb stuff. Riding is only one of them.
A Vulcan never looks better than when it's photographed loaded for a trip in the midst of God's very good creation!
---
EZC
Members who have donated towards server costs
Join Date: Dec 2008
Location: Monroe, LA
Posts: 4,701
Beautiful.
---
I'm keepin' all the left over parts. I'm gonna use 'em to build another bike!
_____________________________________________
"Black Beauty"
1989 VN750 acquired December, 2008, 6,711 miles
Currently 23,298 miles
Old Blue
2001 Honda CMX250 Rebel acquired July, 2008
1987 VN750 project bike, acquired August, 2009, 33,000 miles and balancer sticking out of the case, currently awaiting attention and parts
Members who have donated towards server costs
Join Date: Sep 2009
Location: SAN ANTONIO, Texas
Posts: 1,126
Wow. Reminds me of when i used to skip rocks on Lake Champlain.
---
2011 Suzuki VSTROM DL650 with ABS Purchased Jan 28 now with 39,000miles WRECKED JAN 12 ,2013
"To strive, to seek, to find, not to yield."
05 Vulcan 750 26,050miles *Traded in*
Ventura guards
MadStadt mount
Givi windshield/Heated grips
Backoff
Riderbeads
Givi 52 topcase
Pat Walsh Crash bars skid plate
OEM centerstand
Headlight modulator
Battery tender
Aquarium thermometer with forward probe mount
Admore LED Lighting/Givi E36N panniers
Senior Member
Join Date: Nov 2009
Location: Springfield, OH
Posts: 319
Awesome - you otta post this in the thread "PHOTOS of your bike"
---
1986 VN 750
20,000 miles
MF Battery
Replaced Stock Turn signals
Starter Clutch
NGK plugs
MT66 Pirelli's
Seafoam
Members who have donated towards server costs
Join Date: Mar 2006
Location: Kyle, Texas
Posts: 4,054
That brings back some great memories of living up there when I was a kid. Never had a bike back then, but that is on my bucket list to do a road trip up there and tour around northern Michigan on the bike, see all the old stomping ground and go visit the areas we went to for sight seeing...
Thanks for the photo! Very nice.
---
Fergy
Kyle, TX VN750.com member #707 VROC#19556
2002 VN1500 Classic
Spline Lube Procedure, with photos,
R/R Relocation
and
Coil Mod
Rusty Tank Cleaning!
Electrical Fault Finding Flowchart
SEAFOAM JUNKIE!
Member
Join Date: Jan 2008
Location: Whitmore Lake MI
Posts: 43
Thanks, The only bad thing about the trip is I swear I thought my old Navy sea bag was waterproof. After passing thru a thunderstorm and getting to a hotel I found out that it wasn't.
Senior Member
Join Date: Jul 2008
Location: Titusville, New Jersey
Posts: 6,422
Ha ha, tough one dude. Great picture though, it really is awesome.