Join Date: Jun 2007
Posts: 1
I was gone - but I'm back now.
---
Hi,
The forum says I am a Newbie, but I am a previous member from 2002 and 2003. I stopped visiting the forum when I went to the "Dark Side" (bought a new 2004 Harley Low Rider). I kept my 750, and my son used it for a year while he was at UCSanDiego. I sold the Harley, and did not ride for 2 years while I built a Cobra replica (thus the name SNAKENUT). Now I am ready to start riding the Vulcan again.
Its amazing. I haven't been on a bike for at least 6 months, and I just took it for a 20 mile cruise. I came back, and realized that I am all smiles...
My bike is a 2000, and I have done the earshave and re-jet, saddlebags and the small factory windscreen. I did the de-goat, but ended up putting the goat back on because the bike was too noisy.
Paul
Drive less, ride more...
Join Date: Nov 2005
Location: SW Ga
Posts: 1,114
Well....shame, shame, and even more shame on you for ever leaving!!!.....
Seriously, though...welcome back...!
In any case, be sure to swap your wet cell battery with a m/f one.
And check your splines, asap--if you haven't already done so via your previous 750 days.
Any pix of the earlier Cobra work?
---
'05 VN750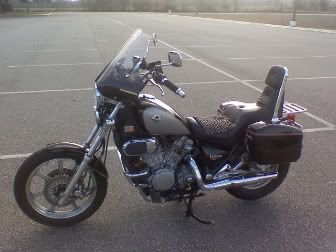 For other bike pix & mods, go to:
http://s1203.photobucket.com/albums/...k/VN750%20pix/
and the Adventure Cycle
Join Date: Jun 2004
Location: Western PA
Posts: 6,138
Hey Paul,
Welcome back.
Once a Vulcaneer, always a Vulcaneer!!
---
AKA: Tim & 'The Adventure Cycle' VROC #24567, NEVROC, SteelCity VROC
"When life throws you curves,
Aim for the apex."


Author Unknown
Headbanger/Popes of Hell
Join Date: Aug 2006
Location: ohio
Posts: 6,640
welcome back! but, i must ask....why did you sell the Harley?
Now what
Join Date: Jun 2004
Location: Renton, Wa. USA
Posts: 400
Quote:
welcome back! but, i must ask....why did you sell the Harley?
Obviously, he preferred the Vulcan
---
'04 750A- and loving it!
VROC 13864
Using a Purlator One PL14610
"Sixth gear? I don't need no stinkin sixth gear!"
If someone throws you under the bus-remember to tuck and roll