Old/new rider here
---
Well, it's been 37 years since I last rode anything, but I just bought a '97 VN750 and I'm going to ride again. Can't really say what bug it is that's got me going this time, but I'm anxious for a few warm days this winter and really anxious for spring.

Glad to have found this site...already learned a lot of things about the VN750. Looking forward to meeting new folks and making new friends both in here and on the road.

Hope I'm making the right decision here...lol.
Drive less, ride more...
Join Date: Nov 2005
Location: SW Ga
Posts: 1,114
Why don't you tell us a bit more about yourself...where (city/town and state) are you located? What was your previous riding experience--and on what bike(s)? What motivated you to get back into riding again? What other bike(s) did you look at/consider before buying your VN750? What made you choose the VN750 over the competition?
Merry Xmas--Everybody!!!!.....
---
'05 VN750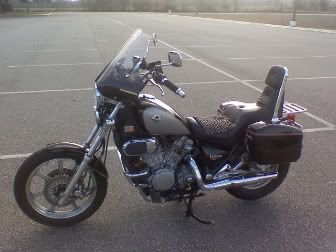 For other bike pix & mods, go to:
http://s1203.photobucket.com/albums/...k/VN750%20pix/
Old Truck Junkie
Join Date: Jul 2007
Location: Roby Texas
Posts: 4,133
That is great! I too was gone for a while, but glad to be back. I have been back for 3 years now, with no regrets.
You are at the right place. This guys and gals have a lot of knowledge about this great bike.
Enjoy the forum and enjoy your bike.
---
02 honda sabre 1100
theauhawk, thanks for the welcome and suggestions. I'm in Hutchinson, KS, about as flatland as it gets, but still plenty of places to go and see.

As for previous riding experience, my first bike was a Honda 305 Scrambler, then a Sportster. Stopped riding when I got married and started a family.

What motivated me to ride again was seeing an old man cruising along a county blacktop one day a year or so ago. He looked like he was having the time of his life and it just triggered a lot of forgotten memories. So, I started looking around and asking questions. I looked at Virago's and Vulcans, pretty much the same look and feel to me and not sure I really had a preference but I settled in on the Vulcan with some help from the dealer I worked with.

As I was looking around online, I came across this site and here I am, ready to ride again.
Members who have donated towards server costs
Join Date: Aug 2007
Location: Manassas, VA
Posts: 580
Welcome to the site. Good choice on the on the VN750 - lots of good folks here to help. Let us know how it goes getting back in the saddle after so many years.

I, too, took a long break from street riding but I did continue to dirt bike with my kids as they grew up. So I was never really away from riding. But I find I am a whole lot more cautious now than 30 years ago!
---
97 VN 750
R&R Relocated
Degoated
Marbled
Ears Shaved/Rejetted
MF/AGM Battery
Irridium Plugs
Spring Solo Seat
32 Ford Model A Tail Light
Custom 2 into 1 Exhaust with 12 inch Glass Pack
Rear bobbed and hard-tailed!
https://www.vn750.com/forum/showthread.php?t=5385
Senior Member
Join Date: Dec 2007
Location: Lewisville, TX
Posts: 109
Ditto here, twlinks. I was off the two-wheeler for 30 plus years and just got the bug again. Bought a 94 750 a few weeks back. Weather here (Dallas) is better than Kansas, but it's still a little cool. I'm trying to ease back into the sport. Last bike I had was just a 300 Honda. Lotta diference tween that and the 750.

Welcome aboard.
---
Deefer
94 VG1200 Voyager II
Senior Member
Join Date: Jul 2007
Location: Castle Rock, Wa
Posts: 1,750
I'll be heading to KS this summer on my VN. My son is in the Army and will be stationed at Ft. Riley in June so that's my best reason to cross half the country on my bike.
Geek
Join Date: Mar 2006
Location: New Jersey
Posts: 872
Quote:
Well, it's been 37 years since I last rode anything, but Hope I'm making the right decision here...lol.
A lot of us have the same story. I'm glad I got back on ! Use the winter to check your splines. There are lots of write ups and pictures to help. What kind of battery do you have ?
---
Ron from Jersey
2005 VN750
HellFire windshield
Kaw extended backrest
Cobra exhaust
Re-located stator wires
Side bags
15,000 Miles July/2012
It's PAID OFF ! May 2009