Junior Member
Join Date: Aug 2012
Posts: 2
Looking to buy a '97
---
Hey all,
My name is Rick, I'm 27, and I've been trying to find a nice bike for my first one. I've never ridden and don't have my license yet, but have been around bikers my whole life. My aunts and uncles all love to ride and hang out with a lot of bikers as well. Needless to say, it's rubbed off on me. I've been searching Craigslist for months now and I'm pretty sure I've found a nice bike for myself.
I'm 5' 8" and weight around 150, so I'm not the biggest guy. After doing some research I found that a 750 might be a great starter bike for myself. My wife is about 5' 7" and 120 pounds and I'd like to be able to take her for cruises too.
Well, onto the bike I found.
It's a '97 with 14,500 miles. Less than 50 miles on the tires and the seller has also recently painted it and put on aftermarket turn signals. They claim the that nothing is wrong with the bike and it is ready to ride. Also has a clean title.
They're asking $2,000 OBO, but I've found it also listed on eBay with a starting bid of $500 (reserve not met) and a BIN price of $1,500.
Here's a picture from the listing: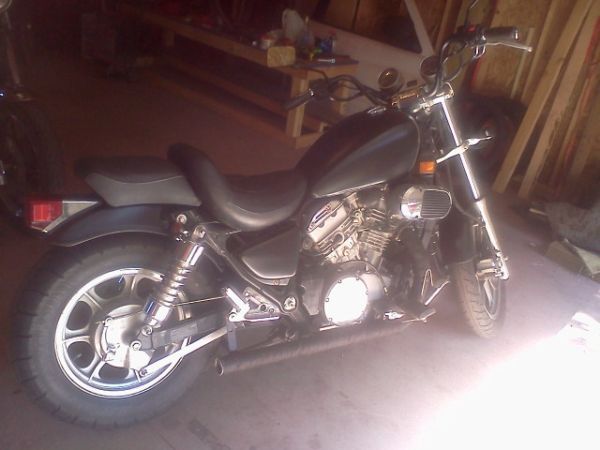 Any help and/or advice would be greatly appreciated. Thank you in advanced.