Member
Join Date: Apr 2012
Posts: 43
25 year old newbie!
---
I already have a few posts in here but I forgot to introduce myself. My name is Mike and I live in Georgia. I took my MSF course a few weeks ago because I had never ridden a motorcycle before and wanted to get some pointers from a professional. Bought an 03 Vulcan 750 with low miles and have problems with the throttle. Tried to mess around a little bit and finally decided that I would have a bike mechanic check it out since I didn't know what I was doing. I think you guys were right about the throttle cables being shot. Even after I was given really good advice from folks in here, I was having a hard time. Anyhow, here is my bike! It's getting picked up tomorrow and should be ready soon. Guy is only charging me 15 bucks to pick it up.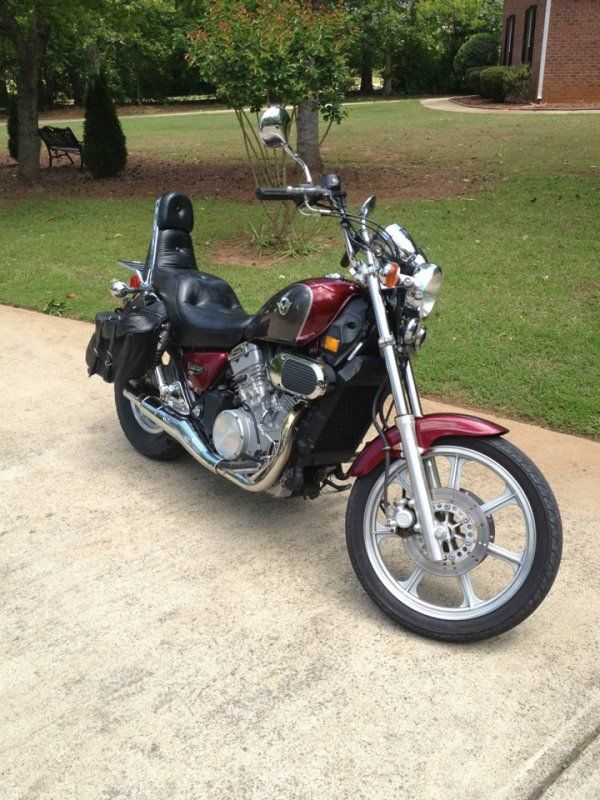 Senior Member
Join Date: Jun 2010
Location: Close to Peoria Illinois
Posts: 509
Welcome
---
Welcome to the forum. I too have an 03. I actually have two 750's a 93 and an 03. It's a long story. You will really like it when you get it running they are a great bike.

Ride Safe
Mcneuby
Members who have donated towards server costs
Join Date: Mar 2011
Location: Rochester, New York
Posts: 1,803
Nice looking bike, great condition. An 03 with low miles shouldn't be that hard to get back on the road. I wouldn't think the cables are " shot " but it's possible.
---
JM2001
" Loud Pipes Risk Rights "
2001 Vulcan 750
marbled
TOC upgrade on ACCT
Air/fuel mixture set to 2 1/2 out
rectifier relocated
splines lubed
iridiums
decals removed
upgraded mirrors
Pic up coil mod done
degoated
All LED lighting
Upgraded Mosfet rectifier
HAWK
Join Date: Feb 2006
Location: Chicago land
Posts: 2,576
Welcome to the Group.
---
Chad Falstad "Hawk"
Vroc #17649
2011 HD Ultra Classic "angel"
2001 Nomad 1500 Sold March 2012
2001 VN 750 "Sold June with 2008 with 21,000""Serinity"
Members who have donated towards server costs
Join Date: Jun 2006
Location: Long Island, NY
Posts: 812
Welcome Les. I have an 2003 and love the look and feel. Have done a couple of things to mine if you want to see go to my photo albums and check it out.

Good luck with the bike and have fun ride safe
---
2003 Wine/Gray VN750 bought in 2005 w/2000 Miles
LED Tail/Brakelight & License Plate Light;Chrome Inspection Sticker Plate ;Battery Charging Quick Plug;Kuryakyn LED Battery Voltmeter;Throttle Rocker Palm Rest;Optronics Driving Lamps;KnifeMaker Floor Boards;Halogen Headlamp Bulb;OEM Engine Guard;Iridium Spark Plugs;OEM Luggage rack;Stebel Air Horn;Handlebar Clock; Handlebar Thermometer; Sealed Battery; Marbled; Leather Grip Covers; Rectangular Mirrors

~VROC~ # 389
Drive less, ride more...
Join Date: Nov 2005
Location: SW Ga
Posts: 1,114
Welcome, fellow Georgia rider!
In what part of GA are you located?
North GA has some really great riding....
If you haven't already, while your bike is being worked on...BE SURE TO HAVE THE FINAL DRIVE SPLINES CHECKED FOR PROPER AMOUNTS OF LUBE!!!! This portion of the bike's powertrain was often left unlubed at the Kawi factory. It's major $$$$$$$$ and headache if you let this problem slide!!!
Use a "moly 60" (or higher) formulated grease lubricant--like Honda's "moly 60" in a tube.
Either way--let us know what you find when you pull the final drive assy apart...
---
'05 VN750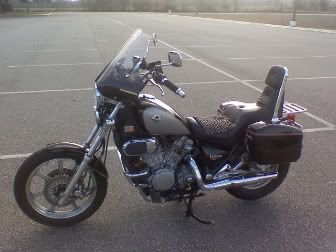 For other bike pix & mods, go to:
http://s1203.photobucket.com/albums/...k/VN750%20pix/
Jack of all trades
Join Date: Jul 2009
Location: Westland, Michigan
Posts: 2,863
Mine is an 03 also. Looks pretty sharp from what I can see.