Senior Member
Join Date: Mar 2012
Posts: 441
may i ask a dumb question
---
I know I am new to this but right before I bought my '01 vn750 a month ago, my riding buddy cautioned me saying i would want something bigger. Well..he was right..I have driven this quite a bit and on the interstate it just feels too light. I have added a few touches to mine and have a few more on the way. I am not out much in the add-ons money-wise but I feel I may have jumped in too quickly. It was hard for me to gauge since I had not ridden in 10 years but now its a big itch getting scratched and i'm wanting to move up. I have my eye on the v-star 1100 and I would like some opinions there or on other bikes of that size. I really like how low the vstar sits as i have some short legs and its been the most comfortable of everything i have test ridden. I would like something that feels more stable at 75mph than our 750 is. The vn750 is GREAT at 60 on back roads but seems a little flimsy on the interstate. Whats a impatient man to do
---
Pittsburgh Dave
2001 VN750...old ride
2003 VN1600.. new ride
Members who have donated towards server costs
Quote:
I know I am new to this but right before I bought my '01 vn750 a month ago, my riding buddy cautioned me saying i would want something bigger. Well..he was right..I have driven this quite a bit and on the interstate it just feels too light. I have added a few touches to mine and have a few more on the way. I am not out much in the add-ons money-wise but I feel I may have jumped in too quickly. It was hard for me to gauge since I had not ridden in 10 years but now its a big itch getting scratched and i'm wanting to move up. I have my eye on the v-star 1100 and I would like some opinions there or on other bikes of that size. I really like how low the vstar sits as i have some short legs and its been the most comfortable of everything i have test ridden. I would like something that feels more stable at 75mph than our 750 is. The vn750 is GREAT at 60 on back roads but seems a little flimsy on the interstate. Whats a impatient man to do
I too am afflicted with SLS(short leg syndrome),try one of the bigger Vulcan Cruisers,I am 5'6" and I ride a 1500,Classic,lots of accesories and I can sit flatfooted on it also the VTX 1300 Honda is another fine motorcycle,for those of us that are undertall ,both are plenty stable and have plenty of grunt and geared tall enough for highway speeds.
---
If you see it on my bike I did it
VROC#30324
92 vn750(sold)
Current ride 05 1500 Classic FI
lovin' the new scoot
Quote:
"When all is said and done,usually more is said than done" UNK
Click on one x and drag to the other to read between them.
Psalm 40:1...
XI waited patiently for the Lord; and he turned unto me, and heard my cry. X
Member
Join Date: Mar 2010
Posts: 38
Quote:
I know I am new to this but right before I bought my '01 vn750 a month ago, my riding buddy cautioned me saying i would want something bigger. Well..he was right..I have driven this quite a bit and on the interstate it just feels too light.
Not sure what you mean. No one wants a heavier motorcycle. I also ride an FZR400 and an SV650 which are each more than 100 pounds lighter than the 750 Vulcan and they go down the intestate just fine.
Maybe you could be a bit more specific. Is the bike unstable? How much riding experience do you have and on what kind of machines?
---
"Giving the Ralph to the prairie scrub of Grand Forks is like dressing up drunken monkeys in snowmobile jackets and packing them into the Ordway....."
Senior Member
Join Date: Mar 2012
Posts: 441
just that is feels light and more affected by higher winds, passing traffic and so on. I would also like alittle more high-end torque to get out of the way when necessary
---
Pittsburgh Dave
2001 VN750...old ride
2003 VN1600.. new ride
Drive less, ride more...
Join Date: Nov 2005
Location: SW Ga
Posts: 1,114
B4 you buy a V-Star, be sure to check out one of the 1100cc Honda Shadows. The better of these is the Shadow "Spirit".
These bikes were (like the Vulcan 750) built for a long, long time (20 years or so). Spare parts will thus be available for quite a while. If the bike has been taken care of, these machines are extremely reliable, and very low maintenance.
You'll find they have more weight, and they feel that way. Definitely more available power at higher speeds. This bike has another big advantage--it has much more available lean angle in corners than most other cruisers.
But this Shadow is designed from the ground up to emulate one of the Harleys. It isn't really sporty like the VN750. It has tubeless tires, but the bike has no centerstand, and one isn't available in the aftermarket world either--thus, it's like a Harley that way, too.....
The 1100cc V-star requires an exhaust pipe to be removed in order to change out its oil filter; you can buy an aftermarket kit that solves this problem, but you really shouldn't have to do this sort of thing in the first place. Yamaha should have designed it right from the beginning. Some V-stars have been on the road long enough that a previous owner has already installed this kit. I personally think Yamaha deliberately did it this hokey way to encourage owners to take their bikes back to the dealers for servicing.....
---
'05 VN750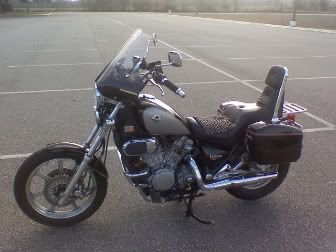 For other bike pix & mods, go to:
http://s1203.photobucket.com/albums/...k/VN750%20pix/
Members who have donated towards server costs
Join Date: Mar 2011
Location: Rochester, New York
Posts: 1,803
Kind of disagree with you. My bike is very stable up to about 100,then it feels light. Cruising between 60-75 is no problem. I would like the seat about 2 inches lower and a 6th gear for interstate riding. I ride with a large group of bigger bikes and I'm sure they have a more comfortable ride over longer distances but I like the lightness of the VN750 around town and thru the twisties. I also like the gas mileage of the lighter bike. I would have bought a V Star 1100 if it were fuel injected or a Honda VTX 1300 C if they still made them. Neither one is made anymore.
---
JM2001
" Loud Pipes Risk Rights "
2001 Vulcan 750
marbled
TOC upgrade on ACCT
Air/fuel mixture set to 2 1/2 out
rectifier relocated
splines lubed
iridiums
decals removed
upgraded mirrors
Pic up coil mod done
degoated
All LED lighting
Upgraded Mosfet rectifier
---
Last edited by JM2001; 03-26-2012 at

07:41 AM

.
Senior Member
Join Date: Nov 2009
Location: Springfield, OH
Posts: 319
Hey for my riding the Vulcan is great but I can certainly understand if you are doing longer highway riding to get more of a heavy crusier that will have a better ride. These Vulcan (750) are wound pretty tight and the RPMs go pretty high at 70 plus. Love my Vulcan for my commute (27mi one way) and I have the option of going highway or backroads. However, I would certainly jump at the idea of riding a heavy just to see how I'd like it
.
---
1986 VN 750
20,000 miles
MF Battery
Replaced Stock Turn signals
Starter Clutch
NGK plugs
MT66 Pirelli's
Seafoam
Senior Member
Join Date: Jun 2006
Location: Springfield MO
Posts: 659
I suggest an older VN1500 like my 04. They have gone to 1600 now and I've got a buddy with one. Lots of nice smooth power, shaft-drive like the 750 and the seat is about 2 inches lower. I love my 750, but the 1500 is alot better for the highway.
---
"Shutting up rarely leads to anything bad"
Joe McAdoo
Springfield, MO
[email protected]
VROC # 28175
-2004 Vulcan 1500 Classic 22000 miles
-1995 VN750 (Back home again!) 25000 miles
-1995 Suzuki DR350 Dualsport 1720 miles
Members who have donated towards server costs
Join Date: Nov 2007
Location: Chandler, Arizona
Posts: 3,024
I have put over 150,000 miles on 2 Vulcan 750s, mostly on the freeway at freeway speeds. I also have a Goldwing, but the Vulcan is a lot more fun to ride. It does not get blown around as much as the GW, probably because it has way less plastic to catch the wind. And it is very heavy for a 750. It is also super comfortable (to me anyway) I have done two Iron Butt Saddlesore 1000s on them, and may do it one more time. I can easily ride 600 mile days for 2 weeks straight, and not be in pain. I cannot say that about many bikes.

The Shadow Spirit 1100 or VTX1300 would be my pick for a bigger cruiser, I found the 1500s just two big and heavy to be much fun. Fine for highway touring, but a lot of work to wrestle around town. The Spirit 1100 and Virago 1100 are two of my favorite bikes, but they don't make either one any more.

If you decide to go with a V-Star or larger Vulcan, beware of the wire spoke wheels, which use tube type tires. These bikes have no centerstand, so when you have a flat out on the road (and you will, I have 3 plugs in the rear tire on my Vulcan after only 10,000 miles) there is no way to fix it, so you are stranded. Nobody seems to think of this when buying the bike, only after they become stranded, by something as simple as a flat tire.

If you want a big bike with actual performance, get a Valkyrie. They are basically a cruiser styled Goldwing without the plastic. I've wanted one ever since I first saw one, but still cannot find a nice one in my price range.
---
I am a motorcyclist, NOT a biker.


1997 Vulcan 750, purchased about a week ago
2006 Sportster 1200 Low
2013 Royal Enfield Bullet 500, converted to carb
2001 Yamaha XT225, heavily modified
2004 Honda Rebel 250
1979 Vespa P200E
2002 Vulcan 750 parts bike
1994 Yamaha XT225 parts bike
Members who have donated towards server costs
Join Date: Apr 2010
Location: Belvidere, IL
Posts: 267
x 2 on the Valkyrie. But they are getting harder to find. I agree the 750 is kinda light for long rides. It does get buffeting from crosswinds and semis more than a heavy bike. It feels a little skittish above 85 mph. Still, it's a great ride and my daily driver. I have several bikes now, may have to thin the herd soon.
The nomad looks like a great cruiser for interstate riding, but I have yet to try one out.
Hope you find something just right for a while. Ride as many different bikes as you can. They all have something to offer.
Bronson
---
2005 VN 750
MF Battery
Plexistar windshield
.040 pilot jets.
Splines lubed 1955 mi.
Marbled
Iridium plugs
Reset pickup coil gaps.
Metzeler ME=880s
Shindengen MOSFET RR
V & H Cruzers
Degoated
Speed bleeders
MCCTs.