Junior Member
Join Date: Aug 2011
Posts: 2
Did I goof-up?
---
Hi, I am a newbie. It started with taking a riding class out of curiosity in the summer of 2011 and led to purchasing a 1999 VN 750. I have stored my bike in the garage; however, in a first attempt to drain the carbs, I removed
the drain plug completely from the clutch side of the bike. Now, I am having trouble placing the drain plug back into the carborator. This was two months ago. Will this cause rust or any other problems to my engine - especially the carbs
Members who have donated towards server costs
Join Date: Nov 2007
Location: Chandler, Arizona
Posts: 3,026
Probably not. It depends on how clean it is where the bike is stored. Why won't the screw go back in? are the threads messed up? You will have to get it back in before you can start the bike. For now, if there is a problem getting it to go in, I'd cover the hole in the carb to keep trash and dirt out until you find the reason why it won't go in. On my '02 it is an Allen head screw.
---
I am a motorcyclist, NOT a biker.


1997 Vulcan 750, purchased about a week ago
2006 Sportster 1200 Low
2013 Royal Enfield Bullet 500, converted to carb
2001 Yamaha XT225, heavily modified
2004 Honda Rebel 250
1979 Vespa P200E
2002 Vulcan 750 parts bike
1994 Yamaha XT225 parts bike
Drive less, ride more...
Join Date: Nov 2005
Location: SW Ga
Posts: 1,114
You don't say where you are located (city, state).

Depending on where you are located, a fellow VN750 may be near enough to help you with your problem--or at the very least, go riding with you, later.

Otherwise, if you can post pictures of the drain plug (and maybe of the opening), we can help you with the problem here on the forum.

What riding class did you take?
---
'05 VN750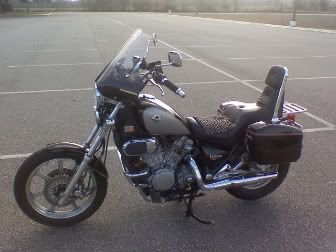 For other bike pix & mods, go to:
http://s1203.photobucket.com/albums/...k/VN750%20pix/
Senior Member
Join Date: Sep 2010
Location: Jacksonville fl
Posts: 458
When you get it back together Use some seafoam (gas treatment) in the gas, about half the can to a full tank. Its a bit much but the bike has been sitting awhile and it wont hurt it at all. You may notice it running a bit rough at first or even some hesitation. More then likely the seafoam will correct the problem after a few miles.
Junior Member
Join Date: Feb 2012
Location: Alabama
Posts: 12
I did the sea foam trick and it fixed my 92...was running bad, thought iwas about to redo the carbs...it fixed it! running like a champ now!