do i want this 1999 vulcan 750?
---
750-ers:
thank u good folks for being such a wonderful source of information.
you've heard the tale before:
i haven't ridden in 30yrs (had a wonderful yamaha 650 way back when). a buddy of mine rides with a group twice a month on sunday mornings. he's been urging me to look at used honda shadows as a decent bike for my return to cycling.
i'm not really looking to ride w/a group of guys. i'm more into driving around, dashing downtown and finding easy parking, maybe even taking the wife and the daughters for a ride. i really don't see myself touring. i just wanted to feel the wind and take some turns. (i guess it sounds silly but what the heck...)
i've been reading websites since last spring and stopping folks and somehow i keep ending up at the kawa vulcan 750. i like the looks, feature set, power specs, size and insurance cost.
i have surmised all of the above w/o actually riding (though at 6'/200lbs someone let me sit on their vulcan and the fit was fine). i plan on taking the course in april.
so this past weekend while scouting the local craigslist, i found a nearby 750 and this is what i found out:
1999 vulcan, 2 owners, 10k miles, no drops. owner used to ride it alot but typical story, now has kids and rides less. he's owned it 4 years. a local dealership did the maintenance on the vulcan.
seller mentioned carb needed to be cleaned. when i asked why, he said "float gets stuck at high rpms, when your up on the rpms the float bowl sticks and then if you wait a few minutes the gas goes down and the bike runs perfect again"
other than above "issue", bike is described as running great. last spring he had the dealership do a full fluid and check and they said the bike was great.
there is some slight rust on back spring and minor amount on speedometer
the only mods are: it has jets and a aftermarket pipes and highway bar.
last we emailed, he was charging the battery. (it probably needs to be replaced)
i searched this forum archives about the float/carb issue and found:

"Q: I have recently had a unique stalling problem with my bike. I ride it about three miles to work. It sits all day. I come out, start it up, let it warm up, take off. Get about half a mile, it begins to sputter, then dies. I pull over. When I attempt to start it, it sounds like it wants to turn over, but doesn't. I don't crank it so as not to run down the battery. It seems all I have to do is let it sit for three minutes, then try to start it, at which time it will hesitate or kinda be sluggish just a moment when I first begin hit the start button, and then fire up.

Could not letting it warm up enough cause this?

BTW, FWIW, both time this happened, it was on really hot days with the bike sitting all day, sunbathing.

A: Sounds like vapor lock Stewart. With the hot days we have had pressure can build up in the tank. A full tank sitting out in the sun will even leave a little puddle under your bike thanks to that vent tube. Next time you ride in, try just opening your gas tank and closing it to relieve the pressure before you start it up. Those of us down in the Suthern states have to contend with this every so often *S* One additional thing..you might want to check that vent tube too and just run a wire through it to make sure the tip isn't clogged with a bug or road crud. You Yankees just never had to deal with hot that much!

A: Make sure you have your tank vent checked. It sounds like your tank vent is not working causing a pressure build up. This condition is not vapor lock. Freak

A: I spoke with my trusty tech at Action Kawasaki, Bradenton, FL last week on this very issue. The problem, he says, is the size of the friggin float bowls in the VN750. Because of an obvious lack of space, they are tiny. Therefore, after the bike is hot and is shut down with no air flowing that hot air just cooks the gas out of the float bowls. Now, you turn the gas back on (I usually shut mine off if I'm gonna be away from the bike for any longer length of time) and they refill, but if they're still hot, it takes a few moments for the bowls to cool from the gas coming in and kinda stablize. Makes a lot of sense, actually. I agree with the information provided below on the tank heating due to the sun beating down on it."
so, is the carb/float a potential headache/issue?
bottom line, aside from this being maybe the longest 1st post
, do i want this 1999 vulcan 750?
if so, what is a great price i should run to grab?
as i said way above, thank you folks for sharing your obvious knowledge.
be well
rob
---
Last edited by robfilms; 03-08-2010 at

05:07 PM

.
Drive less, ride more...
Join Date: Nov 2005
Location: SW Ga
Posts: 1,114
It's hard to answer your question without knowing what the asking price is, first.

Also, you don't say where you live (city, state), so it's hard to offer any direct assistance (who knows--we might be neighbors, or in adjacent cities).

Sticky components in the carbs suggests the bike has been sitting more than it really should. And a carb redo is one of the most complicated tasks on this bike.

The Vulcan 750 is a great machine, and the last of its kind. But...depending on the size of your spouse and other potential riders, it's a much better solo rider machine than "two-up".

Given how long this bike was made (20 years), and the current market, I would suggest you keep looking for one that's truly ready to ride--and not in need of a potential carb tear-down.
---
'05 VN750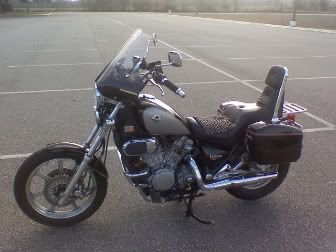 For other bike pix & mods, go to:
http://s1203.photobucket.com/albums/...k/VN750%20pix/
carb works suck...but we can get you through it...its not as bad as TheHawlk makes it sound. And if you aren't inclined to take the carbs a part to clean them... there is a company listed in the vendors section that comes highly recomended for rebuilding carbs, and Lance or CRobbins is real handy with carb work... I say if the price is right go for it.
slim/hawk-

thanks for the quick reply.

i believe the price will be less than $2k. (i'm even hoping i can get it down to the $1500 mark.)

i live north of manhattan in the nyc metro area.

i didn't think the issue as described was necessitating a carb re-build. any idea of costs involved?

my wife has been supportive of this "motorcycle thing" as long as it stays reasonably priced. the vulcan 750s are often reasonably priced on the used market. that said, i have also looked at the suzuki volusia (800cc) and the honda shadow sabre (1100cc). both are water cooled, shaft drive, w/decent power.

again, i'm imagining my needs to be rather simple and thus my fondness for a sweet used vulcan 750.

thanks in advance for any info u care to share.

ymmv

be well

rob
Member
Join Date: Feb 2010
Location: Essex
Posts: 76
Welcome.

You had better start work on your wife straight away. Buy her the same training you are doing.

A carb rebuild is not a particularly expensive undertaking, it just needs the right tools and on the VN, a little patience.
---
Mine is a Red one.
Colour matched Bungee straps
Drive less, ride more...
Join Date: Nov 2005
Location: SW Ga
Posts: 1,114
Also...unless a bike is new or almost new...or you just watched the previous owner take care of the bike since it was new (and thus you know both)....never buy a bike without test riding it first.
During the test ride, you may find other problems with it that you wouldn't otherwise uncover. You may also discover the bike in question just isn't for you.
Put another way: would you buy a car or truck without taking it for a test spin, first...???
So, I vote you take the MSF class first (and pass
). Then go shopping for bikes.
The Shadow Sabre and Volusia are both basically good bikes. But they both lack the extras (tach, centerstand, fuel gauge, etc) that put the Vulcan 750 in a class by itself. A centerstand makes a bike much easier to clean, service, load/unload, and it is indispensable when repairing a flat tire.
Let us know how you do in the class...
---
'05 VN750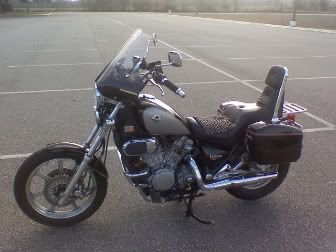 For other bike pix & mods, go to:
http://s1203.photobucket.com/albums/...k/VN750%20pix/
Members who have donated towards server costs
Join Date: Dec 2008
Location: Monroe, LA
Posts: 4,719
It's possible that a good dose of SeaFoam in the gas might fix the problem, but no way to know for sure.

Should the carbs need cleaning, if you are not at all mechanically inclined, you could have the carbs pulled at a local shop, send them off to the the recommended vendor (because he does great work and at $40/carb will be cheaper than almost any shop), and then have the rebuilt carbs reinstalled.

Periodic addition of SeaFoam to the carbs will go a long way toward never having to pull the carbs again. SeaFoam does a good job of keeping the carbs clean, but if there is a bit of rust or other insoluable gunk causing the float to stick, it will have to be removed manually.

I'd tell him you've checked around and discovered it's a real pain/expensive to pull the VN750 carbs and use it as a negotiating tool.

I don't think there's another cruiser in the VN750's class that is as light and powerful as it is. But I'm somewhat prejudiced.
---
I'm keepin' all the left over parts. I'm gonna use 'em to build another bike!
_____________________________________________
"Black Beauty"
1989 VN750 acquired December, 2008, 6,711 miles
Currently 23,298 miles
Old Blue
2001 Honda CMX250 Rebel acquired July, 2008
1987 VN750 project bike, acquired August, 2009, 33,000 miles and balancer sticking out of the case, currently awaiting attention and parts
---
Last edited by flitecontrol; 03-08-2010 at

09:28 PM

.
Senior Member
Join Date: Apr 2008
Location: Pittsburg, TX
Posts: 401
Ditto on the test ride for a bike thats been sitting and Seafoam should you chose to buy the bike. As for choice between Volusia, Sabre, or Vulcan. I would go with the Vulcan and I'm not being biased. I have two buddies I ride with, one owns the Volusia and the other the Sabre. I rode both bikes and found them to be under powered. The road my Vulcan and both enjoyed the torque, throttle response, and comfort.
---
2005 Vulcan 750
Black and Silver
Windshield
Saddlebags
OEM Hghwy Bars
O-ring Footpegs
OEM Luggage Rack
V&H Exhaust System
TOC ACCT Rebuild
Die Hard Gold AGM MFB
Spline Lube every tire change
VN750 #4393
VROC #31065
TexasVROC
u good folks might be right about passing on this 99 vulcan. i guess i was attracted to the low price and it was 20min away.

i hope to have my lisc by june but was also hoping to buy at beginning of the season so i can snag a "deal".

i could always keep checking this site and look for 750s on the classified page. at least i'd know the bike came from a good home and was well taken care of.

ymmv

be well

rob
Members who have donated towards server costs
Join Date: Mar 2006
Location: Kyle, Texas
Posts: 4,054
I don't know if you said you scheduled the msf course yet, but having a newly purchased bike in the stall does have a strong motivating factor for getting you through the course. I would strongly encourage you to give the gas a strong dose of seafoam if you buy it and see how things pan out. If you can't test ride the bike, maybe you can get someone with their license to go with you to test ride it. If you bought it and it turned out it had carb problems, don't worry too much. We have a ton of experts on this forum that will help you and folks you can send the carbs to for a rebuild. Good luck with everything!
---
Fergy
Kyle, TX VN750.com member #707 VROC#19556
2002 VN1500 Classic
Spline Lube Procedure, with photos,
R/R Relocation
and
Coil Mod
Rusty Tank Cleaning!
Electrical Fault Finding Flowchart
SEAFOAM JUNKIE!