Join Date: Oct 2009
Posts: 1
New in Central Arkansas
---
Hey all I have a clicking noise in the rear cylinder what could it be?
Drive less, ride more...
Join Date: Nov 2005
Location: SW Ga
Posts: 1,114
Most of the time that "click" you hear is probably the automatic cam chain tensioner there giving up the ghost, so to speak.
Given more time (but no attention), the clicking noise will get louder and harsher.
There's plenty of good info on this forum for how to fix this problem (or most any other for the VN750).
Welcome to the forum! Arkansas has some really great roads for motorcycle riding. It's a super place to have a Vulcan 750.....
---
'05 VN750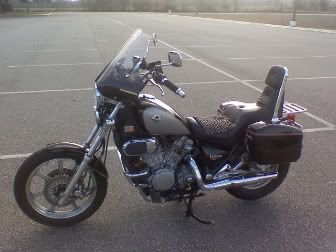 For other bike pix & mods, go to:
http://s1203.photobucket.com/albums/...k/VN750%20pix/
Members who have donated towards server costs
Join Date: Dec 2008
Location: Monroe, LA
Posts: 4,720
Welcome to the forum. Do a search here for: Grambo's trick. That should help you determine if it's the automatic cam chain tensioners (ACCTs).
---
I'm keepin' all the left over parts. I'm gonna use 'em to build another bike!
_____________________________________________
"Black Beauty"
1989 VN750 acquired December, 2008, 6,711 miles
Currently 23,298 miles
Old Blue
2001 Honda CMX250 Rebel acquired July, 2008
1987 VN750 project bike, acquired August, 2009, 33,000 miles and balancer sticking out of the case, currently awaiting attention and parts
Linkmeister Supreme
Join Date: Aug 2008
Location: Lethbridge, Alberta, Canada
Posts: 7,960
Welcome to the Vulcan madness tibbs. Here is a link to the Vulcan verses aboout the ACCT and the ticking noise you are hearing. It is a bit unusual for the rear ACCT to go first, I believe, because of the angle it sits at. A few drops of oil usually sit inside the body and keep the screw threads and spring lubed.
https://www.vn750.com/forum/showthread.php?t=1075
There is a link in this article to the Grambo trick too. (quick, easy and no cost to test.) <BG>
Here is a link to a heavy duty replacement spring for the ACCT, and directions and pics for the procedure:
http://www.tocmanufacturing.com/ACCT...structions.htm
Take a look at the directions to see a pic of the ACCT body, if you don`t know what you are looking for on the bike. You will find 2 of them, 1 on left side of bike, on the front cylinder, in "V" pointing at upward angle. The second one, on the right side of bike, on the back of the rear cylinder, pointing at a downward angle dowards the coolant overflow tank.
Many riders here have changed out the Automatic CCT for a Manual version (MCCT), that you will find on the TOC link.
Here is a link to a free downloadable Kawi vn750 service manual, from TOC too. It is BIG at 2395 pages, so when you download, save it to a file, to save time later when you need it.
http://www.tocmanufacturing.com/File...nd%20Parts.pdf
If (or should I say "when") you have more questions, ask away. Lots of good folks and knowledgeable "wrenches" here to help when you need it.
Enjoy the ride.
---
Gordon
1991 VN 750 -"
Cosmic Lady
" or "
Bad Girl
"?
Purchased May 16, 2008
Approx.19,300km (12,000 miles)
H-D windshield
Relocated R/R
MF-AGM battery
Fiamm Freeway Blaster horns
F&S luggage rack and engine guard
Kury Offset Hiway pegs
July 13, 2016, Riding on the DARKSIDE now, Classic Radial 165/80-15
TOP TEN THINGS A NEW RIDER/OWNER SHOULD DO.
Click on link.
https://www.vn750.com/forum/11-vn750-general-discussion/9127-top-ten-items-you-would-suggest-new-owner-do-his-new-ride.html
Members who have donated towards server costs
Join Date: Jan 2010
Location: Summerfield, FL
Posts: 7
Welcome to the Forum tibbs98VN750,

Lots of information to read on this Forum. Use of the Search Function will yield lots of leads. Lots of highways and views to see on a Vulcan.
---
If you're Waiting on me, you're Late

.........2000 Kawasaki VN750..........
Concert connoisseur
ditto on the acct's and welcome to the forum!
Quiet Member
Join Date: Jun 2008
Location: Jonesboro Arkansas
Posts: 17
Welcome tibbs98VN750
---
Welcome tibbs98VN750
. Hey, another Arkansan.
I live in Jonesboro.
---
Harper_in_Arkansas
2005 Vulcan 750
(used Aug-2007 @1400 mi)
Kaw-OEM:
Engine Guard, Ext Backrest, Rear Rack, Saddlebag Support,
Also
Chrome Radiator & Reservoir Covers, Plexifairing 3 Windshield, Saddlemen Saddlebags, River Road 2 piece Tank & Tail Bags, Teardrop Mirrors, Wide chrome Clutch & Brake Levers, pegs on guard, LED wide angle Brake/Tail Lights
2006 Ninja 250
(new Dec-2006)
2006 Ninja 500
(used Aug-2009 @2400 mi)
1977 Honda CB750K
(new March-1977, garaged few years, needs refurb)