Junior Member
Join Date: Nov 2009
Posts: 10
Old gasket clean-up
---
Whatís the best way to clean off old gasket residue?

My í86 VN750 is getting her 3rd stator.
This is the first one that Iíve installed.

The previous owner installed an after market stator.
It lasted a month and was replaced under warrenty.
A year later I buy the bike and the stator goes out in three days.
Given this history and the info Iíve gathered from this very helpful site,
Iím a little gun shy about the current crop of new stators available.

On Ebay I found a case with stator and pick-ups installed.
The stator appears to be original and measures OK with an ohm meter.

Although this Ebay case is alittle rough on the outside, Iím leaning toward using it rather than trying to move the stator from one case to another.

Opinions and help with the gasket cleanup please.

Thanks
Mo
Simple Solutions
Join Date: Jun 2008
Location: SEQUIM, WA
Posts: 965
i recomend getting the stator rewound by tpe-usa.com though it will take them 2 to 3 weeks its a great stator ...


to clean gasket material i use a scraper then a brass brush on my drill ... brass being softer then aluminum it wont gouge the cases
---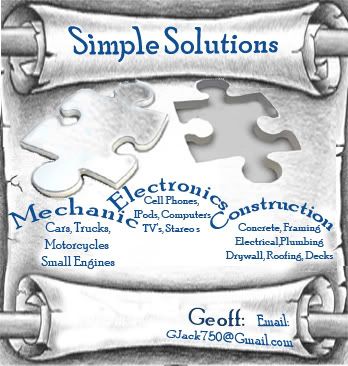 Stator #3
MF AGM
DeGoated
Ears Shaved
R/R relocated
Rebuilt
She's worth her weight in GOLD
If u dont have it already Here is the
Service Manual
How To
Test the Stator
Members who have donated towards server costs
Join Date: Dec 2008
Location: Monroe, LA
Posts: 4,719
There is a spray material that is excellent for removing old gaskets. But I can't remember the name of it at the moment. Check with an auto parts store; they should have it.
---
I'm keepin' all the left over parts. I'm gonna use 'em to build another bike!
_____________________________________________
"Black Beauty"
1989 VN750 acquired December, 2008, 6,711 miles
Currently 23,298 miles
Old Blue
2001 Honda CMX250 Rebel acquired July, 2008
1987 VN750 project bike, acquired August, 2009, 33,000 miles and balancer sticking out of the case, currently awaiting attention and parts
Senior Member
Join Date: Oct 2009
Location: Ruskin, Florida
Posts: 175
i have used WD-40 and/or PB blaster. let it soak in, then a scaper VERY GENTLY!!. Followed up with some 800 grit sandpaper i had. turned out great for me!
i use a wire wheel on a drill, or a "Gasket Scraper" (looks like a putty knife, but a little thicker and has a sharper blade), or for the really tough gaskets, I use a digrander with a "Flapper Wheel".
The Professor
Join Date: Feb 2008
Location: BUFORD, GEORGIA
Posts: 3,147
Gasket scraper and Roloc Scotch Brite on a mini angle grinder has work great for years.
---

85 VN700 "Old Yella"
REBUILT ENGINE
CUSTOM PAINT
VANCE & HINES CRUZERS
EAR SHAVED AND RE-JETTED W/K&N'S
DUNLOP ELITE K591 FRONT & REAR
VOLTMETER
SYNTHETIC BRAKE FLUID
SYNTHETIC OIL & GEAR LUBE
PLEXISTAR 2 WINDSHIELD
SPLINES LUBED
ACCT'S GREASED W/TOC SPRINGS
COASTERD
LEATHER SADDLE BAGS
LEATHER TOOL AND ROLL BAG
PICKUP COILS GAPPED AT .018"
NGK CAP, WIRES, IRIDUMS
BARNETT FRICTION PLATES & SPRINGS
CUSTOM GRIPS, MIRRORS, LEVERS
ORIGINAL STATOR & R/R 14.5v
DEKA MF AGM ETX15L
Best Auto/Moto Insurance | Motorcycle Protection Today | FREE Trade-In Quote
Quote:
Gasket scraper and Roloc Scotch Brite on a mini angle grinder has work great for years.
that is what i was referring to as a "Flapper Wheel"... couldn't remember the proper name...lol