New Member and about to take the plunge
---
I have been a honda scooter rider for the past few years, with a reflex and a silverwing. I have enjoyed them very much especially the almost maintenance free nature of the bikes, and the full instrumentation.

After Biketoberfest I've decided to get a cruiser and have settled on the Vulcan 750. Some of the reasons are the hydraulic lifters, the dual shocks (I have become accustomed to) on the rear, the shaft drive, and of course my affinity for full instruments including water temp and fuel (yea I know I've gotten lazy), the fact that they are up high (where I think they shouldbe) and of course, the fact that the design never changed in all the years it was in production. The vulcan 750 is everything I would want and it's also a cruiser!!!

So, here is the big question.

What do I need to look for when I go to test ride several that I have my eye on (all used of course).

Any input is mostly appreciated! And..Thanks in advance!
Simple Solutions
Join Date: Jun 2008
Location: SEQUIM, WA
Posts: 965
welcome a board u are makeing a wise decision, i feel that in owning anyvehical one should know the basics on maintenance and repairs, this is a great site for such knowlage but like anything used there will be maintainance...

This bike inperticular look for the lower priced bikes and watch out for a faulty charging system , if u have a volt meter check voltage at off idle and 4k rpms, this bike inperticular is expensive and time consuming to replace a stator, when most bikes take less then an hour for this this one requires an engine pull, use this knowlage when negotiating a price

i also look at milage low milage on an old bike isnt necessarily better ... rubber deteriorates when its not used ai like to see bike with a couple thousand miles a year feel the owner out if the bike has been sittin for some extraordinarily amount of time .

i also take a stethoscope or a screwdriver will work and i listen to the internals of the motor it is common for there to be a tick due to accts this can be an easy simple fix but if not taking care of can cause a lot of damage ...

you have picked a great bike and one that u will love congrats on upgrading from what i like to call the mosquito club ...
---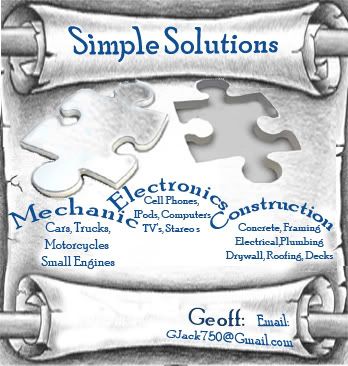 Stator #3
MF AGM
DeGoated
Ears Shaved
R/R relocated
Rebuilt
She's worth her weight in GOLD
If u dont have it already Here is the
Service Manual
How To
Test the Stator
Stators. The honda reflex had that issue from 01 to 04 when they beefed it up. I, of course, have an 01 but it has yet to fail, and I have 40,000 on it (249cc) amazing.

Thank you for the suggestions of what to listen for. Man I don't like the stator thing at all, do these fail regularly, or is it people who've "accessorized" the bike to death having the failures?

I grew up friends with a shop which rewinds starters and alternators, they know how to beef them.

Is this stator one of the older kind which has to deal with low rpm, charging, and high rpm, or I thought this was an electronic ignition, so all the stator would be used for is charging?

Ok, well thanks SeeBeare!

Joe
Perfect links! Thanks OHoss

-Joe
Members who have donated towards server costs
Join Date: Dec 2008
Location: Monroe, LA
Posts: 4,717
Welcome to the forum. I think the Vulcan stators are just as good (or bad) as other stators. Folks have had them go with around 13,000 miles while others have ridden 40,000+ miles with no stator problems. It appears changing the oil frequently and operating in less than desert temperatures promotes stator life. A member of this forum in Arizona was frying a stator about annually. On his second or third stator replacement, he rigged up and oil bath for the stator and has had no problems since.

Look in the Vulcan Verses and OlHossCanada signature for things you should do to the bike. If you have a friend familiar with motorcycles, have him go with you to look at the bike. If you don't have such a friend, do an internet search for what to look for in used bikes.

I would ask the guy who did maintenance on the bike. If he says the dealership, that would cause me some concern. I'll get into why later. If he says he did all the maintenance, I'd ask when the drive splines were lubed last, and what type grease he used. If it's less than 10,000 miles and he says Honda Moly 60 or some other high moly lubricant, the guy probably knows how to maintain the bike and you can breathe a little easier. If he's installed a voltmeter to monitor his electrical system, smile inwardly. Ask him what type oil he puts in it (should be good quality 10W-40 or 15W-40, either conventional or synthetic) and how often he changes it. If he keeps records, ask to see them.

My VN750 had less than 7,000 miles on it, two previous owners (PO) and $1,300 worth of maintenance work done on it at the PO's dealership a few months before I bought it. Thanks to this forum, I discovered my tires were 10-20 years old and replaced them. While the rear tire was off, I decided to lube the splines. I discovered the splines HAD NEVER BEEN LUBED! Not at the factory, not by the PO's and not by the dealership that went over it "top to bottom".

Hope this helps.

Well, OlHoss posted while I was typing, so you can find his sig easily!
---
I'm keepin' all the left over parts. I'm gonna use 'em to build another bike!
_____________________________________________
"Black Beauty"
1989 VN750 acquired December, 2008, 6,711 miles
Currently 23,298 miles
Old Blue
2001 Honda CMX250 Rebel acquired July, 2008
1987 VN750 project bike, acquired August, 2009, 33,000 miles and balancer sticking out of the case, currently awaiting attention and parts
---
Last edited by flitecontrol; 10-27-2009 at

03:41 PM

.
Senior Member
Join Date: Apr 2008
Location: Pittsburg, TX
Posts: 401
Welcome to the site Flaboye. This is the place to be for info on the VN750. Here's my suggestion and what I did when I went looking for my bike. Knowing that the VN750 had a slightly under developed charging system, I looked for a bike that had already been degoated and had after market pipes. The local dealership had one (not degoated and a rust bucket), and I looked at 5 others in the DFW (Dallas/Fort Worth) area over several months before I found my '05 a hour down the road in Tyler. An added bonus, when I found mine was the PO that had her knew how to take care of her.
---
2005 Vulcan 750
Black and Silver
Windshield
Saddlebags
OEM Hghwy Bars
O-ring Footpegs
OEM Luggage Rack
V&H Exhaust System
TOC ACCT Rebuild
Die Hard Gold AGM MFB
Spline Lube every tire change
VN750 #4393
VROC #31065
TexasVROC
Thanks flitecntrl & gmpyrdr!

Could you, or someone point me to the info/thread on "degoating" I understand moving the regulator is a good idea for heat dissipation, but I keep seeing references to the "goats belly" I assume this is something that traps heat from the pipes?

Sorry, I've been scootin for years, everything is tucked under the tupperware but I have to admit Honda built rock solid maxiscoots (I have put 40,000 trouble free miles on a reflex 249cc water cooled), not so much yet on the 600cc silverwing. But, I'm ready for a cruiser and the Vn750 is everything I was hoping to find in one!!

Thanks for the patience!

Joe
---
Last edited by flaboye; 10-27-2009 at

06:18 PM

.
Senior Member
Join Date: Apr 2008
Location: Pittsburg, TX
Posts: 401
Check the Vulcan Verses. Basically, the VN750 has a pre-muffler between the pipes under the frame where the center stand is located. The "goats belly". Degoating means removing this pre-muffler. The reason for this mod, and an important one, is that the R/R is located on the bottom of the battery box and over the pre-muffler. Thus, causing excessive heat and shortening the life of the R/R leading to stator failure.
---
2005 Vulcan 750
Black and Silver
Windshield
Saddlebags
OEM Hghwy Bars
O-ring Footpegs
OEM Luggage Rack
V&H Exhaust System
TOC ACCT Rebuild
Die Hard Gold AGM MFB
Spline Lube every tire change
VN750 #4393
VROC #31065
TexasVROC
Perfect!

Looks like the verses section has everything, I will spend some time browsing through the other categories.

When I started to look at the cruisers and found that the vulcan 750 had shaft drive, all the instrumentation, the hydraulic valves, I thought wow, this is PERFECT!

It doesn't surprise me one bit that there are several places where the owners come together to share collaborative experiences and make the ownership that much more enjoyable for everyone.

I am looking at 3 now, all on craigslist. I have written questions of the 3 asking about maintenance records, whether they have had stator problems, and if so, do they have documentation for the repairs, and other questions, such as the degoating and the relocation of the rectifier.

One last thing.

What would be considered just "too much" mileage versus year model for someoene to simply not even consider?

Thanks for everything, everyone pointed me to links which have everything I wanted to know.

Joe