Senior Member
Join Date: Oct 2009
Location: Ruskin, Florida
Posts: 175
New project has begun
---
Just wanted to give a quick shout out. Picked up a poor, neglected 94 Vulcan last week and have begun the resurrection process. I am a VROD owner and picked this up for a nice side project since the VROD is as complete as its going to be and i LOVE IT!. I might be posting some stupid rookie questions from time to time but hope to get a few " before" pictures up of the beast.

stay safe!!
Senior Member
Join Date: Apr 2008
Location: Pittsburg, TX
Posts: 401
Welcome to the site Luigit. You come to the right place for info and help on the VN750.
---
2005 Vulcan 750
Black and Silver
Windshield
Saddlebags
OEM Hghwy Bars
O-ring Footpegs
OEM Luggage Rack
V&H Exhaust System
TOC ACCT Rebuild
Die Hard Gold AGM MFB
Spline Lube every tire change
VN750 #4393
VROC #31065
TexasVROC
Members who have donated towards server costs
Join Date: Dec 2008
Location: Monroe, LA
Posts: 4,720
Welcome to the group. Glad you are resurrecting another one!
---
I'm keepin' all the left over parts. I'm gonna use 'em to build another bike!
_____________________________________________
"Black Beauty"
1989 VN750 acquired December, 2008, 6,711 miles
Currently 23,298 miles
Old Blue
2001 Honda CMX250 Rebel acquired July, 2008
1987 VN750 project bike, acquired August, 2009, 33,000 miles and balancer sticking out of the case, currently awaiting attention and parts
Simple Solutions
Join Date: Jun 2008
Location: SEQUIM, WA
Posts: 965
luigit there is alot of info here u should fill out your personal info .. u never know when theres a local vn rider near by that can assist u in your projects
---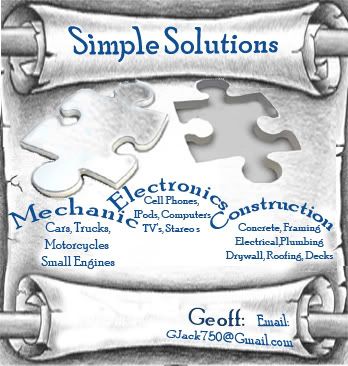 Stator #3
MF AGM
DeGoated
Ears Shaved
R/R relocated
Rebuilt
She's worth her weight in GOLD
If u dont have it already Here is the
Service Manual
How To
Test the Stator
On His Lady Vulcan
Join Date: Apr 2008
Location: Washington State
Posts: 1,647
Welcome to the family. These rides arent near as pricy as the VRod's so you can experiment more with these, ooooh the fun to be had. Keep in mind, no question is a stupid question when learning these bikes. So ask away.
---
"You came out of your mom looking like SHlT. She thought you were beautiful. Don't know what scared me most, your looks or her judgment."
Pictures of the "Ladies"
Linkmeister Supreme
Join Date: Aug 2008
Location: Lethbridge, Alberta, Canada
Posts: 7,960
Welcome to the Vulcan madness luigit. X2 to sebeeare on filling out your profile. We are family here and like to know where you are coming from.
Remember too, that the only stupid question, is the one you didn`t ask when you should have!

A good place to start reading is the link below. Do a search on any odd words, names or items that you can`t figure out. Next, go to the Vulcan verses and check out the table of contents for an idea of what`s there for you to read.

Good luck with the project bike.
---
Gordon
1991 VN 750 -"
Cosmic Lady
" or "
Bad Girl
"?
Purchased May 16, 2008
Approx.19,300km (12,000 miles)
H-D windshield
Relocated R/R
MF-AGM battery
Fiamm Freeway Blaster horns
F&S luggage rack and engine guard
Kury Offset Hiway pegs
July 13, 2016, Riding on the DARKSIDE now, Classic Radial 165/80-15
TOP TEN THINGS A NEW RIDER/OWNER SHOULD DO.
Click on link.
https://www.vn750.com/forum/11-vn750-general-discussion/9127-top-ten-items-you-would-suggest-new-owner-do-his-new-ride.html