750 Newbie
Join Date: Sep 2009
Location: Novato, California
Posts: 6
Back on a bike after 29 years!
---
I finally did it and bought a Vulcan 750 after not riding for 29 years!
I bought a 2004 model with 9,800 miles on the clock.
To prepare I got my permit and then took the MSF class to get my license.
I rode it home on Sunday through the back roads of Marin County in Northern California and that was a real blast.
So far I've taken off the back seat to check the battery which needed topping up - I know, I know, the first thing I'm going to do is replace it with a sealed low maintenance battery.
Next on my list is to drain some oil out and get hte level right, the last owner has slightly over filled the oil. It's only 200 miles old, so would be a waste to change for new.
Then, when I have the time I need to check the spline lubrication on the back wheel.
I've ordered a Kurakyn LED volt gauge and will install when it arrives.
I'm really grateful for this forum as all the above ideas and work were as a result of my reading up here.
many thanks to all and hope I can contribute something back.
Ian
Simple Solutions
Join Date: Jun 2008
Location: SEQUIM, WA
Posts: 965
congrats on the fine scoot and welcome aboard ....
---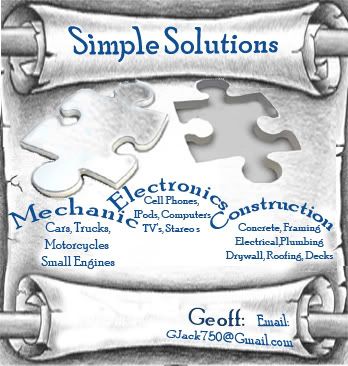 Stator #3
MF AGM
DeGoated
Ears Shaved
R/R relocated
Rebuilt
She's worth her weight in GOLD
If u dont have it already Here is the
Service Manual
How To
Test the Stator
Members who have donated towards server costs
Join Date: Dec 2008
Location: Monroe, LA
Posts: 4,720
Welcome. Another easy mod, if it hasn't already been done, is the R/R relocation.
---
I'm keepin' all the left over parts. I'm gonna use 'em to build another bike!
_____________________________________________
"Black Beauty"
1989 VN750 acquired December, 2008, 6,711 miles
Currently 23,298 miles
Old Blue
2001 Honda CMX250 Rebel acquired July, 2008
1987 VN750 project bike, acquired August, 2009, 33,000 miles and balancer sticking out of the case, currently awaiting attention and parts
Senior Member
Join Date: Mar 2009
Location: Northern Ill.
Posts: 115
Welcome Ian, as you have already found out this forum is the best.The people with all there knowledge and the willingness to help, just can't be beat
safe and happy riding.
---
2000 VN750
gray and black
13,265 when I picked it up
Relocated R/R
Marbled
Relayed coils
Volt meter (Relayed)
Blue accent lighting
Iridium plugs
Turn signal buzzer
Highway pegs
Heated grips
Fork bag
Auburn leather saddle bags
Clock
Replaced front side reflectors with LED reflectors
Added LED lights to bottom of front tubes
Polished front tubes
Sylvania H4ST
DEKA MF AGM ETX15L
Regapped pickups to snug .020
TOC ACCT springs
Senior Member
Join Date: Apr 2008
Location: Pittsburg, TX
Posts: 401
Welcome to the forum Ian. I was in the same boat when I signed on. 23 yrs between 2-wheeler.
---
2005 Vulcan 750
Black and Silver
Windshield
Saddlebags
OEM Hghwy Bars
O-ring Footpegs
OEM Luggage Rack
V&H Exhaust System
TOC ACCT Rebuild
Die Hard Gold AGM MFB
Spline Lube every tire change
VN750 #4393
VROC #31065
TexasVROC
Love My Baby
Join Date: Jun 2008
Location: Hollywood, Florida
Posts: 1,165
Welcome! Sounds like you've been lurking here for a bit. Take a moment to read the Vulcan Verses and do some preventative maintenance as well, like applying silicone to the tool box lock and the swing arm caps, torquing all the bolts properly, cleaning your electrical contacts and buying your AGM maintenance free battery.
---
Rubyrick

MY BABY...
'05 VN750
16,000 miles +
Kawi tank bib
Kawi rear rack
Small windshield
DEKA M/F battery
VN750.com Grill Cover
LED license plate frame
Clear Alternatives LED brake light
Cortech mini tank bag on rear rack
Pirelli MT66 Tires: 110 front / 150 rear
Splines lubed when tires installed at 10,650 miles
Splines lubed again at 14,400 with stubby valve stem install

Place your mouse on the X below and drag to the O

X Even though you can't see Him, GOD is there! O
Vintage bike addict
Join Date: Oct 2008
Location: I live in eastern ohio
Posts: 859
Welcome aboard.
---
No one can make you feel inferior without your consent.
Eleanor Roosevelt.
Linkmeister Supreme
Join Date: Aug 2008
Location: Lethbridge, Alberta, Canada
Posts: 7,960
Welcome to the madness Ian. It is much more fun being a Vulcaneer than a lurker!! So which came first, the Vulcan or the forum? It sounds like you have been reading here for awhile before getting the bike, but did the bike lead you to the forum or the forum to the bike? I'm just curious, because some folks here did a lot of research before buying a vn750, and I just lucked into it, not really knowing what a powerful piece of machinery, for the size, that I really had, until I found this forum..

I went through the same thing with the oil level when I got my bike. I had it up on the center stand and couldn't see any oil-air line in the sight window, so I started pouring some of Ma Kawi's $8/liter mc oil in. After adding the whole bottle and not seeing a line, I decided it must have been overfull to start with. So I drained the whole lot into a clean pan, (through the side drain with screen) and sure enough there was 6 liters (a liter is just over a US quart) that drained out. I put 4 liters back in and saved the remaining 2 liters in marked containers for top up until the next oil change.
---
Gordon
1991 VN 750 -"
Cosmic Lady
" or "
Bad Girl
"?
Purchased May 16, 2008
Approx.19,300km (12,000 miles)
H-D windshield
Relocated R/R
MF-AGM battery
Fiamm Freeway Blaster horns
F&S luggage rack and engine guard
Kury Offset Hiway pegs
July 13, 2016, Riding on the DARKSIDE now, Classic Radial 165/80-15
TOP TEN THINGS A NEW RIDER/OWNER SHOULD DO.
Click on link.
https://www.vn750.com/forum/11-vn750-general-discussion/9127-top-ten-items-you-would-suggest-new-owner-do-his-new-ride.html