Damaged air/fuel screw
---
Hi everyone I've got a 93 A9 which has some unknown drag pipes on it. I have read all the threads on marbling and tried it out and it has stopped the banging on deceleration..thanks. The problem is that when i have now gone to adjust the air screw the one on the right hand carb( looking forwards) the screw itself is badly damaged. it looks like one of the previous owners has had a play with it and i cant get it to move at all, most of the slotted part has been broken. Any ideas how to get round this, bearing in mind I haven't got an engineering workshop at home.?? any help would be appreciated.

Thanks (from England) in anticipation........
Members who have donated towards server costs
Join Date: Mar 2006
Location: Kyle, Texas
Posts: 4,054
You might have to try to remove that with an easy-out. I can't think of any way to get at it with any other tool, even to carve a slot in it to use a screwdriver. You're going to have to replace it more than likely anyway, so that's what I'd do. It's brass, so it should be pretty easy to remove.
---
Fergy
Kyle, TX VN750.com member #707 VROC#19556
2002 VN1500 Classic
Spline Lube Procedure, with photos,
R/R Relocation
and
Coil Mod
Rusty Tank Cleaning!
Electrical Fault Finding Flowchart
SEAFOAM JUNKIE!
Thanks for the reply will try that.
Simple Solutions
Join Date: Jun 2008
Location: SEQUIM, WA
Posts: 965
my first screw this happened and it happened because i didnt get the lead plug all the way out... after i pulled the carbs it was easy to see this, and after i took a couple of my auto picks to it i got the rest of the plug out, The screw i could get to turn with the picks... ... if that doesnt work id try a left hand drill bit but I'd be very hesitant on drilling into the carb if i didnt have to...
---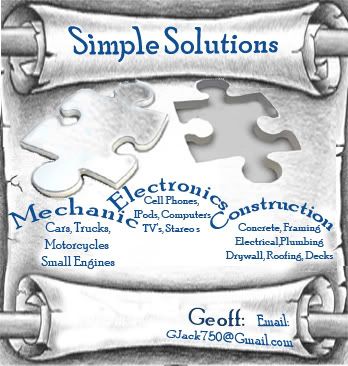 Stator #3
MF AGM
DeGoated
Ears Shaved
R/R relocated
Rebuilt
She's worth her weight in GOLD
If u dont have it already Here is the
Service Manual
How To
Test the Stator
thanx for that. I think i will try the easy out route (no plugs, british bike) but am having a real problem finding a supplier of a new screw. Done lots of searches but no luck. Anyone got any ideas? I won't take the old one out til i've got a replacement. I ride every day and need to keep the bike on the road even if it pops a bit. I have already changed the exhaust gaskets,put splitfire plugs in, changed the oil, copper eased the brakes and stuff but do it bit by bit, so as to keep on the road.how hard is it to take the carbs out?
---
Last edited by Strange Paul; 09-28-2009 at

06:31 PM

.