Hi all!
---
I finally bought a bike. 1989 VN750 - 15,000 miles on her and she's in great shape. I'm just starting out, never rode a street bike before. In fact it's been 30 yrs since I rode a friends bike once or twice (a 250 enduro I think it was). I took the MSF course in June 09 & have logged about 800 miles since. Now I have my girl on the back and it's been great. The weather hasn't always been good but what can ya do. I have some friends to ride with, Harley's, Drifters so I'm not alone. Participated in a few benifits and just pick up and go when I can. I would like to get some extras for the bike and thought I may find some ideas around here.

Ride on!
Simple Solutions
Join Date: Jun 2008
Location: SEQUIM, WA
Posts: 965
welcom to the group u got a great bike ride safe and rip up the miles
---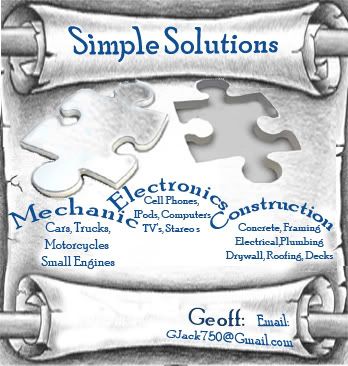 Stator #3
MF AGM
DeGoated
Ears Shaved
R/R relocated
Rebuilt
She's worth her weight in GOLD
If u dont have it already Here is the
Service Manual
How To
Test the Stator
HAWK
Join Date: Feb 2006
Location: Chicago land
Posts: 2,576
Welcome, make sure you read the Vulcan Verses, more answers than you knew you had questions
---
Chad Falstad "Hawk"
Vroc #17649
2011 HD Ultra Classic "angel"
2001 Nomad 1500 Sold March 2012
2001 VN 750 "Sold June with 2008 with 21,000""Serinity"
Linkmeister Supreme
Join Date: Aug 2008
Location: Lethbridge, Alberta, Canada
Posts: 7,960
Welcome to the Vulcan madness from sunny southern Alberta. Check out the TEN THINGS link below. Pay particular attention to checking/lubing the rear splines soon.
Here`s wishing you wind in your face and keeping the rubber on the road.
---
Gordon
1991 VN 750 -"
Cosmic Lady
" or "
Bad Girl
"?
Purchased May 16, 2008
Approx.19,300km (12,000 miles)
H-D windshield
Relocated R/R
MF-AGM battery
Fiamm Freeway Blaster horns
F&S luggage rack and engine guard
Kury Offset Hiway pegs
July 13, 2016, Riding on the DARKSIDE now, Classic Radial 165/80-15
TOP TEN THINGS A NEW RIDER/OWNER SHOULD DO.
Click on link.
https://www.vn750.com/forum/11-vn750-general-discussion/9127-top-ten-items-you-would-suggest-new-owner-do-his-new-ride.html
Members who have donated towards server costs
Join Date: Dec 2008
Location: Monroe, LA
Posts: 4,719
Welcome. Certainly endorse everything OlHoss says above. My '89 was never lubed by the factory.
---
I'm keepin' all the left over parts. I'm gonna use 'em to build another bike!
_____________________________________________
"Black Beauty"
1989 VN750 acquired December, 2008, 6,711 miles
Currently 23,298 miles
Old Blue
2001 Honda CMX250 Rebel acquired July, 2008
1987 VN750 project bike, acquired August, 2009, 33,000 miles and balancer sticking out of the case, currently awaiting attention and parts