Junior Member
Join Date: Aug 2009
Location: Syracuse, NY
Posts: 2
Totaly new to riding
---
Hey Vulcan folks,

Just got a 1990 750 with 29k on it, I've never driven a motorcycle before and I'm taking a beginner rider course this weekend.

I've had the bike for a little over a week and I've started it almost every day and ran it for a little while. I haven't started it since Saturday 8/8, and I tried to start it today 8/11 and it won't turn over. It sounds like the battery is dead, it tried to turn over and every time I tried to start it, the sound progressively got weaker until it just clicked.

Is it ok to jump start it with a car or will I "blow-up" the battery? I don't want to try and pop start it since I haven't even rode it yet and I'll probably just dump it.

Any advice is much appreciated, Thanx
---
1990 VN750
Old Truck Junkie
Join Date: Jul 2007
Location: Roby Texas
Posts: 4,133
It is okay to jump start it. Just make sure that the cables are hot to hot and ground to ground.
---
02 honda sabre 1100
Senior Member
Join Date: Jul 2009
Location: JACKSONVILLE, FL.
Posts: 123
Welcome to the site!! There loads of "vulcan folk" here with loads of help. Iv never had to jump my 05 vn750 but i have bump started it with someone pushing it. So i cant tell you how to jump it but i can definitly tell you do not bump start it. Mine took off faster then i thought posible and i almost lost it, been ridin it bout two years at that point. Its not a good idia with no experiance.

But like i said welcome to the sight and as soon as these other guys see your post im shur you will have answers from every direction.

Good luck on the cours, great way to learn the bike!!!

You picked a hell of a bike youl love it
---
CLARK47



2005 VN750
1,200 MILES WHEN NEW TO ME
JULY OF 2006
24,000 AND COUNTING NOW
ALLMOST ENTIRLY STOCK
CWO3 Navy (Retired)
Join Date: Sep 2008
Location: Maryland
Posts: 722
Do not jump start it like a car. Remove the battery and test it, if it test ok, put it on a trickle charger. Does it have acid? If so, dump the battery and go out and buy a new AGM technology battery. The acid is absorbed by the plates so you don't have the worry about it getting on the R/R or damaging any of the electronics. Plus it holds a charge much longer. It's probably one of the best things you can do for your bike. I have a '93 and put one in mine and it made a world of difference.

Read through the verses pages on this site, there is a wealth of information on how to get your bike in tip top shape and keep it that way.

You should check out the spline lub threads, if it hasn't been done on your bike that should be your next maintenance job. Takes about 2 hours more or less and is fairly easy to do.

Absorb all you can from the course and enjoy the new-to-you ride. I did what you are doing a year ago this month and since then have logged over 5,000 miles on my Vulcan and my Harley. You're gonna love it!

Oh yeah, we have only 4 of these very nifty radiator Grill Covers left. See the portal page for ordering info and a picture. Once these are gone there will be no more! (Had to get a plug in for them.)
---
The Flag on my bike honors those who serve our Country and those who have served!
Newb with a Bullet!
Join Date: Jun 2008
Location: Omaha, NE
Posts: 589
And roll starting it isn't that hard, either. The weight of the bike will keep it rolling straight really well. I don't think you'll dump it unless you're a very small person and you don't weigh much and/or your feet don't touch the ground.
---
Current VN: 03 VN1600A
Past VNs: 92 VN750A, 98 VN1500A
Future VN: 94/97 VN1500A basketcase/bobber
Old Truck Junkie
Join Date: Jul 2007
Location: Roby Texas
Posts: 4,133
You can jump start it. It only draws what it needs from the big batt. I jump start my mowers all the time with out any problems.
---
02 honda sabre 1100
jump starting the bike is easy...biggest thing not to do is have the cage running...this will cause more power than needed to go to your starter, just remember positive to positive and ground to ground
I would also recommend checking all your connectors..3 days and your battery is dead...not good
Members who have donated towards server costs
Join Date: Jun 2006
Location: Long Island, NY
Posts: 812
Welcome to the site you will love it here.

Jump start the bike from a car battery with the cables connected correctly. DO NOT "bump" start it. with experience it is difficult and I would hate for you to have a bad thing happen so early in your riding life with potential damage to your body and the bike. The best advice you got was to go out and buy an AGM battery and it will do the trick for you.

Take the course it will teach you how to stay safe. Good luck and keep the shiny side up. Ride safe.
---
2003 Wine/Gray VN750 bought in 2005 w/2000 Miles
LED Tail/Brakelight & License Plate Light;Chrome Inspection Sticker Plate ;Battery Charging Quick Plug;Kuryakyn LED Battery Voltmeter;Throttle Rocker Palm Rest;Optronics Driving Lamps;KnifeMaker Floor Boards;Halogen Headlamp Bulb;OEM Engine Guard;Iridium Spark Plugs;OEM Luggage rack;Stebel Air Horn;Handlebar Clock; Handlebar Thermometer; Sealed Battery; Marbled; Leather Grip Covers; Rectangular Mirrors

~VROC~ # 389
Simple Solutions
Join Date: Jun 2008
Location: SEQUIM, WA
Posts: 965
the right side cover is all u need to remove to jump neg to a bolt on frame or engine pos to (there is the sylinoid in the right case with 2 big wires going to it the one on top goes to the pos batt and the one on the bot goes to the starter )the top wire on the sylinoid) it should jump and run at this point if u have a voilt meter connect it to the same to points u jumped to is it above 12v? and when u rev is it more?.... this is a easy way to jump and u can also hook a batt charger up this way.... congrats on the freedom of the ope road you picked a great bike to learn on keep it safe we'll have u runnin in no time
---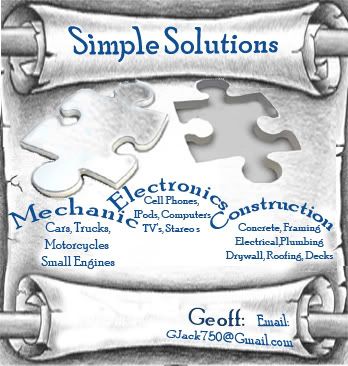 Stator #3
MF AGM
DeGoated
Ears Shaved
R/R relocated
Rebuilt
She's worth her weight in GOLD
If u dont have it already Here is the
Service Manual
How To
Test the Stator
Members who have donated towards server costs
Join Date: Dec 2008
Location: Monroe, LA
Posts: 4,720
Welcome to the forum. See how easy it is to get advice.
---
I'm keepin' all the left over parts. I'm gonna use 'em to build another bike!
_____________________________________________
"Black Beauty"
1989 VN750 acquired December, 2008, 6,711 miles
Currently 23,298 miles
Old Blue
2001 Honda CMX250 Rebel acquired July, 2008
1987 VN750 project bike, acquired August, 2009, 33,000 miles and balancer sticking out of the case, currently awaiting attention and parts