Hi. i am a newbie and i need your help
---
Hi.
First of, i am an idiot. I purchase this bike out of compulsion and now i think i have a problem. I am hoping that someone could help me out. It is an 86 vn750 with 14k on it. All inputs are appreciated.

Problem: the front engine (cylinder) seems to produce less power than the rear. Maybe 60 percent compare to the rear.

From the sound and exhaust air exit, i noticed that the rear engine sound louder and push more hot air out of exhaust pipe. Is this normal on a vulcan 750 to have one cylinder produce more power than the other? I have custom home made drag pipe run along both side ( just like V&H cruzer), so the front engine has a longer pipe. Would this be a factor?. How could i tell if this weak combustion caused by carbs or valve?

I have brand new sealed batteries (agm), all new ngk spark plugs ( dpr7ea-9). When i star it, it seems like the front engine pick up first and then the rear catch on. It does seems like it run great and smooth in all rpm. Steady accleration all the way up to 70mph. however i dont know how a good working vulcan 750 run like. RPM hand does not stay steady at a steady speed, does this need carbs sync?

Potential causes:
1. Carbs need clean up or sync. I noticed that the gas tank is rusted when i fill up gas. So could this clog carb of the front engine cause it to give less fuel?. The air/mix screw still has factory lead seal so i assume both carbs are in original setting.
2. Ignition coil. I have tested all coil and it does give sparks. could i have bad coil?
3. bad or damage valve? . This is where it get over my head. I am a newbie.
4. Head gasket? i noticed some liquid come out of the right pipe ( from front engine). I am going to fill up anti-freezer tomorrow and monitor to see if i lost any anti-freezer.

All the experts, please help me out. Oh, English is my second language. Please forgive me if i make no sense. I try my best to explain the stituation. Thank you so much.
---
Last edited by bikeronbudget; 07-27-2009 at

05:58 PM

.
Newb with a Bullet!
Join Date: Jun 2008
Location: Omaha, NE
Posts: 589
Sounds similar to what I am dealing with. I am newb-ish myself, but for sure the rust in your tank is not doing you any favors. I think everything you are describing could come from gummed up carbs full of rust and gunk.

I just derusted my tank with muriatic acid, cleaned out my petcock and carbs. It helped TREMENDOUSLY although it's still not 100%. I think I might have missed some gunk so I'm going to clean out again.

Like you it seems most of my problem is in one cylinder. In my case it's the rear (left). It ran super strong just a couple of months ago when I parked it due to a fuel leak so I doubt anything internal is wrong with my cylinder (valves, etc.) It's almost certainly something more basic than that- and given that I have proven that gunk has been a problem in my carbs from my rusty tank it makes sense to keep barking up that tree until it has been eliminated as a cause.

If I were you I'd start there- derust your tank, clean out your petcock and carbs and see if it helps. I bet you it does!

Keep us posted on your progress!
---
Current VN: 03 VN1600A
Past VNs: 92 VN750A, 98 VN1500A
Future VN: 94/97 VN1500A basketcase/bobber
Thanks Krebsne. I am hoping my problem is in the carbs. And i think i'm gonnga star from there first. I'll try to take it out and clean it. Any suggestion on take out the carb?

Btw, good job on the rattle can paint job. I have learn alots from it.


John
Newb with a Bullet!
Join Date: Jun 2008
Location: Omaha, NE
Posts: 589
Are you earshaved? I took my carbs out last night and cleaned them and I was SO GLAD I earshaved just so I could get those buggers out. Taking them out w/ the stock air breather system is NO FUN. I did it once, years ago. All I remember is how hard it was!

So someone else might have to chime in w/ advice on that. I know it's difficult. Even airshaved mine weren't super easy to get BACK IN, but getting them out at least was easy.
---
Current VN: 03 VN1600A
Past VNs: 92 VN750A, 98 VN1500A
Future VN: 94/97 VN1500A basketcase/bobber
Members who have donated towards server costs
Join Date: Mar 2006
Location: Kyle, Texas
Posts: 4,054
Hi and welcome to the group! You say your tank is rusty? If so, you obviously have rust and crud clogging up your carbs and fuel system. I would remove the carbs and give them a thorough cleaning. While they're off, you need to get rid of the rust in the tank. No way do you want to re-install the clean carbs under a rusty tank. You will be wasting your time cleaning the carbs otherwise. Good luck!
---
Fergy
Kyle, TX VN750.com member #707 VROC#19556
2002 VN1500 Classic
Spline Lube Procedure, with photos,
R/R Relocation
and
Coil Mod
Rusty Tank Cleaning!
Electrical Fault Finding Flowchart
SEAFOAM JUNKIE!
Simple Solutions
Join Date: Jun 2008
Location: SEQUIM, WA
Posts: 965
what kinda fuel u runnin .... use regular double check all grounds... grab a couple of cheap fuel filters (one if u just put it on the main line ) this is to prevent any more residue from forming in the carbs. like suggested clean the carbs and tank there is a great link in vers. for rusty tank using a batt charger and spa cleaner (ph +)... (get the details its a worth while to do it this way cheap and very effective stay awayu from TANK LINERS.... I dont think your prob is internal... where do u live (elevation ) and where did the bike come from (has it always had prob at your current elevation) u may not have answers to that question but it may help us in diagnoses.lastly pull the air cleaners and check for debris i had a rats nest in my air cleaner when i got my bike... Last but the most important get a can of "seafoam" and as directed put a shot or 2 in the tank and a swallow in the crank case ride for 50 - 100 miles.... do this before anything else( i almost guarantee this will work if the prob is carb related this is no substitute for cleanin the carbs but it works phenomenally... keep us informed u will be happy with your purchace shortly

other recomendation is ngk iridium plugs instead of plane ngk...
---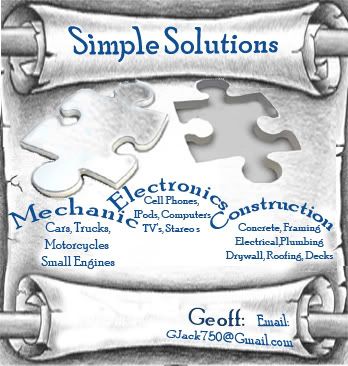 Stator #3
MF AGM
DeGoated
Ears Shaved
R/R relocated
Rebuilt
She's worth her weight in GOLD
If u dont have it already Here is the
Service Manual
How To
Test the Stator
On His Lady Vulcan
Join Date: Apr 2008
Location: Washington State
Posts: 1,647
As stated prior to my posting, clean the tank and carbs. Also I seen that you mentioned that you installed drag pipes. If so you
NEED
to adjust your pilot screws on each of the carbs, start with 2 3/4 turns out and go from there. So yes, that means that you will have to remove those lead caps. I am willing to bet that will cure what ails her.
Peace
---
"You came out of your mom looking like SHlT. She thought you were beautiful. Don't know what scared me most, your looks or her judgment."
Pictures of the "Ladies"
Members who have donated towards server costs
Join Date: Dec 2008
Location: Monroe, LA
Posts: 4,717
Welcome. I installed small diameter (about 3/4 inch), clear, in-line fuel filters on the lines from the petcock to the carbs. Keeps crud from getting to the carbs in the future, and I can tell if fuel is flowing and if junk is coming out of the tank.
---
I'm keepin' all the left over parts. I'm gonna use 'em to build another bike!
_____________________________________________
"Black Beauty"
1989 VN750 acquired December, 2008, 6,711 miles
Currently 23,298 miles
Old Blue
2001 Honda CMX250 Rebel acquired July, 2008
1987 VN750 project bike, acquired August, 2009, 33,000 miles and balancer sticking out of the case, currently awaiting attention and parts
Thank you so much for welcoming me. I am overwhelming and greatly appreciate all advices.

So from recommedations, this is what i should do:
1. I should start with seafoam first.
2. Adjust air/feul mixer to 2 3/4 turns
2. If problems still persist, i should clean or replace fuel tank, clean petcock.
3. And if it is still there, carbs clean up ( big job)
4. Must be gasket or head valve

am i right? thanks
---
Last edited by bikeronbudget; 07-27-2009 at

06:05 PM

.