Senior Member
Join Date: Jul 2009
Location: Springfield, Mo
Posts: 136
Brand new rider with my first bike.
---
Just joined the forums the other day - and think I will be sticking around - great info and community.
Just thought I would share a pic of my first bike 2000 vn750
[IMG]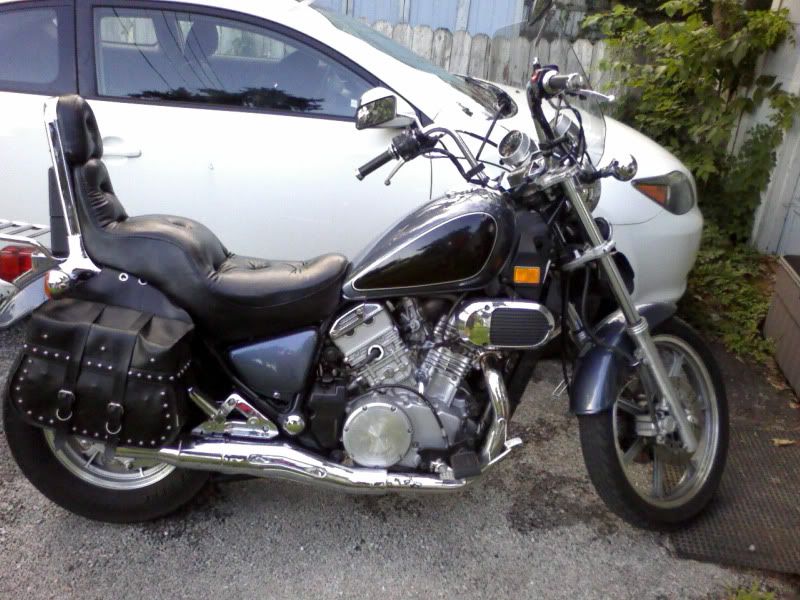 [/IMG]
________
Synthetic Weed
---
Last edited by MisterPister; 05-11-2011 at

06:20 PM

.
Love My Baby
Join Date: Jun 2008
Location: Hollywood, Florida
Posts: 1,165
Thanks for posting the pic. Nice bike. Hope it takes good care of you. Mine's been good to me...
---
Rubyrick

MY BABY...
'05 VN750
16,000 miles +
Kawi tank bib
Kawi rear rack
Small windshield
DEKA M/F battery
VN750.com Grill Cover
LED license plate frame
Clear Alternatives LED brake light
Cortech mini tank bag on rear rack
Pirelli MT66 Tires: 110 front / 150 rear
Splines lubed when tires installed at 10,650 miles
Splines lubed again at 14,400 with stubby valve stem install

Place your mouse on the X below and drag to the O

X Even though you can't see Him, GOD is there! O
Senior Member
Join Date: Mar 2009
Location: Frankfort, KY
Posts: 293
Welcome to the forum. We love pictures here, so keep us updated.
Something familiar about that bike you got...
Oh ya looks like mine!
---
Mom, I'm not wearing my helmet only for the purpose of taking this picture and
the background was digitally blurred to make it look like I'm going really fast.
---
Last edited by wvshaneb; 07-22-2009 at

01:17 PM

.
Members who have donated towards server costs
Join Date: Apr 2008
Location: S.E. Michigan
Posts: 2,850
Welcome to the group, and enjoy the ride. Looks like you found a pretty clean one, and like mentioned above, don't be shy with the pics.
Senior Member
Join Date: May 2008
Location: Portland, OR
Posts: 736
Welcome! The VN750 is my first bike as well and has proven to be a great bike to learn on.
---
Chris Glennon - Portland, OR
Join Date: Apr 2009
Posts: 96
Ahoy Misterpister ...I see you bought the bike ...good for you ...enjoy the ride, I think you made a good choice
Have fun riding, nice pics.
---
"Show me a man who makes no mistakes, and I'll show you a man who doesn't do things." Theodore Roosevelt."
2007 Victory Kingpin
Current projects - 1986 VN750 & 1988 EL250
Adventuregeek
Join Date: Oct 2008
Location: Atlanta, GA
Posts: 162
Oh, you too? ;-)
---
Welcome, welcome! You're found a great cycle, and a great online community to help keep it running.
My wife and I recently started riding, and the Vulcan is my first cycle too. It's not a bad starter bike, not a perfect one either. It's VERY powerful and not exactly light. I laid it down (looow speed) three times in my first couple of months. I'm confident and comfortable now that I've learned to ride, learned the cycle, and gotten some experience in traffic.
My advice to you: Take the cycle safety course if you haven't yet. Start small and easy - find quiet streets within a mile or two of home to practice on. Stop, start, turn, over and over until you don't think about the clutch. Practice low-speed turning, quick stopping. DON'T head out on the open road or dance in traffic until you feel confident on the cycle.
Required Reading: the Hurt Report summary of causes of motorcycle crashes. By telling you what causes crashes and injuries, you can learn how to AVOID them.
http://www.clarity.net/~adam/hurt-report.html
Finally, don't let your friends or other riders tell you you don't need:
- The safety class
- Lots of skills practice, not just road riding.
- A helmet and other protection. ATGATT, no excuses.
The Hurt Report found lots of things we can do to avoid accidents and not die when they happen. Sadly, most riders continue to ignore this excellent information. They ride without armor, wear clothing that makes them hard to see. They WILL try to convince you that their way is best, when they're contributing to cycling's terrible safety rep. I'm an ATGATT guy in a screaming yellow jacket, and have had to endure many stupid comments from no-gear black T-shirt riders. Then they tell me all about their crashes and road rash and stitches, like that's better somehow!
But enough about that. Start slow, take it easy, and you'll be roaming the open road in no time. I'm having a blast on mine! Happy trails!
---
Laissez les bon temps rouler!

Coastered, R&R relocation, MCCT's, Koso mirrors, Memphis Shades windshield, Mutazu GA hard bags, big monkey in the saddle. ATGATT: Olympia AST hi-viz jacket, Recon 2 (convertible) pants
---
Last edited by Tiki Mon; 07-23-2009 at

01:14 PM

.
Senior Member
Join Date: Jul 2009
Location: Springfield, Mo
Posts: 136
Thanks for the info and advice Tiki. I have read the hurt report - definately a good read and glad I did. I plan on taking all safety precautions I can. Getting hurt HURTS and I want as least of that as I can get.
I will take a driving course soon - also gonna set up my own course up at work in my parking lot for some extra practice.
________
Ipad cases
---
Last edited by MisterPister; 05-11-2011 at

06:21 PM

.
Vintage bike addict
Join Date: Oct 2008
Location: I live in eastern ohio
Posts: 859
Learn all you can about how to control your baby. Know how to ride is your best bet in staying safe and pain free. Welcome here and to biking. Never forget you are totally invisible. No one is watching you except you.
---
No one can make you feel inferior without your consent.
Eleanor Roosevelt.