Potential New Owner - 2005 VN750
---
I am considering purchasing a 2005 Vulcan 750 from a stealership in town.

The bike is in VERY nice cosmetic shape, and it rode great on my test ride today. The bike has 9100 miles on it, and has been serviced by this particular dealership all its life.

Is $3300 a fair price for this bike?

Thanks,

Joe
Love My Baby
Join Date: Jun 2008
Location: Hollywood, Florida
Posts: 1,165
I think that's a fair price. Craigs list has had some older models at about that price as well. If the dealer has the maintenance records and the bike is in great condition, I would feel comfortable buying it. My 2005 is still under warrantee because I bought an extended warrantee which BTW is transferrable. Ask if there's an extended warrantee on the bike of if the dealer will give you a 1-year warrantee.
---
Rubyrick

MY BABY...
'05 VN750
16,000 miles +
Kawi tank bib
Kawi rear rack
Small windshield
DEKA M/F battery
VN750.com Grill Cover
LED license plate frame
Clear Alternatives LED brake light
Cortech mini tank bag on rear rack
Pirelli MT66 Tires: 110 front / 150 rear
Splines lubed when tires installed at 10,650 miles
Splines lubed again at 14,400 with stubby valve stem install

Place your mouse on the X below and drag to the O

X Even though you can't see Him, GOD is there! O
CWO3 Navy (Retired)
Join Date: Sep 2008
Location: Maryland
Posts: 722
I've seen a lot of these on Craigslist in my search for my Harley and that is a very fair price, especially from a dealer. You'll love the bike - go for it. You won't find a better more fun ride for the money than this. Oh yeah, and you have 6,500+ people to help you out when you need it. The only thing that would make this an even better bike would be that very cool looking VN750.com inspired and designed custom grill for the radiator.
---
The Flag on my bike honors those who serve our Country and those who have served!
Thanks, guys! I really appreciate the response, and it helps make the decision easier.

I couldn't believe how much smoother a ride this bike was than the Harley 883 Sportster I rode (but for 2000 less). Plus, it doesn't look like any other bike out there.

I'm going to pick it up on Monday, hopefully.

The only things I need to do immediately are procure a set of saddlbags (it has a windshield) and have them tighten up the tachometer, as it rattles a bit.
Members who have donated towards server costs
Join Date: Dec 2008
Location: Monroe, LA
Posts: 4,715
Many times, the drive shaft splines on our bikes were never lubed by the factory or dealership. I'd have them show me they were lubed before I bought it, and want to see it when the shaft is disassembled. If dry but in good shape, would want to see them apply the proper high moly content grease, such as Honda Moly 60 (60% moly). Regular grease just won't do the job. If dry and worn, would want them to replace or give me a cut in the price. You can get replacement shafts fairly cheap off ebay. You might want to go to fergy's signature and print out the how to on spline lube there and take it to the dealership. Lots of dealerships don't even know they need to be lubed.
---
I'm keepin' all the left over parts. I'm gonna use 'em to build another bike!
_____________________________________________
"Black Beauty"
1989 VN750 acquired December, 2008, 6,711 miles
Currently 23,298 miles
Old Blue
2001 Honda CMX250 Rebel acquired July, 2008
1987 VN750 project bike, acquired August, 2009, 33,000 miles and balancer sticking out of the case, currently awaiting attention and parts
---
Last edited by flitecontrol; 07-19-2009 at

09:16 AM

.
Drive less, ride more...
Join Date: Nov 2005
Location: SW Ga
Posts: 1,114
Obviously, it's hard to really say just how cooperative they'll be, but the suggestion posted above by Flitecontrol is a very good one and will let you know up front just how accommodating and "customer-focused" this dealership is....b4 you plunk down your money.
Judging by the number of threads on this forum about it, this is indeed a well-documented problem with these bikes (the lack of lube from the factory, that is), and is something that the dealer should take seriously.
Taking a printout of Fergy's spline lube procedure will help drive home (no pun intended, really!...=)...) what you're talking about--so that idea is a good one, too.....
A wise person once said, "People respect what you inspect, not what you expect"....
---
'05 VN750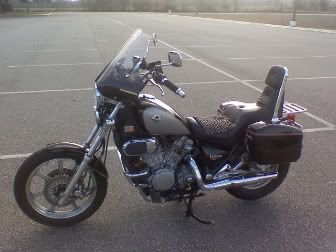 For other bike pix & mods, go to:
http://s1203.photobucket.com/albums/...k/VN750%20pix/
I will try to find those instructions, and take them with me tomorrow.

Thanks,

Joe
Concert connoisseur
I wouldnt think the dealer should have a problem with doing it, with their tools, stands and garage it wouldnt take them a half hour!
I bought the bike.

I'm going to have the dealer consider the shafts when I take it in for its first service...they're backed up 3 weeks as of now....so I will have to wait. They did tell me that they will stand by the bike, and seemed pretty helpful overall.

The only issue I have is that the tachometer seems to vibrate, and the chief tech told me that they're mounted on rubber bushings, and that the vibration is not something easily cured....not sure if that's the case, but I didn't consider it a deal-breaker...as I like the bike.
Adventuregeek
Join Date: Oct 2008
Location: Atlanta, GA
Posts: 162
The tach vibration is normal, actually. Just don't look at it for too long or your eyes will vibrate up and down too.

Congratulations on your new (to you) VN750! You're gonna have SO much fun on that ride. Once you get used to it, try to ignore attacks of Harley-itis, defined as "a psychological ailment that makes one want to ditch their Vulcan for a heavier, more expensive, less reliable cycle that vibrates your fillings out."

Happy trails!