1994 sound ok
---
I've decided I want a Vulcan and found a '94 here in the Boston area. The bike looks in fairly good shape, but I have a couple of questions.

The tires look original (11,000 miles on the bike). A little cracking on them. I'm going to shoot for new rubber. How much rust is ok at this point? There really is only a little here and there. And last, the seat has a big rip on the bottom fold.

The KBB value is about $2400. The guy is asking $2000. Due to the tires, I'm looking to knock it down several hundred. Since I don't think there has been any other maintenance done on the bike, is $1,600 a fair price?

I don't want to screw either one of us. Thanks.
The Reanimater
Join Date: Apr 2009
Location: A Little Town Along I-5 in Northern California
Posts: 847
The Bike is only worth whatever your willing to pay for it.

It just depends if He's willing to take for it what your willing to pay.
---
JaY
"Veronica"
2002 VN750 Vulcan
Rebuilt Engine
ACCTs lubed w/TOC Springs
Pick-up Coils Gapped at .018"
Splines Lubed
Deka MF AGM EXT15L Battery
NGK Iridium IX Spark Plugs
R/R Relocation Fix
New Rear Rack
Stock Seat Repadded
Ext-BackRest
Calif Rider
Join Date: Jan 2006
Location: Petaluma Calif
Posts: 725
You need to really check the bike out. Make sure everything works, and starts okay. If not do you have somebody that can check it out for you. Take it for a good ride. After buying the bike make sure you do the used bike check that is on the sight. There are a lot of things to check.
---
2004 25,500 miles
Led tail light enhancement
Homemade floor boards
Headlight modulator
Extra heat sink on R+R
R+R relocation
Homemade driver's backrest
Fused Stator
Mcct conversion-cost 4.50
Ride-on in tires
crash bar with home made hyway pegs
iridium plugs
home made fork wind deflectors
coil pickups adjusted.
Kenda kruz tires 110/90 170/80
Members who have donated towards server costs
Join Date: May 2006
Location: Tampa, Florida
Posts: 1,766
If you have access to a voltmeter, take the seat off, start the bike, measure the voltage at the battery terminals. When you rev it up, voltage should climb from 12 - 13Vdc, up to at least 14Vdc. If it does not, it's charging system problems. On a bike that old, if it hasn't had a stator and r/r put in, it probably will need them. Probably close to $ 700 for a shop to do, almost $ 300 in parts for you to do.

I'd start here, if you get past this, then lets talk.

Jon
---
93VN750, under re-construction
vn750.com Member # 828

Rick's Stator and R/R
MF AGM Battery
Coastered
Degoated
Shaved & Jetted
Iridium's
MAC Tapered Staggered Pipes
Battery/Temp/Clock Gauge
Stainless Steel Brake Lines
Dunlop D-404's
23,XXX miles and holding pending gasket change (underway!!!)
Drive less, ride more...
Join Date: Nov 2005
Location: SW Ga
Posts: 1,114
The VN750 is a great bike, and the last of its kind...you just need to find one that you can trust as you ride it. The bike was built for 20+ years, so spare parts will generally be available for a long, long time. Another major perk with this bike--
lots and lots of support and camaraderie
on this forum.....
On a VN750 that old, you really, really need to test the bike's charging system b4 you get serious with it.
To do this, you'll need a good multimeter. The rest you can do via the "used bike check" found on this forum's "Vulcan Verses" at....
https://www.vn750.com/forum/showthread.php?t=1191
Also, look underneath the bike's battery tray, for signs that battery acid has attacked the frame underneath--once this has started, there's no stopping it. Walk away from the bike if you see signs of this problem.
If the charging system shows problems, repairing that can be a least several hundred dollars. Your best bet then is probably to just find another VN750. This is not hard, as there are a lot of them out there....
If you can, it's not a bad idea to look at the inside of the fuel tank (using a dentist's mirror, and a flashlight), for signs that the walls have rust. Its' a major hassle to fix a rusting tank.
New tires are $200-$400 down here, depending on what brand/model you get, and who replaces them for you. He may already has figured that in his asking price. Sounds like you'll need a new seat, too.
Lots of other good info on this website/forum for inspecting a used VN750....use the "search" function in the menus above, to find more info as you need it.
Good luck--and welcome to the forum...........
---
'05 VN750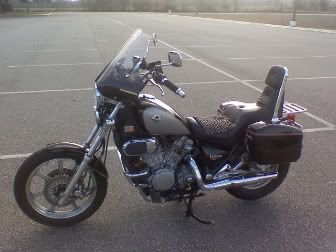 For other bike pix & mods, go to:
http://s1203.photobucket.com/albums/...k/VN750%20pix/
Is it the same color as mine? I paid $2,100 for mine with about the same milage last January 08 (now at 16,000+ miles). Mine had minor rust on the gagues and was missing both swing arm caps, that was all. Sounds like you have a little room to work on the price. Just make sure it starts well and runs good like everyone suggested.
---
"Show me a man who makes no mistakes, and I'll show you a man who doesn't do things." Theodore Roosevelt."
2007 Victory Kingpin
Current projects - 1986 VN750 & 1988 EL250
Wow, I just wanted to ride
I found another bike. A '99 for a few hundred more. After reading your comments I'll look at that one before deciding.
I assume for the '99, I need to do all the same checks. (are the electrical systems really that bad?!)
Thanks for the help!! To bad you can't come with me to look at the bikes. I'd buy you a beer
Concert connoisseur
yes and no. depends on the upkeep, oil changes etc and the amount of acces you add, not much room for elec access unless you led taillight mods etc. they really are a great bike. stators do fail but so do altenators on your car, just a bit more difficult to replace on these bikes.
The Professor
Join Date: Feb 2008
Location: BUFORD, GEORGIA
Posts: 3,147
Quote:
Wow, I just wanted to ride
I found another bike. A '99 for a few hundred more. After reading your comments I'll look at that one before deciding.
I assume for the '99, I need to do all the same checks. (are the electrical systems really that bad?!)
Thanks for the help!! To bad you can't come with me to look at the bikes. I'd buy you a beer
Is that the one in Medway, listed as a 4 cylinder for $2500.00?
---

85 VN700 "Old Yella"
REBUILT ENGINE
CUSTOM PAINT
VANCE & HINES CRUZERS
EAR SHAVED AND RE-JETTED W/K&N'S
DUNLOP ELITE K591 FRONT & REAR
VOLTMETER
SYNTHETIC BRAKE FLUID
SYNTHETIC OIL & GEAR LUBE
PLEXISTAR 2 WINDSHIELD
SPLINES LUBED
ACCT'S GREASED W/TOC SPRINGS
COASTERD
LEATHER SADDLE BAGS
LEATHER TOOL AND ROLL BAG
PICKUP COILS GAPPED AT .018"
NGK CAP, WIRES, IRIDUMS
BARNETT FRICTION PLATES & SPRINGS
CUSTOM GRIPS, MIRRORS, LEVERS
ORIGINAL STATOR & R/R 14.5v
DEKA MF AGM ETX15L
Best Auto/Moto Insurance | Motorcycle Protection Today | FREE Trade-In Quote
uh, yeah, why? you see if first?
1999 4 CYLINDER BLUE & BLACK - VERY RELIABLE BIKE WITH CUSTOM SEATS , AFTER MARKET SADDLE BAGS & WINDSHIELD.