Join Date: Jul 2009
Posts: 1
Sledge says hello
---
Okey dokey... I just found this site. I enjoy reading about motorcycles and am considering buying a Vulcan (either 500 or 750) as my second bike. I have a 250cc Hyosung with limited riding experience and I know that.

I'm currently deployed to Afghanistan and have been here about 5 months. I am a Mississippi National Guardsman.

Anyway, I hope to learn alot and hopefully be able to add to the discussion when I can.

Sledge
Vintage bike addict
Join Date: Oct 2008
Location: I live in eastern ohio
Posts: 859
Welcome aboard Sledge! Good to have another soldier among us. While you check out our steeds why not post up some pics of your present ride and give us a rundown on it?
---
No one can make you feel inferior without your consent.
Eleanor Roosevelt.
Resident Clown
Join Date: Jun 2009
Location: Alton, IL
Posts: 28
Welcome to the show, Sledge!
Fellow Noob, Here. Trust me, a 750 is a big step up from the 250 you're on now, But it's well worth it.
---
John: Oh look an eagle!
Bear: Wha?
*nutshot*
Members who have donated towards server costs
Join Date: Dec 2008
Location: Monroe, LA
Posts: 4,715
Welcome to the forum SLEDGE, and thank you for your service. Stay safe.
---
I'm keepin' all the left over parts. I'm gonna use 'em to build another bike!
_____________________________________________
"Black Beauty"
1989 VN750 acquired December, 2008, 6,711 miles
Currently 23,298 miles
Old Blue
2001 Honda CMX250 Rebel acquired July, 2008
1987 VN750 project bike, acquired August, 2009, 33,000 miles and balancer sticking out of the case, currently awaiting attention and parts
Concert connoisseur
welcome to the forums, I dont think you will be dissappointed in the 750 at all. power when you need it compared to a 250 but a very versatile bike highway or town or twisties, and although they have a few quirks, there are 6500 great people on here that will walk you through about anything you might come across.
add to your user panel sig and location.
Linkmeister Supreme
Join Date: Aug 2008
Location: Lethbridge, Alberta, Canada
Posts: 7,960
Welcome to the Vulcan madness Sledge. Another forum member, slimvulcanrider, is over in your sandbox right now too. Keep your head on a swivel and stay safe. Regarding the Vulcan 500, unless you are a small guy, it could be a cramped ride according to some who have tried one on for size. Good luck in the search for a new ride.
---
Gordon
1991 VN 750 -"
Cosmic Lady
" or "
Bad Girl
"?
Purchased May 16, 2008
Approx.19,300km (12,000 miles)
H-D windshield
Relocated R/R
MF-AGM battery
Fiamm Freeway Blaster horns
F&S luggage rack and engine guard
Kury Offset Hiway pegs
July 13, 2016, Riding on the DARKSIDE now, Classic Radial 165/80-15
TOP TEN THINGS A NEW RIDER/OWNER SHOULD DO.
Click on link.
https://www.vn750.com/forum/11-vn750-general-discussion/9127-top-ten-items-you-would-suggest-new-owner-do-his-new-ride.html
Calif Rider
Join Date: Jan 2006
Location: Petaluma Calif
Posts: 725
Welcome to the club, another retired service guy here. Thanks for the service you do for us, keep safe and make it back. Really most of us would say get the 750 a better bike, easy to ride and easy to maneuver.
---
2004 25,500 miles
Led tail light enhancement
Homemade floor boards
Headlight modulator
Extra heat sink on R+R
R+R relocation
Homemade driver's backrest
Fused Stator
Mcct conversion-cost 4.50
Ride-on in tires
crash bar with home made hyway pegs
iridium plugs
home made fork wind deflectors
coil pickups adjusted.
Kenda kruz tires 110/90 170/80
Old Truck Junkie
Join Date: Jul 2007
Location: Roby Texas
Posts: 4,133
Welcome, and thanx for what you guys and gals do.
---
02 honda sabre 1100
Drive less, ride more...
Join Date: Nov 2005
Location: SW Ga
Posts: 1,114
Sledge--welcome aboard.....
...!
Be careful--and
thanks very much
to you and the others there for what you are doing for us here state-side.....and for the rest of the world, really.....
Unless you have the same basic body dimensions as Tom Cruise or Michael J Fox, you'll probably be much happier on the Vulcan 750. Also, since the 750 has shaft drive (instead of chain drive, found on later Vulcan 500s) you'll spend less time on maintenance--and more time riding.
With the 750, you'll be among more unique company, as the 750 was really the last bike of its kind. For many, the stock seat is tiring on longer rides, but past that--it's generally a strong bike, especially compared to other cruisers....
http://www.powersportsnetwork.com/en...7273&veh=21816
---
'05 VN750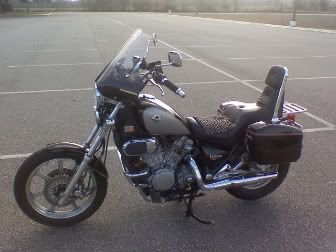 For other bike pix & mods, go to:
http://s1203.photobucket.com/albums/...k/VN750%20pix/
Members who have donated towards server costs
Join Date: Jun 2006
Location: Long Island, NY
Posts: 812
Welcome Sledge,
Thanks for your service to us all.
I had a 500 before I bought the 750. If you did not already have a bike and you were starting out, I would recommend the 500 but the 750 has some very nice features. They both have great motors and handle very similar. I am 5'6" and comfort is about the same on both but if you get the 750 you must get floorboards as it makes a world of difference in the comfort level.
As I am thinking about the whole thing - you got to get the 750 just to be part of this great forum family, end of story.
Good luck and be safe. Looking forward to hearing that you are back home.
---
2003 Wine/Gray VN750 bought in 2005 w/2000 Miles
LED Tail/Brakelight & License Plate Light;Chrome Inspection Sticker Plate ;Battery Charging Quick Plug;Kuryakyn LED Battery Voltmeter;Throttle Rocker Palm Rest;Optronics Driving Lamps;KnifeMaker Floor Boards;Halogen Headlamp Bulb;OEM Engine Guard;Iridium Spark Plugs;OEM Luggage rack;Stebel Air Horn;Handlebar Clock; Handlebar Thermometer; Sealed Battery; Marbled; Leather Grip Covers; Rectangular Mirrors

~VROC~ # 389