Oil leak: another common issue
---
again while my motor is out I thought I'd post some decent pics of another common issue: oil leak in the front cylinder
if the front of your engine is covered in oil from the exhaust down this could be why, in the pic below is the front of the motor, you see a little tube sticking out with a tiny weep hole directly below it. this is probably where the oil is coming from.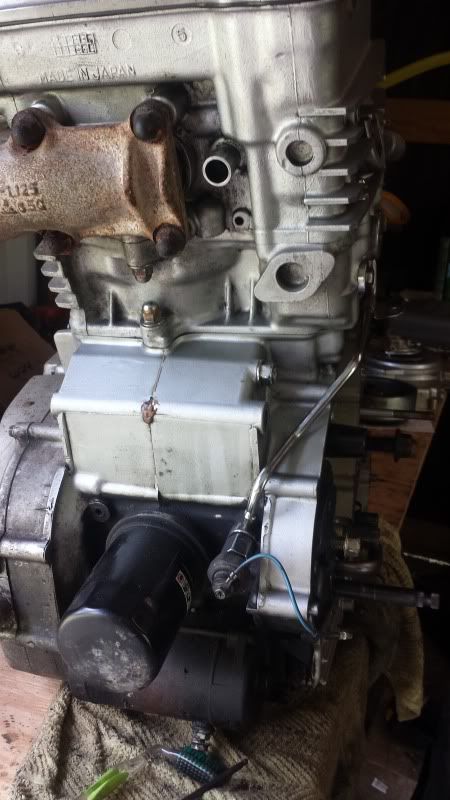 closer pic
It is a simple fix, you just need to replace the orings in your spark plug wells. pictuerd below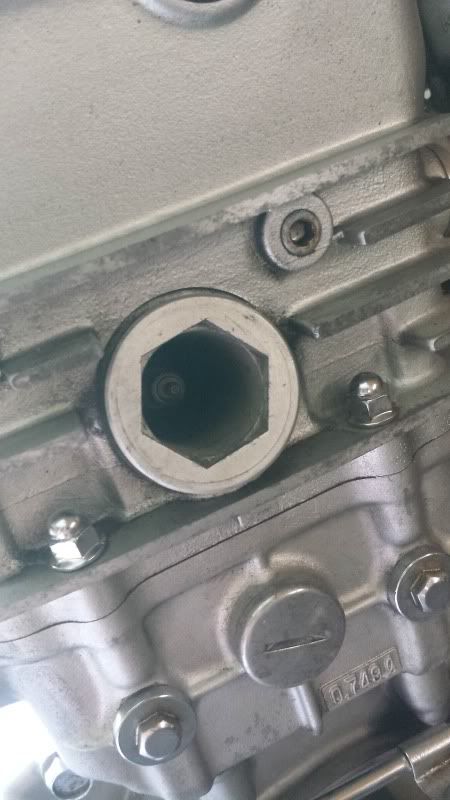 To remove this you need to remove your rear axle nut to use as a tool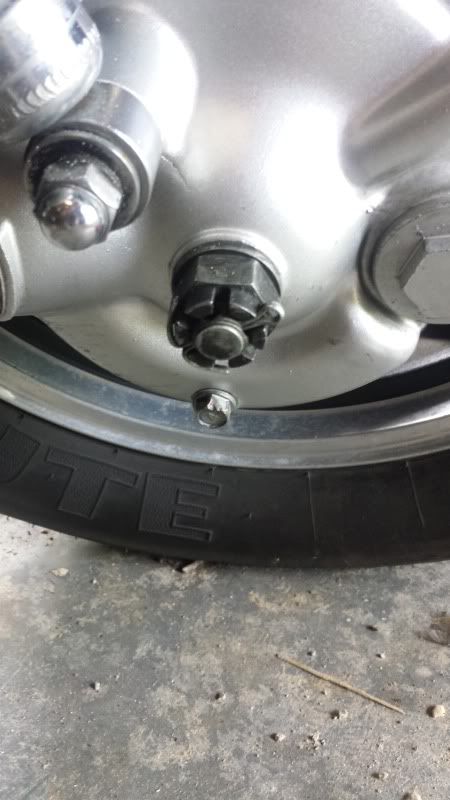 The part numbers for the orings can be found on most sites under the "cylinder head covers" diagram but here are cheapcycleparts number 92055-1255 and 92055-1272
as always, hope this helps!
200% senile
Join Date: Sep 2013
Location: Close to San Antonio, TX
Posts: 164
Thanks for the heads up and the info on how to fix it, much appreciated!
---
1996 VN 750
2007 Vulcan Mean Streak SE

When I was younger I was afraid I'd die riding. Now that I'm old and falling apart, I'm afraid I won't.
Banned
Join Date: Jan 2013
Posts: 2,190
Junior Member
Join Date: Mar 2015
Posts: 12
This helped so damn much, glad I noticed the weep whole by sticking my phone in a spot u couldn't see them checking here, was about to start trying to replace rocker cover gaskets or valve cover or lower cylinder head gasket, this hero a long headache to go with the learning curve
Jack of all trades
Join Date: Jul 2009
Location: Westland, Michigan
Posts: 2,863
Good job. I guess we can keep you around a little longer lol.
---
2003 vn750
1988 Pontiac Trans Am (project/driver)
Members who have donated towards server costs
Join Date: Mar 2011
Location: Rochester, New York
Posts: 1,803
Good post and informative. Should be a sticky.
---
JM2001
" Loud Pipes Risk Rights "
2001 Vulcan 750
marbled
TOC upgrade on ACCT
Air/fuel mixture set to 2 1/2 out
rectifier relocated
splines lubed
iridiums
decals removed
upgraded mirrors
Pic up coil mod done
degoated
All LED lighting
Upgraded Mosfet rectifier
Concert connoisseur
I thought it was a sticky, oh well. I did this write up long after I replaced my orings so if anyone takes their spark plug wells out please add some pics of the orings on the wells! I didnt want to go through the trouble although it is pretty simple to remove my axle nut again and pull my wells out for the write up.