Paranoid or Balance Dampeners
---
Ok, so I read alot of threads on here about people having trouble with their balance dampeners and everything and it probably makes me worry more than I should. But...
I have been have a vibration that seems worse than it used to, but that could be all in my head. Anyway, I read the horror stories of holes being blown in engine casings and it makes me even more paranoid. So I changed my oil today at right about 18,000 miles on my 99. I find the following in the screen: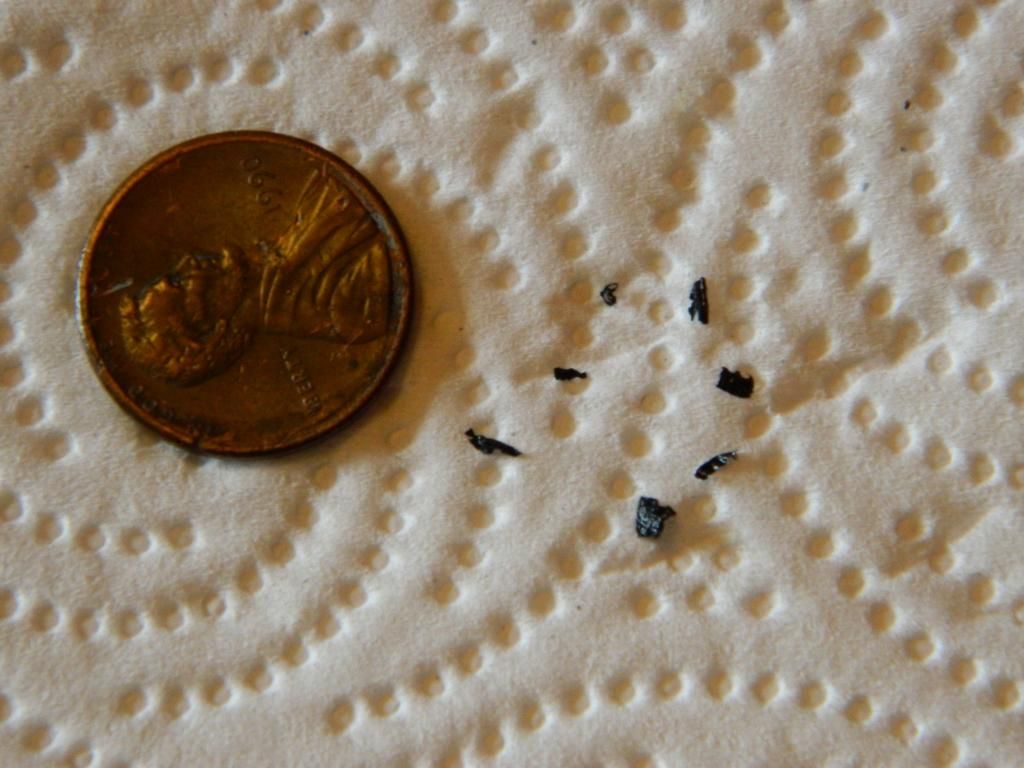 I strained the rest of the oil and didn't find anything in it. So is that little bit really enough to make me pull the engine to replace the dampeners? Or am I just overreacting. I mean those pieces are not magnetic, and I assume they are rubber bits, but is that all I would see if my dampeners are about to grenade on me? Or can I probably go at least until another oil change and see what happens?
I plan to sell/trade this bike probably within the next year. But I don't want to sell it to someone knowing that it has a catastrophic failure on the way either.
---
Quote:
Leave it to me to NOT be fond of something then end up banging it.
Crowley
Join Date: Feb 2014
Location: Southern RI
Posts: 1,263
Better safe than sorry. I don't know of any other rubber bits in an engine
Dr. Vulcanstein
Join Date: Apr 2013
Location: florida
Posts: 1,536
From what I have learned here, and from my own personal experience (although it wasn't dampers) chance usually goes to the house, and not the player. I would fix it. About $55 and a days work is all it takes.

On another note when I found rubber in my oil I thought I was preparing for a damper job..it was much worse, it was my oil seal on my water pump which calls for splitting the case.
---
.... - " " - .
..( ___/\ /))
.( l v¿v/ )(
.) \ O/ )((
..(( .)(. )\ \
.....) . ( / /
.....( ¥ )
New question...two actually.

Do you attack the balance dampers from the left side cover behind the stator or from the right side cover? Everything I have seen on here says that you need the left side cover gasket, so assume that means you go from behind the stator. But the CLymer manual talks about removing the right side cover.

Next question, I understand that I will need a 80mm x 1.5 x 60mm bolt to remove the rotor? Where are people getting that lately? I found link to a website that is no longer around and mention of Dennis Kirk but couldn't find it there.

I was ordering the same parts that thtanner did. But I had seen another list also that showed needing to order a oil seal...thtanner didn't have that on his list.

Just want to make sure that I get everything I need.
---
Quote:
Leave it to me to NOT be fond of something then end up banging it.
Senior Member
Join Date: Nov 2012
Location: WV
Posts: 7,371
Oil seal might have been for the shifter shaft, replaced mine when I did the dampers, it's cheap insurance. Didn't have any vibration, just did the job with the stator replacement.

Left side cover only, and can be done with just an engine tilt vs. full engine pull.

Got my puller from the Kaw shop, but Ebay has the exact same one cheaper, Bikemaster brand. I can get a box full of those bolts for $23 at the bolt store, special order.

You have vibes and rubber in the screen, those are two good clues to watch.

And hopefully you've seen my posts about locating the large pin on the balance weight.
Thanks Spock. I did see your posts about the large pin. So I think I'm ready to order everything.
How are you guys getting the engine back in the frame? Are you able to do it yourself or did you have top get someone to help. That's a heavy sumbitch. I don't know if I can get it back into place with just a jack.
---
Quote:
Leave it to me to NOT be fond of something then end up banging it.
Senior Member
Join Date: Nov 2012
Location: WV
Posts: 7,371
Maybe try a search for Engine Tilt, I posted some pics and descriptions.

I kept the engine on the jack and laced a ratchet strap under the engine and to the frame on each side. Then alternated tightening/loosening the strap and raising/lowering the jack. A 5" wooden mallet against the front head/frame kept the angle for removing/installing the cover. Have to take your time and calculate the moves.

At times, the strap was the only thing holding the engine, it wasn't planned that way but it worked. oops

Left the bevel gear on the engine, but I had the rear gear off for spline lube at the same time. Left the carbs on and cables attached, but I had taken the airbox out.

Definitely did not want to lift by hand from the floor, those days are over.
Dr. Vulcanstein
Join Date: Apr 2013
Location: florida
Posts: 1,536
I bought this set
http://www.harborfreight.com/46-piec...l#.UyX5euVumQY
from harbour freight for another job and just so happens that the pressure screw worked perfect to remove the flywheel. Cost about the same as buying the bolt online (after shipping) but you get a puller set along with it.
---
.... - " " - .
..( ___/\ /))
.( l v¿v/ )(
.) \ O/ )((
..(( .)(. )\ \
.....) . ( / /
.....( ¥ )
---
Last edited by jadabull; 03-16-2014 at

03:25 PM

.
knees in the breeze!!!
Join Date: Jun 2011
Location: Carthage IL,
Posts: 498
ive got mine pulled apart today and found the dampeners to be intact but hard. so im wondering if the lil hard plastic/rubber pieces were that in the first place
---
http://map.vulcan750.net/
VROC# 33976
1994 VN750
MODS SO FAR:
honda shadow 750 sissybar
ear shaved, K&N pods
142/42 jets, Cobra pipes
oversized tires, vn800 seat
vn750 rad cover, Tank bib
custom mirrors, gel battery
led dash lights, led tail light
led plate light, chrome levers
horn relocation, custom voltmeter
Quote:
............found the dampeners to be intact but hard.......
That's the way mine where. Hard rubber is brittle and won't absorb vibrations. Even if they aren't coming apart yet you caught them in time.