not getting fuel
---
i bought my 92 vulcan last year. it ran perfectly fine nothing wrong. i accidently left the gas on all winter out in my shed but when i started it up it seemed to run fine. started riding it and it was sputtering and stalled a few times.
i took it home and cleaned the carbs and that stopped the stalling but it still sputtered. if i babied it, it would go fine but if i got above 50mph or if i accelerated really fast it would act like it was running out of fuel
next thing i did was rebuilt the petcock thinking the diaphram was busted. this took a lot of the issues out but if i really boot it or run at highway speeds too long it will still sputter. if i boot it it sputters worse than just cruising at high speeds
its like its not getting enough fuel to the carbs. im wondering if there is a problem with the tank vent so it creates a vacuum in the tank. i checked the hose and its good but im not sure how the mechanism under the gas cap works?
does that sound like a logical solution to the problem or is there something else i should check
There's a thread under Carbs about POOGS that will show you how to check your fuel cap venting.

You should also check both your air filters and check the vacuum line that runs into the back of the right one.... Pull it out and cut it at a 45 degree angle so it won't bottom out.

Be a good idea to check that hose and the airbox carefully.... Bikes that sit for awhile also have the issue of small animals or bugs crawling into places that you don't want them.... Like air intakes and vents.

You might want to rinse out your gas tank too, and check for rust flakes or other crap.
when i first noticed the problem i checked the air filters. besides from a few acorns there was nothing. no filters were chewed and they were still stuck to the box so i didnt even bother checking the center air box. vacuum line has a nipple on both ends so thats not it. i've checked the gas tank and everything is clean. just checked and cleaned the gas cap. everything appears to be working

now me and my dad are wondering if its possibly a stuck float. it did sit with gas in it all winter. i think this might be likely because if i go uphill there is limited to no problems but going down steeper hills i had to be careful or it would sputter like a banshee.
Odd for sure. You can try filling the float bowls up with SeaFoam overnight and try flushing them by draining the carbs repeatedly pouring cleaner down the lines.

Likely would just be one float, which means only one cylinder is misfiring at higher rpms.

Not sure what you mean about the vacuum line having a nipple at both ends, I was referring to the vent tubes that run into the back of the right ear. If this is clogged you'd have problems with fuel supply.
I put seafoam in the gas last night and rode it to get it into the carbs. Its been sitting. I'm gonna run the rest of the gas/seafoam through and if it doesn't work I'm gonna pull the carbs and take them apart.

As for the vacuum line I thought you were referring to the one for the pet cock. Ill take a look at that hose though
Members who have donated towards server costs
Join Date: Dec 2008
Location: Monroe, LA
Posts: 4,715
You'll get a little more aggressive and quicker cleaning with Sea Foam if you drain the carbs and refill with straight SF. Let it sit for a couple of days before draining the SF.
---
I'm keepin' all the left over parts. I'm gonna use 'em to build another bike!
_____________________________________________
"Black Beauty"
1989 VN750 acquired December, 2008, 6,711 miles
Currently 23,298 miles
Old Blue
2001 Honda CMX250 Rebel acquired July, 2008
1987 VN750 project bike, acquired August, 2009, 33,000 miles and balancer sticking out of the case, currently awaiting attention and parts
Well I have a dunk tank of carb cleaner. You let them sit for an hour and its perfectly clean. So if the seafoam doesn't do its job ill just do that
so seafoam did not work. i looked again for that stupid hose thats supposed to go to the back of the right side airbox. this is all i see when i take it off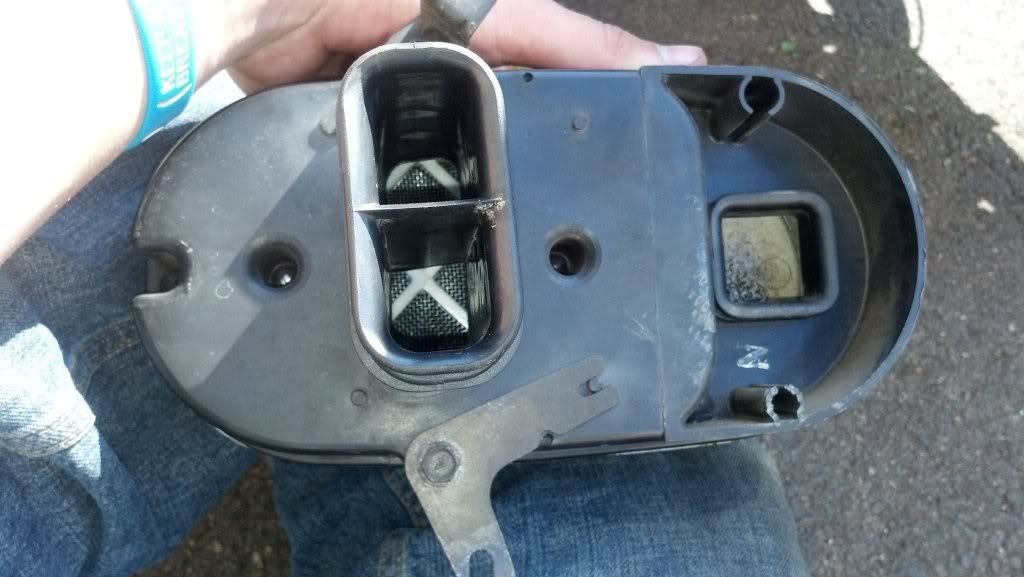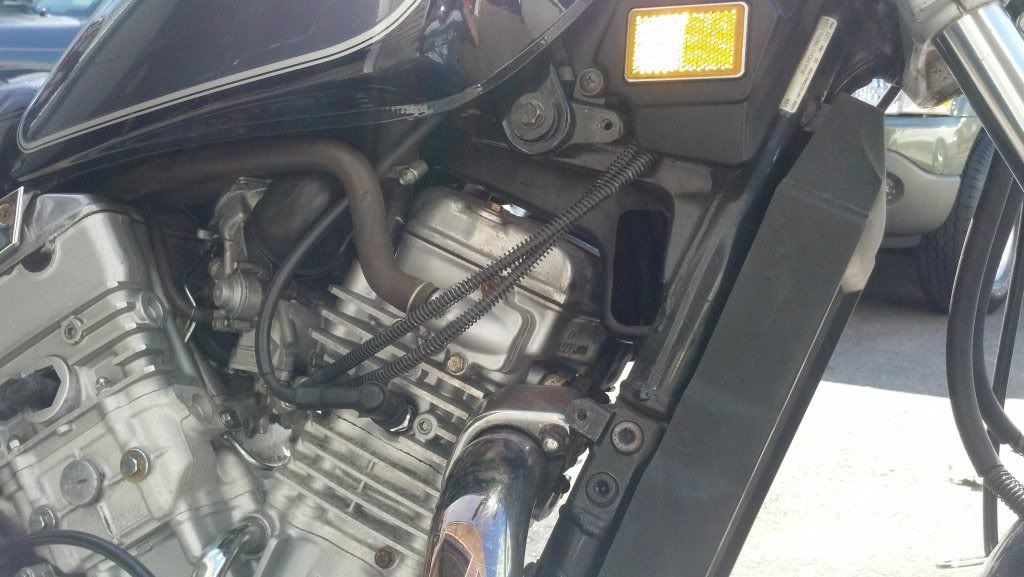 i cant seem to find and loose hoses or even where it would be, i guess the next step is to take it apart and look and clean the carbs. i dont know anymore. this is so frustrating
Are they're any vent lines from the carbs that run backwards out under the tank? I just looked again and can't really see because there's so many hoses and stuff in the way, but I reached in there and felt around and found somehose running backwards. I pulled it out but it felt like it was pinched between something. If this is in fact the vent hose that goes to the right ear, it being pinched would explain the lack of fuel issue. Ill take it for a test ride when I get home from work
Captive New Yorker....
Join Date: Apr 2011
Location: Marlboro, NY
Posts: 264
I'm having the same issue. I just put my tank back on. There are only 3 hoses that connect to the petcock correct? The two fuel lines and the hose going straight down with I assume is a vacuum line?
---
Pete Herrmann
1994 Vulcan 750 40K on the clock and counting....
Bought 4/2011 28k Miles,
New Rick's Motorsports R/R
Tim Parrot Stator
Tuxedo Mod
KAW Saddlebag/signal relocation brackets
NGK Iridium Plugs
TOC MCCT's