Junior Member
Join Date: Dec 2010
Posts: 23
Took my bike to a shop, what a disaster
---
I took my baby to a shop to have a valve replaced after i pulled the engine, replaced the head with a used one with good valves, and couldn't get the timing right, which resulted in another bent valve. So this time I figured I'd best not play with it and take it to a professional. they told me 2 days max, and asked me to pay up-front. I don't usually do that, but I had heard from some friends of mine that it was a reputable shop so I went ahead and payed. A week and a half later, they call me and tell me I need a new engine. Keep in mind, before i took it there I had it running perfectly fine, except for the out of tune timing. Now, when you try to start it it backfires hard and smoke comes out of multiple places. They showed me a spark plug they said it had smashed, and also said that gas was pouring out of the rear right spark plug hole when they removed the spark plug after failing to start the bike. They refused to give me a refund and said to fix the current problem it was going to cost 475 dollars. Anyone have any ideas on what I should do?
Members who have donated towards server costs
Quote:
Damb... call a layer!?
While a layer may help you forget your engine problems temporarily,I think Jason meant a Lawyer,
I just had to take a swing at that one ,lol
---
If you see it on my bike I did it
VROC#30324
92 vn750(sold)
Current ride 05 1500 Classic FI
lovin' the new scoot
Quote:
"When all is said and done,usually more is said than done" UNK
Click on one x and drag to the other to read between them.
Psalm 40:1...
XI waited patiently for the Lord; and he turned unto me, and heard my cry. X
Crap, I WAS in 5th gear.
Join Date: Sep 2011
Location: So. Cal
Posts: 500
Sounds like you're stuck, unless you want to go to small claims court. What happened in the interim between your second bent valve and then being "slightly out of tune" with the timing? Did you replace the head for a third time? The flooding problem is probably a stuck float, which might have been caused when they R&R'd the engine because the carbs had crud in the float bowl.
If only it had 6th gear..
Join Date: Jul 2011
Location: North of Boston
Posts: 1,100
Man that sucks. I don't get the "smashed" spark plug though. I mean how could that happen, unless it was the wrong plug? And since you had it running pretty decent, I doubt YOU put in the wrong plug. I'll admit I haven't been inside these engines that far but do the valves come that close to the plug that if out of time a valve would hit it? Nah, I'm not buying it. Never heard of a valve hitting a plug, only a piston hitting a valve. They screwed you and im sorry to hear it. There are a lot of boneheads that know nothing about bikes, especially one as complex as ours, and should not be allowed to touch them. They're far more dangerous than chucklehead car mechs. Bad car mechs can strand you, bad bike mechs can kill you. Well, both can actually but the odds are much higher on the latter. Good luck man, I
feel for ya.
---
Dave
Mods:
Jetted, shaved & coastered
Home made under-tank single filter
Converted ACCT's to manual (thanks wib714)
Dual vac lines on petcock (my cure for ticking)
LED tail/plate lights
Relocated helmet lock to license plate
Added stuff:
Customized hard bags w/ lights
Chrome levers
Hellcat windscreen
LED running lights
Home made 'Vita-Volt' meter
Foot rests on engine guard
Tunes
Hmm....she was on the back when we left.... ??
Members who have donated towards server costs
Join Date: Nov 2007
Location: Chandler, Arizona
Posts: 2,921
Unfortunately, since you worked on it first, then took it to the shop, you have no way to prove there wasn't something wrong with it beyond what you told them. The ONLY way a plug can get smashed is if got hit by the piston, and the only way that can happen is if the plug is too long. The collision likely damaged the piston, possibly even the rod. Unfortunately I don't have an answer for you. I always recommend keeping your vehicles away from shops, but I am also a professional auto/equipment mechanic with 34 years experience. I realize not everybody has that. If you intend to rebuild it, or tear it down and see what the problem is, I highly recommend Roach's series of videos. They are WAY better than a manual, though you will need one of those too.
---
I am a motorcyclist, NOT a biker.


1997 Vulcan 750, purchased about a week ago
2006 Sportster 1200 Low
2013 Royal Enfield Bullet 500, converted to carb
2001 Yamaha XT225, heavily modified
2004 Honda Rebel 250
1979 Vespa P200E
2002 Vulcan 750 parts bike
1994 Yamaha XT225 parts bike
Drive less, ride more...
Join Date: Nov 2005
Location: SW Ga
Posts: 1,114
I would tend to agree with Jerry above...this situation has too much "spilt milk" to have much recourse. However, some suggestions for future use:
1) Only use bike repair shops that have a good track record with the nearest/local Better Business Bureau. You can find a BBB rating by doing a Google search for the BBB, then do a search using the correct/current business name.
2) Only deal with shops that will take a payment/charge using a credit card. If you use the right credit card, and the shop gives you back your bike in unsatisfactory condition, you can then dispute the charge thru the credit card. If the shop is a BBB member, and is proud of their BBB rating, they then have 2 reasons to fix the bike back to your satisfaction.
3) Pay attention to how bikes are stored at a shop, when they are not being worked on. If they are not stored in a totally enclosed structure, especially after hours, then take your business (and your bike) elsewhere.
I speak from experience. Having the right credit card in your wallet (and using it) can give you strong leverage with a cantankerous merchant.
Think about it...
---
'05 VN750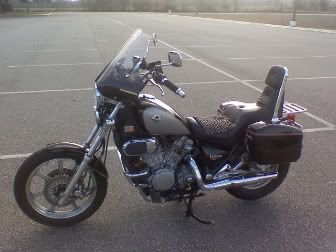 For other bike pix & mods, go to:
http://s1203.photobucket.com/albums/...k/VN750%20pix/